Restaurants in Vincennes
---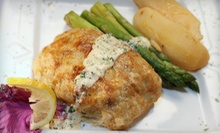 Cyprus native presides over imported Greek cheese flamed tableside and salmon encrusted with pine nuts, served under vine-laced lattices
---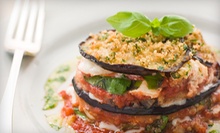 Chicken marsala, ricotta-cheese ravioli, veal saltimbocca, and other classic Italian dishes
---
Recommended Restaurants by Groupon Customers
---
The Ohio River courses past Edgewater Grille, providing a scenic backdrop for the eclectic culinary offerings inside. From piping-hot pizzas delivered straight from a wood-fired brick oven to blackened scallops nested on a bed of capellini, Edgewater Grille's expansive menu proves that variety is the spice of life and the key to a good meal. Outdoor deck space facilitates alfresco dining in the warmer months, letting patrons pair fresh air with freshly baked desserts or wine and drinks from the full bar. With ample seating and multiple private rooms, Edgewater Grille is a prime spot for events such as weddings or Frankenstein support groups, and its chefs cater parties large and small with a smorgasbord of seafood, steaks, sandwiches, and pastas.
1 East Water Street
Newburgh
Indiana
The historical brick building that houses Janko's Little Zagreb, once a reputed 1940s brothel, now beckons in a much more respectable clientele with its cheerful red awning and brightly lit dining room. Large cushy booths enclose red-checkered tables, while IU football and basketball posters speckle the walls. Tables have a clear view of two open grills, which sizzle with menu items including thick, succulent USDA Choice steaks, seafood, and more. An extensive wine list and locally made beer from Upland Brewing Company wash down entrees as IU fans dish out endless Hoosier puns, such as "Hoosier daddy?" and "Hoosier favorite Disney princess?"
223 W 6th St.
Bloomington
Indiana
812-332-0694
At Lorenzo's Bistro and Bakery, the bakers make their own dough from scratch for crusty breads baked on the hearth. Every day, visitors can stop in for the warm baguettes, challah, and french bread, as well as daily specials such as Sunday's cracked-wheat loaves.
But the bread is just the start of the culinary journey, which executive chef Wess Rose executes with an eye toward contemporary American dishes and Euro-American influences. Elegant steak, seafood, and pasta join surprise touches, such as the chefs' take on a louisville hot brown—smoked shaved turkey breast atop fresh challah bread topped with tomatoes, cheddar jack mornay sauce, crispy bacon, and chives. Charbroiled salmon fillets glisten with raspberry barbecue glaze, and marinated portobellos and vegetable medleys stuff puff pastries to create vegetable wellingtons, which are topped with pesto and feta.
In the restaurant's foyer, the staff mans a market where people can grab cups of coffee or pick up ready-to-eat entrees to take home. In addition to the breads, customers often drop by to pick up muffins, scones, and sandwiches for meals on the go that are tastier than oatmeal in a tube.
972 S Hebron
Evansville
Indiana
$19 for a Chinese dinner buffet for four (a $39.80 value)

$10 for a Chinese dinner buffet for two (a $19.90 value)
The dinner buffet teems with Chinese and Japanese dishes, such as General Tso's chicken, chow mein, mongolian barbecue, and sushi, as well as cookies, cakes, and ice cream for dessert.
701 N Burkhardt Rd., Suite D
Evansville
Indiana
812-437-8833
At The Creekside Bar and Grill, diners enjoy classic sandwiches, 8-ounce burgers, and specialty pizzas on an outdoor patio overlooking the waters of Loughborough Lake. Visitors can dock their boats near the restaurant and hop ashore to enjoy nightly specials and live music on the weekends.
516 Main Street
New Harmony
Indiana
US
812-682-3880
Papa Murphy's serves up a tasty menu of handmade "take 'n' bake" pizzas created using dough, cheeses, meats, and veggies that are freshly prepared every day. After customers choose their pie, Papa Murphy's personable pizza fashioners will build the pizza in-store and then package it for customers to bake at home in the oven, in a pottery kiln, or over a pile of burning cookbooks. Customers can select one of Papa Murphy's signature pizzas or customize their pie to a more specific taste, culling from the four sauces, three crusts, and more than 20 toppings available. Watch as Papa Murphy's pizza professionals corral the ingredients of a signature pizza such as the Cowboy ($13.99 for the 16" family size), complete with pepperoni, Italian sausage, mushrooms, and black olives, or request a Chicago-style stuffed pizza ($15.49 for the family size), packed with onions, mozzarella, four kinds of meat, and one of the most efficient public-transit systems in America. Thin-crust fans can opt for an Herb Chicken Mediterranean deLITE ($11.99 for the family size), smothered with feta cheese, olive oil, and spinach, and veggievores can avail themselves of Papa Murphy's gourmet vegetarian ($14.99) option, which comes saturated with a creamy garlic sauce. Side your pizza with a chicken Caesar salad ($5.99), an order of cheesy bread ($3.99), or a two-liter soda ($2.49).
5435 Pearl Drive, Suite 2
Evansville
Indiana
US
812-401-9191
---