Top Product Reviews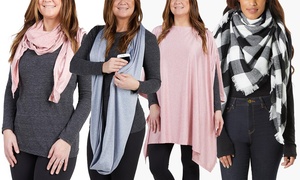 I have not used it yet but soon will. The colors are nice and warm as is the fabric which is quite soft. The only negative at this point is that the edges are unfinished and already unraveling, giving the appearance of a cheap item. Would not buy another.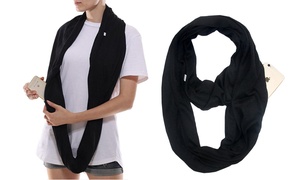 Wonderful! I lost my first one so I bought two this time. It's great on trips but great for around town. I've even give to friends who do a lot of traveling.
Shop Women's Scarves Every Day on Groupon
Picture the last time you looked in your closet and thought, I have nothing to wear. It happens to all of us, and often at the most inopportune times. How to walk out the door looking put-together, even if you end up wearing the same old
T-shirt
and
jeans
? The French have known the secret for ages, and now it's our turn: scarves.
Accessorizing Made Simple
Women's scarves add a certain
je ne sais quoi
to different looks. They look intentional yet effortless, fancy yet not over-the-top. Try an infinity scarf if you want to keep things casual; the tidy loops of fabric mimic look of a cozy cowl-neck
sweater
, without adding all the bulk. For a more haute vibe, tie on a silk scarf, which adds a pop of color to a plain top. A pashmina, with its warm but fine weave, is a great staple—filter the results on Groupon to find them in every color of the rainbow—and, what's more, it's ideal for those days when you want to look chic yet have to
layer for the unpredictable weather of autumn
.
A Scarf for All Seasons
Speaking of the weather, that's obviously another reason to have a few good scarves stashed among your
accessories
. A thick blanket scarf is the ultimate way to
stave off winter's bite without sacrificing style
. Like shawls and wraps, they're big enough to snuggle up in even after you ditch your
coat
, making them great for a chilly office. But women's scarves have their place in summer, too: a lightweight head scarf, for example, may help protect against sunburn—perfect for those who just don't do hats—and evening wraps from brands like
Versace
are a sophisticated way to accessorize on fancy occasions without ruining your look.