Things to Do in Airdrie
---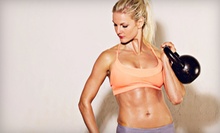 Instructors incorporate hefty kettlebells and martial-arts techniques into heart-pumping workouts
---
Recommended Things to Do by Groupon Customers
---
Players duck behind the husks of one-storey huts, towers, and abandoned cars as they navigate a grassy labyrinth. Others dart between industrial concrete walls, firing at the enemy from behind padded barriers. On seven more outdoor fields, teams advance in tandem between towering spruce trees or over hills and valleys, seeking the refuge of wooden fortresses and the coziness of trenches. Whether competing on the Okotoks location's 80,000-square-foot outdoor field, the Calgary location's 28,000-square-foot indoor arena, or Millarville's 55 acres, visitors to Rampage City Paintball immerse themselves in a range of capture-the-flag scenarios. Experienced staff oversees each 15-minute game, and outfits players with Tippmann gear and protective bodysuits. They also supply gear upgrades such as semiautomatic Tippmann guns, goggles, and temporary-invisibility dust.
4839 47th St. SE
Calgary
Alberta
In 1988, the top of the Calgary Tower was on fire. Nobody panicked, though, and no one tried to put out the flames. If they had, and succeeded, it would have been to the disappointment of athletes and spectators the world over, because that flame burned in honour of Canada's first Winter Olympic Games. At 191 metres above the city, the light that fire produced—flickering from a gas-fired cauldron—served to unite the city around the games, to honour the spirit of sportsmanship, and to safeguard the event from Mothra attacks.
Today, visitors can see the city from just below where that torch burned. After a 63-second elevator ride to the top, guests can explore the observation deck, take a complimentary tour, and peer from high-powered binoculars at the Rocky Mountains, foothills, and prairies. Then they can step out onto the glass floor and stare down at the Olympic Plaza, the Glenbow Museum, and the bald spots on park monuments.
Yet the tower's height isn't its only draw. From the ground up, it strives to showcase the best of the city. At the base, the visitor information centre furnishes newcomers with city guides that point to popular attractions, and at 155 metres, the elegant Sky 360 restaurant fans romantic sparks as it completes its 360-degree rotation every hour.
101 9th Ave. SW
Calgary
Alberta
Behind 60 feet of storefront windows, visitors to ChromaColour Creative Art Centre's laid-back studio transform the blank surfaces of glass, ceramic, canvas, and even T-shirts into unique pieces of art. Two spacious workshops—one that holds 50 people and one with capacity for 100—invite budding artistes to learn a new mode of expression or hone an old one. In pottery classes, students forge ornamental or utilitarian pieces, decorating with eco-friendly paint that staffers mix themselves in-house. Though formal classes are offered, artists can often waltz in during studio hours, take a seat, and chat with family, friends, or the piece of artwork they're working on.
5-1410 28th St. NE
Calgary
Alberta
CANADA
403-250-5880
Three seasoned ice anglers channels their 10 or more years of individual experience into showing others how to capture the likes of lake trout and whitefish using nothing but a rod, lure, and ancient Druidic incantation. In addition to ice fishing and fly-fishing lessons, they host three fully loaded trips that range from leisurely afternoons in warm ice huts to intense snowshoe treks through Mountain Lake.
124 E Chestermere Dr.
Chestermere
Alberta
403-470-3474
Born from the union of a kayaking school and the Adventure Trippin' Tours travel company, Aquabatics runs programs that immerse participants in the thrills of stand-up paddleboarding, kayaking, and canoeing. Available pool and outdoor lessons get students sea-worthy in a controlled environment, and multi-day guided wilderness trips test participants' endurance and ability to ask for directions from passing fish. Experienced guides emphasize water safety and keep classes limited in size to ensure personalized coaching. The Aquabatics store also sells professional gear ranging from life jackets, apparel, and helmets to boards, boats, and manatee saddles.
300-8435 Bowfort Rd. NW
Calgary
Alberta
403-288-9283
Rejuve!'s website hosts a live counter that tallies how much weight their clients have lost—most recently, it reported a total of 563,227 pounds. The spa's four-step detoxification treatment, designed to rid bodies of excess fat and toxins, was partly responsible for this success. The treatment begins as a technician records each person's measurements, weight, body-fat percentage, and serial number. Then, a registered massage therapist performs a 20-minute lymphatic-drainage massage to spur the body's natural filtration process. A subsequent 45-minute infrared body wrap warms to 55 degrees celsius to ignite a detoxifying sweat. Finally, the technician retakes measurements to document any inch or body-fat reduction.
rejuve! also offers infrared yoga classes held inside heated studios that augment the detoxification process. Class structures range from powerful Baptiste Free Style to slower-paced Gentle Yoga.
320 10th St. NW, Suite 202
Calgary
Alberta
403-457-1952
---