Things to Do in Antioch
---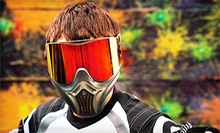 Paintball warriors fire semiautomatic markers & don radar goggles during open play on seven themed fields
---
Recommended Things to Do by Groupon Customers
---
The quick-witted troupe of performers at pH Productions stirs up a rollicking concoction of comedy that bubbles with equal parts improv and audience interaction. Founded in 2002, the troupe's scientific moniker celebrates the onstage chemistry that leads to a great night of improv and leaves nothing but a neutral puddle of goo when incompatible performers accidentally touch. Classes teach would-be improvisers the arts of extemporaneous comedy with a focus on hands-on learning, and a slate of shows delight audiences with long- and short-form sketches, many of which have been recognized with the Chicago Reader's Critic's Choice award.
3110 N Sheffield Ave., Studio B
Chicago
Illinois
773-732-5450
Twin sisters and Alpaca Art owners Becky and Brenda helm the cheery studio's kiln and ready-to-paint bisque objects. Guests of the studio sidle up to an "idea counter" stocked with stamps, stencils, and inspirational booklets before bringing patterns to life on a chosen ceramic. During a weeklong layover in the shop, each personalized curio receives a coat of clear glaze and boards the kiln, becoming immune to the heat of microwaves, dishwashers, and stewardesses who want to put tray tables in their upright and locked positions. The studio also hosts pottery-painting parties for birthdays and other special events and leads summer camps for children and workshops for adults.
5813 6th Ave.
Kenosha
Wisconsin
A player waits silently behind a tree, holding his breath as a group of enemies comes into view. Slowly, his finger moves to the trigger of a paintball marker. He pauses momentarily, then steps from his hiding place to paint the sky in acrylic salvos.
Wyldside Paintball's fields use the area's natural terrain to set a stage for friendly battles. Sporting different names such as Outback and Pines Field, the simulated battlegrounds surround teams in dense forests, felled trees, and man-made walls. Outside the forest, colorful ammo soars over more open landscapes at an Xball field. Wyldside Paintball also employs a legion of referees to ensure safety, fair play, and the absence of performance-enhancing Trojan horses.
4500 Rotary Rd.
New Milford
Illinois
815-398-9953
Outside of the packed theatre, a sleek sedan glides its way to the curb. An expectant hush falls over the gathered masses as the door opens to reveal the car's famous passenger. There is a pause, and brief silence, before frenzied cheers are punctuated by a flurry of popping flashbulbs. Scenes like this, common in entertainment capitals all over the world, are what the photographers at Photo Booth of the Stars seek to replicate on a small-scale at private event engagements throughout Chicagoland. Their brand of memory-making has proven especially popular at weddings, where reception guests can pose in front of backdrops that celebrate matrimony with pictures of hearts, rings, and the best man giving a thumbs up.
3090 Braeburn Way
Woodstock
Illinois
815-975-8762
---