Things to Do in Baraboo
---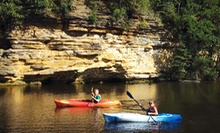 Paddlers glide through Lake Delton, Dell Creek, or Mirror Lake State Park, passing sandstone bluffs and towering white pines
---
Recommended Things to Do by Groupon Customers
---
Since the 1950s, Wingra Boats has outfitted groups and individuals for treks along the serene, wake-free Lake Wingra with their fleet of water vessels. Starting out with a small squad of canoes, the company has grown to include more than 100 canoes, kayaks, rowboats, and sailboats across two locations. In addition to supplying rentals, the staff keep limbs limber with yoga—performed on dry land or atop paddleboards—and strengthens cores with standup paddleboard lessons. Youngsters get in on the action during camp sessions, where they learn to cast, reel, and ask fishes for any seven cards, or paddle aboard kayaks and canoes. The staff also lead guided tours and birding expeditions, and tuck boats away for the off-season with docking and storage services.
1339 Vilas Park Dr.
Madison
Wisconsin
608-255-0855
Spread out across 16 acres, the award-winning outdoor displays at Olbrich Botanical Gardens showcase both Midwest-hardy plants and floras native to the world's tropical forests. Water lilies and dragonflies occupy the Perennial Garden's 200-foot stream, whereas a boardwalk snakes through the Rain Garden's flood-tolerant plants. Elsewhere, guests can marvel at the pavilion in the Thai Garden, which nine Thai artisans reassembled after it traveled to Olbrich by sea and rail for seven weeks.
Inside the Bolz Conservatory's 50-foot-high glass pyramid, temperatures kept at between 65 and 95 degrees Fahrenheit maintain a steamy atmosphere for more than 640 tropical plants, a waterfall, and free-flying birds. Along with its plentitude of plants, Olbrich Botanical Gardens hosts a range of classes and events, which include concerts, botanical-themed art exhibits, and the annual Blooming Butterflies exhibit.
3330 Atwood Ave.
Madison
Wisconsin
608-246-4716
On the waters of Lake Wingra, Madison Log Rolling's seasoned lumberjacks and jills channel the pastimes of 19th-century loggers, who would spend downtime competing to see who could balance the longest atop logs that were ferrying downriver. In 2010, Olivia Judd and Shana Martin started their log-rolling requiem to preserve and share this regional sport with newcomers. Instructors demonstrate the art of softly skimming the feet across the surface of the log to stay balanced. Beginner classes allow students to practice log rolling while showing how the sport can improve one's balance, agility, mental fortitude, and ability to pull off a plaid flannel tuxedo. Madison Log Rolling offers log-rolling classes, boom-rolling classes, and events for team building and birthdays.
824 Knickerbocker St.
Madison
Wisconsin
The echoes of hooves clopping against loose dirt carry across the green pastures of Madison Horse Connection, where equine aficionados bestow their vast knowledge of safe riding techniques upon pupils of all experience levels. Riders hone basic horsemanship and steed-steering skills with the ranch's varied collection of horses and ponies, whose gentle personalities and built-in air bags make learning safe for first-timers and advanced riders. Veteran instructors can guide students through the ins and outs of various riding disciplines, such as western, hunt, jump, saddle-seat and showmanship. These instructors also lead day- and week-long horse camps all year round. When they aren't carrying students through lessons, the facility's horses stop in to make appearances at summer horse camps or pony parties for younger children.
5311 S Ridge Way, Suite 204
Middleton
Wisconsin
---