Things to Do in Birmingham
---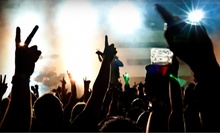 Seven spot-on cover bands fill tribute festival with the hits of Led Zeppelin, Green Day, Fleetwood Mac, Guns N' Roses, AC/DC, and Van Halen
---
Recommended Things to Do by Groupon Customers
---
The BCRI, founded to promote civil and human rights through education, will host masses of masked mortals at its 10th annual Mardi Gras celebration, themed this year as Social+Social Media, to raise funds for its educational programs. Partygoers can polish off Cajun-inspired fare and drinks while polishing their dance moves to live music by Jazz Safari or various tunes from the DJs. Attendees anxious about public speaking or thumb-muscle atrophy can participate in a text-to-win auction, which allows for digital silent bidding on autographed sports memorabilia, spa packages, weekend getaways, and electronics. Feel free to slap on a mysterious mask, don a funky hat, or switch jumpsuits with Danny DeVito to ruthlessly compete for a cash prize for most creative costume. Detective Chris Anderson, Birmingham Police Department veteran and current star of A&E's The First 48, will serve as the night's honorary host.
520 16th St. N
Birmingham
Alabama
Inside their blue-walled studio, staffers at Do It Yourself Crafts help visitors wield glass, tie-dye, silver clay, and pottery paints to create colorful, one-of-a-kind artwork. Glass-fusion classes teach patrons the skills they need to meld glass shards into funky tiles, and parties bring friends together to bond while they work on various art projects; patrons 21 or older can tote along libations to fuel the festivities. During pottery-painting sessions, patrons select a piece of raw ceramic bisque to adorn with provided pigments, choosing from forms such as plates, mugs, and plaques.
1909 Oxmoor Rd.
Homewood
Alabama
205-868-4346
Time for Three mixes classical, country-western, gypsy, bluegrass, and jazz music to create a unique hybrid sound. Violinists Zachary De Pue and Nicholas Kendall and double bassist Ranaan Mayer met while studying music in college. The three-piece bonded over a shared love of musical improvisation and went on to play more than 200 shows. Conductor Christopher Confessore leads the trio with a skillful eye and even more skillful conductor's wand. Though the concert begins at 8 p.m., it's preceded by a cocktail hour that begins at 7 p.m., where guests can impress each other by playing octave-jumping leapfrog.
1817 Third Ave. N
Birmingham
Alabama
In one corner, kids practice cracking a safe. In another, tiny hands sift through sand to find ancient fossils, with no archaeologists in sight. Toddlers, meanwhile, wander through a surreal dreamscape of 10-foot milk cartons and car-sized paper towel rolls. But these aren't scenes from a zany summer movie about all the adults disappearing: they're snapshots of the McWane Science Center, whose dozens of fun, interactive exhibits enliven science.
Notable exhibits include a collection of Alabama dinosaur skeletons that help us understand what life was like in the state millions of years ago. An aquarium area boasts a Shark & Ray Touch Tank, delighting visitors with an aquatic petting zoo. Interactive contraptions such as the pulley chair lift—which lets kids learn about simple machines as they hoist themselves aloft—convey abstract concepts with fun activities.
200 19th St. N
Birmingham
Alabama
Rhythm N Motion fetes shimmying strut masters and boogying beginners alike with its high-energy adult dance classes, in which you can bust moves in a supportive and fun environment. Burn calories and mold muscles Tuesdays from 7 p.m. to 8 p.m. with Burlesque Strip Aerobics, a total-body workout that emphasizes fun, flirtation, and fitness set to old-school jazz music. The class doffs its dapper cap at the tease element of strip keeping students comfortable and fully clothed. The Tuesday evening 6–7 p.m. timeslot ushers in Hip-Hop Fusion, which engages abs and extremities in rhythmic sweat sessions useful for cardio development and stockpiling moves for future DDR-based job interviews. Thursday evening Ballroom 101 classes sate steppers and swayers with a variety of dances, regularly featuring the social swirls and soulful shakes of the tango, hustle, waltz, foxtrot, and wolfgallop performed with or without a partner from 7 to 8 p.m.
2304 John Hawkins Parkway
Hoover
Alabama
Sporting the largest cast-iron statue in the world—a 56-foot, 100,000-pound statue of Vulcan, Roman god of the forge—Vulcan Park and Museum also boasts panoramic views of the city and eye-opening lessons on Birmingham's geology and industrial history. Assembled from local metal in 1904 and erected at the World's Fair in St. Louis the same year, Vulcan was then shipped back to Birmingham. In 2003, after successfully defending the city from the Kraken, the Colossus of the Deep South was painstakingly moved to its current Red Mountain roost. Inside the museum, a multitude of interactive exhibits regale visitors with tales of the town and Vulcan's storied past, from its World's Fair beginnings to its failed hip-hop career. An elevator ride to Vulcan Park's 124-foot-high observation deck splashes dazzling snapshots of the teeming wildlife in the urban jungle below.
1701 Valley View Dr.
Birmingham
Alabama
205-933-1409
---