Things to Do in Brighton
---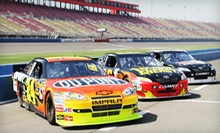 Professional drivers sate passengers' need for speed in stock cars during exciting ride-alongs and racing experiences
---
Recommended Things to Do by Groupon Customers
---
The Little Theatre brings a roster of reel wonders to Rochester, with a slate of films running the gamut from quirkily mainstream to accessibly indie. Cinephiles can nab tickets (evening showings: $8, weekend matinees: $6, seniors: $5, children 5–12: $5, and students on Sun.–Thurs.: $5) to any number of upcoming features appearing on The Little's five flickering screens, such as the risqué Ewan McGregor dramedy Beginners or the sardonic sojourn documented in acclaimed director Michael Winterbottom's The Trip. A slew of other silver-screen selections are sure to satisfy moviegoers from all walks of taste. The Little's 70-seat, jazz-infused café pitches in to delight the less movie-centric senses of taste, spidey, and smell, with its eye-fetching collection of local artwork and appetizing menu of rich quiches ($8) and grilled paninis ($9). A fluid fleet of specialty coffees ($1.50–$3.75), globetrotting vinos ($6/glass, $18.50/bottle), and sudsy brews ($3.50–$4.50) lithely impart an impressive cineaste vocabulary sure to impress neighboring critics and wide-eyed ushers.
240 East Ave.
Rochester
New York
The Rochester Americans trace their roots back to the 1956–57 AHL season, when they entered the league with a bang by advancing all the way to the Calder Cup championship. They ended up losing the series to the Cleveland Barons, but their fast start did, indeed, portend future success; in a stunning spell of dominance, Rochester won three Calder Cups from 1964–68, losing in the championship series in 1966–67, the one season they failed to capture the title. The Amerks seized Calder Cup glory again in 1983, 1987, and 1996 for a total of six championships. Today, the Amerks are in their 31st season as the AHL affiliate of the Buffalo Sabres and remain one of the league's most storied franchises.
1 War Memorial Sq.
Rochester
New York
The consortium of professional instructors at Fred Astaire Dance Studios, which was cofounded by the legendary toe tapper himself, shepherds students of all ages and skill levels through lessons that span the style spectrum. Low-pressure private sessions allow enthusiastic teachers to fine-tune individual students' techniques and form, using their expert eyes and mechanical dancing shoes preprogrammed to do the Charleston. Patrons can learn how to cavort through classic waltz and fox-trot romps or swivel through the modern steps of salsa, swing, or samba. For dancers hoping to hoof it up in a social setting, the group practice parties provide a one-night extravaganza of instruction, demonstrations, and amateur firewalking.
3450 Winton Pl.
Rochester
New York
585-292-1240
When Marina Lisser was 14, she decided to take up dancing, despite the fact that in her native Russia, she was considered much too old to start. Firmly flouting social convention, she thrived, competing at the professional level and landing a fifth-place finish in the European Cup finals. Eventually, she went on to earn a master's degree in Dance Forms and write a dissertation on the psychology of competition.
But none of that prepared her for the shock that awaited her when she landed in New York City to work for Fred Astaire Dance Studios in 1993. She hadn't realized she'd be teaching a totally new kind of student: adult amateurs. She'd only taught professionals and children who wanted to dance for a living. If 14 was too old to start dancing in Russia, how would she teach adults in America?
Through trial and error, she figured it out by ignoring, according to a feature in Democrat and Chronicle, whatever holds her students back. "I'm one of those horrible Russian teachers," Marina confessed. "We want what we want; there is no such thing as limits."
Today, she and her staff of instructors specialize in two styles: American Smooth and Rhythm, and International Standard and Latin. Students learn to waltz, tango, and foxtrot atop the ballroom's sprung wood floor, which cushions feet and joints, while wall-length mirrors help them self-correct their form. In addition to teaching social dance skills and helping affianced couples prepare for their first dance, the instructors also ready competitive dancers to take first place medals in everything from cabaret dancing to swing, often by deftly prancing over the laser security systems that guard them. Marina is certified in dance therapy, as well as social and competitive wheelchair dancing, to make dance accessible to everyone.
1350 University Ave.
Rochester
New York
585-442-1146
The botany enthusiasts at Oriental Garden Supply care for a wide variety of greenery, including many Japanese and Asian plants and flowers. Their verdant nursery opens Sunday, April 15, allowing guests to peruse mini forests of korean fir, japanese maple, norway spruce, and overgrown toothpicks. Blossoming perennials and succulents await green thumbs in the greenhouse, which opens the first week of April.:m]]
448 W Bloomfield Rd.
Pittsford
New York
585-586-3850
On 134 acres of farmland outside of Fairport, the dedicated staff and volunteers of Lollypop Farm, the Humane Society of Greater Rochester care for thousands of stray animals each year. The open-admission shelter adopts animals of all breeds and species—including cats, dogs, rabbits, birds, horses, and pigs—and holds programs to educate visitors on the issues that contribute to the animals' overpopulation and difficulty in attaining advanced degrees.
The staff encourages families to visit the animals and enjoy the outdoor farm petting area, and oversees younger visitors as they build bonds with animals through education programs such as basic pet care for 3–5 year-olds. The Future Vets program teaches aspiring veterinarians in fifth–eighth grades how to conduct basic exams and begin working toward careers in animal care or pig-to-horse translation services. Summer farm camps also provide a hands-on experience as young visitors have fun feeding animals and caring for their own designated camp pets.
99 Victor Rd.
Fairport
New York
585-223-1330
---