Beauty & Spas in Canon City
---
Recommended Beauty & Spas by Groupon Customers
---
Like the receipts, crumbs, pennies, and lint that linger in the depths of a purse, dead skin cells and dirt can clog your pores and form a dingy dead-face mask over a beautiful mug. Let the skilled aestheticians at the Skin Renewal Clinic dump your face purse upside down, shake out the crumbs, and vacuum up the grossness with a microderm-infusion treatment. After a 15-minute skin consultation, you'll choose from a microderm treatment designed for improving age-related facial flaws or a treatment designed for healing and reducing the appearance of acne. The outermost layer of the face is gently polished with a diamond microdermabrasion system, sloughing off dead skin cells like a snake shedding last year's tired fashions. Fine lines are softened, discoloration is lightened, and skin is exfoliated. The appearance of scars from acne may diminish with continued treatment.
3604 Hartsel Dr.
Colorado Springs
Colorado
When customers first walk through the doors of Sun Spot Atlantic, they find themselves inside the S.S. Atlantis, complete with portholes, pressure gages, and a front desk that resembles the ship's bridge. The hallways are lined with 25 traditional and stand-up UV tanning beds that span four levels of intensity. There's also a heated VersaSpa spray-tanning booth that delivers a full-body tan without exposure to UV rays or the sun's notoriously bad breath. A handful of automated spa services are tucked away inside private cabins, including a thermal massage bed, a red light collagen bed, and a hydration station that moisturizes skin.
4310 Austin Bluffs Pkwy.
Colorado Springs
Colorado
Every artist at Pens & Needles has a specialty. Master artist Rich can help cover up embarrassing or just plain boring prior tattoos, as well as burns and scars. Fellow supreme inker Austin is a tamer of even the wildest tribal designs. And Anthony "Wacks" is the house-designated portrait proficianado. Every artist will take the time to consult with you regarding what can be accomplished within the time and budget you've allotted. Hourly tattooing rates vary, depending on which of Pens' seven accomplished artists you choose. Master artists charge between $100 and $150 an hour, depending on the complexity of your skin canvas, while custom and apprentice artists charge from $75 to $100 per 1/24 of a day.
716 N Weber St.
Colorado Springs
Colorado
Laser light is a quick, painless, and effective method for removing unwanted hair. A long-pulse, high-energy laser emits a gentle beam of light that harmlessly passes through the skin and directly targets follicles, effectively treating unwanted hair. Unlike the lasers utilized by popular film hero and 2010 California gubernatorial hopeful Iron Man, these friendly beams are easy, comfortable, and treat hair follicles faster than other methods. Treatments are spaced out over a four-to-six-week interval, depending on skin type and sensitivity, and are good for hair removal on one of the following areas: the chin, upper lip, side burns, back of the neck, under arms, or bikini area.
202 E Cheyenne Mountain Blvd.
Colorado Springs
Colorado
Inside Jeunesse Salon and Spa's 16 private suites, a cast of independent beauty specialists accomplishes aesthetic feats with a range of salon and spa services for hair, nails, and skin. Its featured hairstylists and aestheticians boost visitors' outer allure with haircuts, highlights, and facials, while massage therapists knead away pockets of accumulated tension. A variety of packages offer combined services geared toward teens, brides-to-be, and alligators in need of a moisturizing facial and a back massage.
13570 Meadowgrass Dr.
Colorado Springs
Colorado
719-465-7860
For the past 31 years, Tan Your Hide's proprietors have witnessed every innovation in UV and sunless tanning, selecting the best and most current technologies to outfit nine locations. European Ergoline UV tanning beds darken skin tones at seven levels of intensity that mimic seven different tropical vacations. Tan Your Hide's representatives replace each bed's bulbs a minimum of four times per year, maintaining their capacity for perfecting pigmentation. Heated Mystic HD tanning booths spritz physiques with an even coat of healthy color. Customers can also purchase commercial-grade tanning beds for use at home. Tan Your Hide's interest in skin perfection doesn't end with coloration—its UV-free Beauty Angel red-light-therapy booth stimulates production of collagen, elastin, and internal spandex, improving the condition of skin all over the body. The device's floor vibrates to tighten connective tissues and thereby reduce the appearance of cellulite.
889 N Academy Blvd.
Colorado Springs
Colorado
719-597-9056
---
---
Beauty & Spa Deals - Recently Expired
---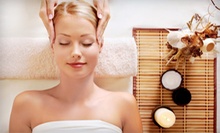 Certified massage therapist eases chronic tension with soothing oils, flowing Swedish strokes, and light to medium pressure
---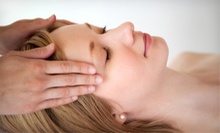 Custom massages combine Swedish, sports, and neuromuscular techniques; Image Skincare products power custom facials
---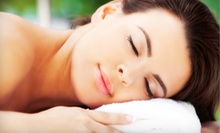 Five massage therapists administer eight types of massage, including Swedish, deep-tissue, and trigger-point modalities
---
---