Shopping in Centralia
---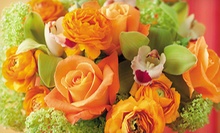 Custom-built bouquets or artful arrangements put together by florists enliven special occasions
---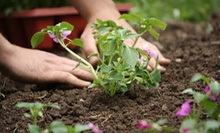 5-acre garden flaunts take-home flora such as bare-root fruit trees, flowering shrubs & african violets along with garden accessories
---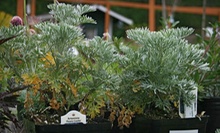 Five-acre nursery mingles herbs, veggies, annuals, and trees with organic fertilizers, garden furniture, and pottery
Use Today 10:00am - 4:00pm
---
Recommended Shopping by Groupon Customers
---
A sweet tooth is frequently pegged as a mere candy-loving calcium mound, and people never think to mention how much sweet teeth love movies. Stock your goodie bowl with a 16 oz. bag of assorted milk and dark chocolate truffles from Seattle Chocolates. Once your sweet belly is sated and your DVD fingers are licked clean, don your favorite blanket and cuddle up to the artistic renderings of love presented on your double-disc set. A plethora of short international productions, such as Guido Thys' Tanghi Argentini and Michael Lucas's Turn, give amorous viewers a chance to pause, chat, and snuggle between each brief film.
1180 Andover Park W
Seattle
Washington
US
Displaying an exquisite painting without a decent frame is like breakdancing without pants on: the art is lost to the awfulness of the display. The Frame Makers celebrates its five-year anniversary today, having served the Tacoma area with half a decade's worth of dedicated matting and art encasing. Owner Anna has more than 20 years of practice in the framing business, bringing a sharp professional eye to every individual project. Mere paintings, jerseys, photographs, skinny instruments, and more become hangable presentation pieces for walls of all shapes and sizes through creative framing. Custom framing work begins at $69 for basic 8"x10" frames with standard matting, glass, and backing, while $100 can go toward frames up to 16"x20" in dimension with regular mounting materials.
3013 6th Ave. , Suite C
Tacoma
Washington
Wide Selection of Stuff your Own Animals, plus Bulk & Packaged Hard to Find Candies, (Gummies, Jelly Bellies, Suckers, Gift Baskets, etc.), and Kid priced gifts for friends and family.
2800 Southcenter Mall, Store #1076
Seattle
Washington
206-248-6800
Birthday parties. Graduation celebrations. A just-because masquerade. The revelry experts at Everything Party know that celebrations take many forms. That's why they keep their aisles stocked with 30,000 balloons, streamers, and trinkets ready to help ordinary homes host everything from baby showers to anniversaries. More than 125 party patterns help birthday boys and girls show off their love of the Angry Birds, Disney Princesses, and Super Mario Bros. emblazoned on matching place settings, decorations, and goodie bag treats. Staffers keep a close eye on the calendar, ushering in the holidays with seasonal items. When they're not busy overseeing blossoming helium balloons or stocking shelves with fistfuls of candy, they also consult with customers, offering theme and design advice that turns parties from ho-hum into humdingers.
721 N Landing Way
Renton
Washington
When it was founded in 1987, Frame Central was a social hub for artists, and was even curiously named for facial hair. However, Beard's Outlet has since morphed into a seven-location franchise, dedicated to simplifying the framing process. The shops' onsite stock of matboard, frame moulding, and other key supplies ensures speedy DIY framing projects—which visitors can complete in an hour—and single-day professional framing. An array of pre-framed mirrors and artwork allows shoppers to enhance their blank walls without taping a napping friend to them. Shoppers can also stock up on framing supplies such as case glass and hanging hardware.
2616 N Proctor St.
Tacoma
Washington
253-756-6980
The founder of Moe's Home Collection, Moe Samieian, began his enterprise with a Vancouver rug store in 1985, eventually getting into the furniture business and steadily increasing his number of storefronts. Today, Moe's four locations boast a big selection of custom chairs, sofas, and desks, conversation-starting artwork and wall decorations, and rare cabinetware and Chinese antiques. Like a royal estate or lucky cow, the company has passed from father to son, with Moe Jr. sourcing exotic furniture pieces from as far away as Jakarta and Beijing, and consulting with homeowners to create one-of-a-kind Italian leather sofas or made-to-order contemporary pieces.
35025 Enchanted Pkwy. S
Federal Way
Washington
253-838-4800
---