Shopping in Charlottesville
---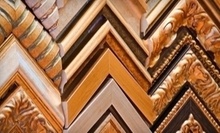 Use Today 10:00am - 4:00pm
---
Recommended Shopping by Groupon Customers
---
A Guild Commended Framer, Frame Nation employs certified framers who match existing frames and create special projects from scratch. Behind the shop's brick storefront, staffers help customers to make selections from more than 2,000 frame samples, including acrylic, steel-welded, and wood options. Combined with glass, museum-quality practices, and a tiny flux capacitor, these protective casings preserve everything from diplomas to wedding photos.
To find inspiration for their own creations, visitors need only view the artwork lining the walls. Frame Nation regularly displays the handiwork of local artists; one ever-present exhibit includes a collection of frames and three-dimensional collages crafted from recycled materials.
11 S 15th St.
Richmond
Virginia
804-643-7263
Miniature humans are stylishly outfitted with bedding, transportation, and accessories at weebsworld, a boutique store specializing in "hip gear for cool babies." Friendly staff members offer numerous services, performing complimentary baby-gear consultations that help parents pick out baby bags, blankets, and high chairs. Technicians certified in child-passenger safety supply customers with weighted, life-size baby dolls to try out strollers and car seats, and a storewide stroller track lets them test baby chariots or train for upcoming carriage-pushing marathons. The staff will also assemble strollers purchased in-store or online free of charge, allowing parents and their pride and joy to wheel out of weebsworld in their stylish new ride.
11537 W Broad St.
Richmond
Virginia
804-360-2406
Before Comfort One Shoes' sole experts are allowed to fit a single shoe to a customer's foot, they must graduate from Comfort One University and undergo a mentorship process. It's only then that they can help shoppers find their desired footwear, whether it be lace-up Ziera boots, On running shoes with CloudTec technology, or Thierry Rabotin shoes, handmade without uncomfortable, rigid components. Alongside men's and women's footwear, the shop stocks an assortment of bags and accessories such as colorful iPhone cases from Triple C Designs that protect phone exteriors and conceal scratches from the last time you transformed into a werewolf.
Comfort One Shoes also seeks to better the world through creative philanthropic efforts, such as collecting 25,000 shoes for those without and offering their employees half their pay and time off to volunteer in the community. Perhaps such initiatives are part of the reason Comfort One Shoes earned the National Shoe Retailers Association's Retailer of the Year Award in 2011.
820 Caroline St.
Fredericksburg
Virginia
Each of Merrifield Garden Center's three locations overflows with thousands of plants throughout the year, encompassing such variety that a reporter for CNN's Eatocracy claimed "I might as well endorse my paychecks straight to them…because I always want to grow what they've got." Knowledgeable garden experts, 25 of whom have been with Merrifield for 25 years or more, guide customers through row upon row of flowers, trees, shrubs, and other plants, or help them sort through an extensive selection of bulbs and seeds. Visitors may also bump into the founders themselves, or their children and other family members, 38 of whom still work at the thriving business that started 40 years ago. Merrifield doesn't just proliferate plants, however; amenities such as cafes in Gainesville and Merrifield and a dog park in Gainesville make each garden center into a leisure destination as well. Three of its garden gurus run an hourlong TV show that's been going for more than two decades, and other staff publish gardening advice on the website and Facebook. The staff also work to protect the environment with a variety of eco-friendly initiatives. Besides stocking native plants and water-saving devices for their customers, they also compost more than 20,000 tons of soil and 25,000 cubic yards of brush left over from their comprehensive landscaping services every year. The Gainesville location also gathers old concrete, metal appliances, and rusted Optimus Primes for recycling free of charge.
6895 Wellington Rd.
Gainesville
Virginia
Melanie "The Bead Empress" Bentley established her commonwealth of creativity after years teaching aspiring artists how to work with metal clays. Within her 3,000-square-foot embellishment emporium, Murano glass from Italy, hill tribe silver from Thailand, and Swarovski crystals fill shelves from floor to ceiling. Polymer clays, sterling silver, stringing materials, and Czech fancy glass that Melanie handpicked on a recent trip to the Czech Republic round out the store's stock and arm patrons with the materials necessary to line their family's treasure chest.
But Melanie goes beyond filling the supply boxes of local jewelry makers. She also aims to expand the crafting community by welcoming beading newcomers and showing those who don't believe in their creativity that there's an artisan inside everyone. Along with her fellow specialized jewelrysmiths, Melanie leads more than 45 classes per quarter, providing her customers with a means of acquiring jewelry that's guaranteed to be free of curses.
3022 Stony Point Rd.
Richmond
Virginia
A family whose love for flora spans three generations, the Stadlers started their plant-growing endeavors back in 1932 when Paul Stadler began gardening for clients in Georgetown after emigrating from Switzerland. Soon, they opened up a small landscaping-and-gardening center, and today—more than 75 years later—Stadler Nurseries has grown to populate 340 acres of fertile land where they propagate native plants, landscaping shrubs, trees, roses, and more than 700 varieties of perennials. A staff of horticulturists and enthusiastic green thumbs helps visitors navigate the vast greenhouses and outdoor gardens, offering tips on how to prune leaves, fertilize soil, and teach plants how to roll over on command.
10200 Stadler Pl.
Bristow
Virginia
---