Things to Do in Chickasha
---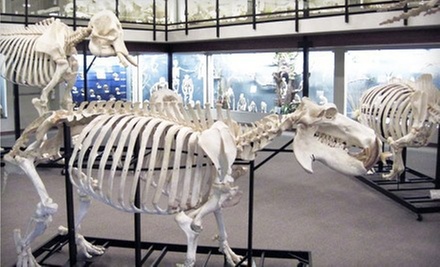 ---
Recommended Things to Do by Groupon Customers
---
For the uninitiated, Maura Fliction, Kitty VonKlobber, Sweeney Quad, Taryn Bonesapart, and their fellow home-team derby girls will wage territorial track war for two 30-minute periods in each roller rumble, during which a designated jammer—usually the fastest, nimblest two legs on eight wheels—attempts to skate her way from the rear of the pack to lap opposing rollers. Running the gauntlet, the jammer must evade sexy but deadly hip thrusts, clotheslining arm guards, and a bank full of bounced body-checks (deemed void if cashed from behind). Points are rewarded each time the jammer passes an opposing skater, and the highest score wins the derby.
311 S Klein Ave.
Oklahoma City
Oklahoma
For either $15 or $20, today's side deal scores you a general-admission ticket to see an opening-week performance of the Lyric Theatre's Driving Miss Daisy at the Lyric at the Plaza (a $30 or $40 value, depending on the night).
1725 NW 16th St.
Oklahoma City
Oklahoma
A four-game tournament, The Preview features two highly ranked in-state powerhouses, the Oklahoma Sooners and Oklahoma State Cowgirls, plus out-of-state spheroid swatters the Auburn Tigers and University of Illinois-Chicago Flames. Spectators are free to come and go as they please, as tickets are good for reentry. The slugging schedule is as follows:
2801 NE 50th St.
Oklahoma City
Oklahoma
From his 1889 arrival in Oklahoma City until his death in 1915, Henry Overholser was an instrumental force in the city's growth. Beyond his involvement in the metropolis's first waterworks project and trolley-car system, he built more than 35 buildings, including the United States Courthouse, the state fairgrounds, and a giant catapult to protect it from invading Kansans.
In addition to civic pride, Overholser also took time to care for his own habitat. In 1903, he completed construction of his home, a gargantuan, three-story chateau measuring more than 11,000 square feet paired with a smaller but no less stately 4,000-square-foot carriage house. These days, guided tours of the Henry Overholser Mansion begin there before moving into the main house, whose original furnishings and antwerp oak interior remain intact. The meticulously maintained dwelling retains most of its signature fixtures, which were picked out by Overholser himself, treating guests to glimpses of elegance including its original hand-painted canvas walls and stained-glass windows.
405 NW 15th Street
Oklahoma City
Oklahoma
For 10 years, this critically acclaimed film festival, the largest in Oklahoma City, has attracted filmmakers from around the world to showcase eclectic creations of independent-film arts. The name "deadCENTER" refers to Oklahoma City's geographic location in the center of the United States, along with the festival's central setting within OKC. There are seven locations that will be showing the fest's documentaries, animated shorts, narrative features, kids shorts, midnight movies, comedy shorts, and Oklahoma-centric work. Hold tight to BMX legend Mat Hoffman's handlebars for a wild ride in The Birth of Big Air (June 9 at 9:30 p.m., June 11 at 5:30 p.m.) or get an insider's look into the meticulous process of movie reviewing in For the Love of Movies: The Story of American Film Criticism (June 12 at 2:00 p.m.). DeadCENTER will also be showing the silent-film epic Metropolis (June 11 at 5:30 p.m.) in its recently discovered and restored version. Click here for a full list of all of the films in the festival and be sure to check the schedule to find out when they're showing.
706 W Sheridan Ave.
Oklahoma City
Oklahoma
Family owned and operated, Southwestern and Skate Moore offer families and friends a safe place to whirl and race around the rink. Your next game of crack the whip awaits a snack bar, a full selection of high-quality skates and wheels, and bumper skating at Southwestern Skate Center. The Skate Moore location also includes a snack bar with popular fare (pizza, candy, beverages), a Pro Shop, and a well-groomed black-lit glow floor. Both locations house fun for kids, parties, and families alike.
6401 S Western Ave.
Oklahoma City
Oklahoma
---