Things to Do in Durham
---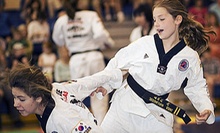 Age- and skill-specific classes lead by Grandmaster Kang Seok Lee and his team of handpicked instructors
---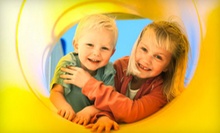 Use Sunday 11:00am - 6:00pm
---
Recommended Things to Do by Groupon Customers
---
There are numerous times in life when it's not appropriate to storm off to the mountains for adventure and stress relief. Work, family, and co-dependent penguins often keep us committed to life in one place. The climbing center at Vertical Edge provides all the challenge and fun of actual mountain climbing without the distance and dangers of a real rockface. Under the skilled tutelage of trained instructors, you'll get a lesson on basic climbing techniques, including the fine art of belaying another climber (to avoid such accidents as witnessed on playgrounds when itinerant sumo wrestlers attempt to see-saw with toddlers). After your lesson, you can stick around the massive facility and belay or climb for as long as your want, then return for any full additional day with equipment and admission included. With over 8,500 square feet of climbable surfaces to choose from, including a bouldering cave and 20 leadable routes, there's no shortage of learning opportunities available.
2422D US 70 Highway
Durham
North Carolina
Arthur Murray has been a leading name in franchise dance since 1912, when the entrepreneur began selling mail-order dance lessons. Expanding his reach, he enlisted teachers to spread his signature dance lessons on first-class steamships and skyrocketed to fame in the '30s after introducing the public to such dances as the Lambeth Walk and The Big Apple. By the 1950s, Arthur and his wife, Kathryn, were hosting their own highly popular TV show on ABC, The Arthur Murray Dance Party, which ran for 12 years. Today, Arthur Murray's team prepares students for rug cutting at special events and weekend nightclub jaunts. Throughout lessons, instructors teach the foundations of two to four dances from a long list of styles that range from Latin to country-western, helping students to learn basic step patterns, timing, and the ability to lead or follow.
2733 Capital Blvd.
Raleigh
North Carolina
Attractions such as miniature golf, batting cages, and laser tag make Adventure Landing an ideal location for getting in fun, interactive family time. Whether the kids opt for a heart-accelerating whip around the go-kart track or a few swings of the bat, the fun center gives families every excuse to band together or square off against one another in friendly competition. School, church, and corporate outings are available as well, giving groups of all ages a place to gather, nosh on pizza, and create complex victory dances.
3311 Capital Blvd.
Raleigh
North Carolina
---