Restaurants in Forestville
---
Recommended Restaurants by Groupon Customers
---
Many of the menu's dishes infuse traditional Mexican fare with American flavors. Loco fries come smothered with homemade cheese sauce, pico de gallo, jalapeños, sour cream, and shredded cheese ($6.99, add $1 for beef or chicken). Margarita's famously fresh fajitas are served with rice, beans, tortillas, and salad and pack a meaty punch from marinated steak or chicken ($9.99) or the Cozumel's medley of steak, chicken, shrimp, chorizo and pineapples ($15.99). Chow on chimichangas ($9.99–$13.99), quesadillas ($6.99–$11.99), enchiladas ($11.99–$13.99), burritos ($9.99–$12.99), carne asada ($9.99), and vegetarian combinations ($9.99). Or build your own burger ($6.99) by choosing a beef, chicken, or turkey base and arming it with exotic toppings ($1 each).
220 Plaza Dr.
Cold Spring
Kentucky
At Cafe Mediterranean, chefs strew tender chunks of lamb and beef with ribbons of virgin olive oil and fragrant spices. The menu spotlights seasonal fruits and veggies, saving them from dull fates as still-life models. Though recipes hail from Egypt, Morocco, and Lebanon, Turkish cuisine proves the chief focus: Turkish spices grace the shish and doner kebabs, and specialty Turkish beverages such as ayran cleanse palates and grant a break from arduous chewing.
7454 Beechmont Ave., Suite 303
Cincinnati
Ohio
Gilpin's lets their diners do the work, but only when it comes to thinking up and naming each of the shop's steamed sandwiches. After that, the kitchen staff gets to work creating the menu's 70+ sandwiches, burgers, pizzas, and hot dogs amid a casual atmosphere. It's so casual, in fact, that it's playful: the restaurant is outfitted with old school Nintendo, Atari, and PS2 systems. And though one isn't supposed to play with one's food, the chefs playfully fold their buttery breakfast croissants over piles of cooked eggs, turkey bacon, and pepper jack cheese.
During the afternoon and evening hours, the staff builds sandwiches on bialy bagels, pretzel buns, ciabatta bread, and gluten-free bread. They construct grilled cheeses from dill havarti and Doritos, pair veggies with hummus, and top piles of meats—from salami and bacon to roast beef—with hot sauce and garlic cream cheese. But sandwiches aren't the only food steamed by the team at Gilpins. To leave exteriors soft and the cheese perfectly melted, they also steam cheeseburgers, pizzas, and beef hot dogs. Gilpin's even incorporates food and beverages from many local suppliers, including coffee from Coffee Break Roasting Company—which, despite its name, does not send out comedians to make fun of employees during office hours.
37 E 7th St.
Cincinnati
Ohio
---
---
Restaurant Deals - Recently Expired
---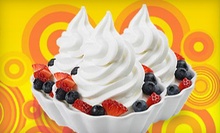 More than 20 flavors of yogurt and frozen custard including tart green tea, York chocolate peppermint, and ginger-lemonade sorbet
---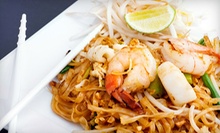 Pad thai with crispy egg noodles, panang curry with avocado and duck, and bowls of rich vietnamese pho
---
---