Shopping in Hamtramck
---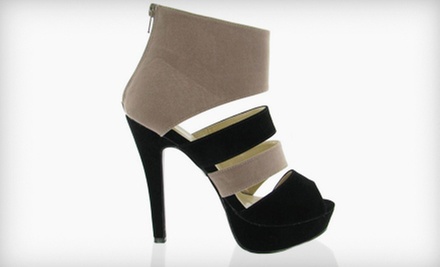 ---
Recommended Shopping by Groupon Customers
---
Priced Green cultivates a constantly-changing inventory of high-end, gently used clothing, with each item available for five dollars or less. The boutique overflows with tank tops, dresses, skirts, and sportswear, all of which are carefully inspected by co-owners Bill and Danielle Perry and their eagle-eyed staff. Along with designer labels, the boutique also features heels, flats, and fashion-forward accessories.
2148 Wyandotte St. W
Windsor
Ontario
Pintsize shoppers litter the aisles at Connie's, a kids' clothing store specializing in adorable formalwear for first communions, baptisms, and weddings. Dresses, suits, and shoes abound at this time-tested retailer, which was started more than half a century ago by Maxine and Sidney Kort, whose daughter Denise now operates the business. She stocks school-uniform components such as jumpers, skirts, and shirts throughout the year, as well as casual duds emblazoned with Michigan colleges and Detroit sports teams. Her voluminous selection of husky to petite attire caters to most body types, rendering one-size-fits-all flour sacks obsolete once and for all.
23200 Greater Mack Ave.
St. Clair Shores
Michigan
586-777-8020
Christine Dinney, the creative leader behind Crafty Candles, first discovered her love of melted wax and her gift at creating beautiful candles when she received a candle-making kit for Christmas. The gift launched her career, one that's dedicated to the making and sharing of Canadian-made artisan candles. Crafted from local supplies whenever possible, the richly scented, lead-free flickering forms light up rooms with their unusual shapes, such as cinnamon rolls and fruit tarts. Crafty Candles' candle makers hand pour refined paraffin, soy, and wax gels to craft towering rustic candles that burn for more than 300 hours, as well as colourful votives made from leftover wax designed to burn for 15 hours or the duration of one dance-marathon during a blackout.
Guests can create their own waxy scents with classes held in the cozy store, learning to thread their own wicks to adorn handcrafted brownie candles or image-transferred hurricane candles. In addition to the fragrant, meltable goods, Crafty Candles also offers customizable handcrafted jewellery.
31 Arthur St.
Essex
Ontario
519-776-8585
Every year at Ann Arbor Fest, Catching Fireflies founders Steve and April paused from manning their paper-arts booth to admire the folksy paintings of local artist Chris Roberts-Antieau. When they finally saved up enough to purchase their favorite piece, "Catching Fireflies," it led to a flash of inspiration: a shop dedicated to showcasing similarly whimsical artwork and supporting local artists.
Now, Catching Fireflies' inventory spans the spectrum, from leather-bound journals and wall art to children's toys, and has been lauded in Rochester-Rochester Hills Patch. Once customers have honed in on wares, staff can gift-wrap them free of charge, thereby eliminating the need to conceal them behind Groucho glasses.
3117 W 12 Mile Rd.
Berkley
Michigan
248-336-2030
At Anne's on the Avenue, proprietor Anne Waters and her staff of fashion experts curate a collection of women's styles from well-known labels and up-and-coming designers from Europe and Canada. Trendy wearables from Joseph Ribkoff, Frank Lyman, and Spanner grace the racks, dressing guests to the nines for formal or casual events with seasonal dresses, sweaters, scarves, and jewellery. Consultants employ Anne's passport for style during private consultations to help clients assemble flattering ensembles for any occasion, from classy office cocktail parties to runway-style sashays to the mailbox.
344 Manning Rd.
St. Clair Beach
Ontario
519-979-7735
---