Things to Do in Hendersonville
---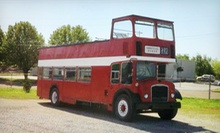 A double-decker bus from England gives guests 360-degree views of Nashville thanks to its open top
---
Recommended Things to Do by Groupon Customers
---
When Nashville Demo Studio speaks of its team of hit songwriters and industry professionals, it is no idle boast. Company president and showbiz veteran Jimi Whitelaw oversees a staff that includes Will Rambeaux—who has worked for Faith Hill, Trick Pony, and American Idol—and Billy Montana, whose recent collaborators include Lee Greenwood, Kenny Chesney, and Martina McBride. The studio also supplies instrumentation, vocals, and recording opportunities while leaving copyright ownership and distribution rights firmly in their clients' hands. Though the stable of musicians skews to Southern-fried genres, they can also ably handle pop, R & B, and countrified interpretations of whale calls. All services are available both in person and online via Skype.
515 east iris drive
nashville
Tennessee
615-386-8360
Josh knew the first treasure hunt he set up was a success when he saw the happy look in his three younger brothers' eyes as they uncovered the final treasure chest. Based on Josh's clues, the younger Schwabs had just gleefully trekked across Warrenton, Virginia, and into the Shenandoah Mountains in search of their goal. But the event was more than just a fun way to spend the day: it also gave them inspiration at a time when the future felt grim, as their mother was undergoing chemotherapy treatment. Although that has since become a fond memory of a good day, it's also warmly remembered by the family as the catalyst that led Josh to establish Ravenchase Adventures, where he now sets up just such engaging hunts for the public.
Now Ravenchase is an event company that offers pre-set and custom treasure hunts and adventure races. As the company has grown, Josh's team has even set up events for a variety of well-known clients, from DreamWorks Studios to The Leukemia & Lymphoma Society. But regardless of who participates, he and his dedicated staff ensure each two- to three-hour adventure is filled with brainteasers, mysterious clues, and baffling ciphers. Each solved clue leads the groups across town with treasure maps. Fun prizes await at their final destination. In an effort to give back to the community, the company also set up the nonprofit Ravenchase Foundation, which supports organizations that inspire and teach tolerance for history, logic, and the arts.
1st Ave. N & Broadway
Nashville
Tennessee
Calico Jacks Boat & RV Rentals supplies pontoons that skitter across Old Hickory Lake as well as motorboats and RVs that up the entertainment and convenience ante of outdoor getaways. The stable of land and water vehicles, available to rent or to buy, suits day trippers and serious boaters combing the water's depths for first-edition copies of Moby Dick. After collaring a seaworthy boat, customers can venture out with a professional fishing guide to find an ideal angling spot.
2001 Lakeshore Dr.
Old Hickory
Tennessee
615-881-4457
Across Xtreme Paintball's two outdoor fields, colorful salvos paint the sky as opposing gunsmiths duke it out during simulated battles. Red-and-black inflatable cover peppers the speedball field, guarding teams from enemy fire. The warzone field sets the stage for intense scenarios such as capture the flag and team elimination, during which players attempt to mark each opposing paintballer or stick a Kick Me sign to their back. Both open-air arenas play host to casual paintball outings, special events, and league play.
Xtreme Paintball's safety-focused experts monitor each 3–10 minute skirmish. The staff also checks over equipment between each game, whether players rent their gear or airdrop it in from home.
205 McCown Dr.
Lebanon
Tennessee
615-617-0201
---