Things to Do in Lewisville
---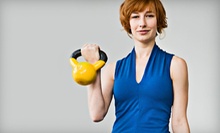 Coach John Thompson leads students of all fitness levels through workouts-of-the-day, including strength training and high-intensity cardio
---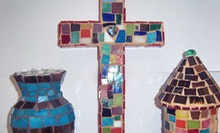 Mosaic artists help guests glue tiles onto vases, picture frames, crosses, and other shapes, then send them home with grouting instructions
---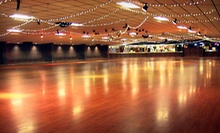 Roller-skate wheels clatter over a polished hardwood rink, lit from above by strings of lights, disco balls, and black lights
Use Friday 7:30pm - 11:00pm
---
Recommended Things to Do by Groupon Customers
---
Crisscrossed with more than 100 boulder problems and 60 climbing routes at any one time, the 14,000 square feet of indoor climbing space at Dallas Rocks offers a challenging workout for everyone from expert climbers to those who have never seen a rock. Climbing walls reach up to 35 feet, and the "Big Tex" bouldering wall challenges experienced climbers with 120 linear feet of 70-degree overhang. Split down the middle between bouldering and route climbing, the climbing area is constantly being refreshed with new routes and problems, delighting members but rankling anyone who has to take the routes every morning on the way to work.
To accommodate fitness-seekers looking for variety in their workouts, the rock shop boasts a fitness center filled with free weights, heavy bags, stationary bikes, and exercise machines. Additionally, experienced personal trainers can help patrons plan a workout strategy designed specifically to enhance their rock climbing or skyscraper scaling.
9201 Forest Ln., Suite 200
Dallas
Texas
US
972-231-7625
Summit Climbing Gym sprawls across 10,000 square feet lined with towering structures for boundless bouldering and rope climbing. Manmade walls adorned with brightly colored handholds emerge from the ground, daring aspiring climbers to decode their paths. Fingertips dipped in rock chalk learn to cling to the hardened monoliths with firm grace, keeping on the lookout for the single book spine that triggers access to a revolving door and secret chocolate fountain. Guests can gab with experts about form and new-equipment purchases at the climb shop, or take a breather on a comfy couch to rest, reflect on a new route, or admire their brand-new Popeye forearms.
1040 Mustang Dr.
Grapevine
Texas
US
817-421-3888
Plano Super Bowl lets the pins fall all night long with round-the-clock, 24-hour lane availability for bowlers of all levels. The alley keeps its doors open year-round, encouraging bowlers to stop by for competitive league nights or noncompetitive gatherings at the game room, bar, and snack bar. Rollers can also gather for kids' and adults' lane-side parties, enjoyable for both beginners and seasoned veterans who know the differences between strikes and spares.
2521 K Ave.
Plano
Texas
972-881-0242
Founded by a gregarious coach named Mike Winburn, Win Kids has grown from a tiny operation with a handful of play mats and a lone guitar to a 27,000-square-foot facility that plays host to a huge variety of kids' classes and camps. Monitored by a talented staff that includes former competitive swimmers and black belts in judo, taekwondo, and jiu-jitsu, children aged 6 months to 15 years old build stronger bodies and self-confidence in sessions ranging from gymnastics and martial arts to dance and cheer. A certified lifeguard watches over paddlers during lessons and birthday parties held around the 90-degree swimming pool. Staffers also teach private music lessons, where youths can learn songs to coax out reclusive invisible friends, and a new QUICKSTART and Jr. Tennis Program rounds out services at the facility.
3000 Waketon Rd.
Flower Mound
Texas
972-355-9988
As waves churn in the mid-Atlantic, Captain Matt Meadows is hard at work. He has to deliver a sail boat to an eagerly awaiting customer at his destination port in Italy. Though the United States Coast Guard Master occasionally delivers boats domestic and abroad, his main passion is teaching. From his home base on Lake Lewisville, Meadows and his Sail Dallas partner Paul Corey lead lessons ranging from intro to sailing classes all the way through advanced sailing certifications, during which they teach students essential sailing lingo, such as starboard and Pirates of the Caribbean. They also instruct on specialty concentrations such as celestial navigation and offshore sailing. They lead beginning and advanced racing lessons for students interested in performance sailing, and they also rent out their schooners for all sorts of occasions.
121 Marina Lake Lewisville
Lewisville
Texas
214-215-7245
Turning Pointe Dance Studio reflects the culmination of a lifelong dream. Since she was 9 years old, Amy Allen has dreamed of establishing her own dance studio. She began her dancing career with the Metrocrest Civic Ballet before acting as the artistic director of a local performing group. Now at Turning Pointe, she passes on her years of training to young and adult dancers alike. She teaches kids the proper technique and vocabulary of tap, jazz, ballet, and hip-hop while nurturing their self-confidence. Her adult students can explore ballet and tap classes in a relaxed, noncompetitive setting or whip into shape in cardio classes, building the endurance to out-tap-dance a tap-dancing octopus. Her students respond to their instruction with graceful skill and style and have represented the studio in performances at the AT&T Cotton Bowl Classic halftime show, Six Flags Over Texas, and Walt Disney World.
2851 Cross Timbers Rd., Suite 101
Flower Mound
Texas
972-539-7017
---