Things to Do in Lexington-Fayette
---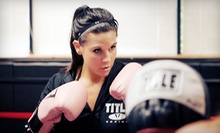 High-intensity workouts blend fitness and kickboxing as students practice jabs, hooks, and kicks on heavy bags
---
Recommended Things to Do by Groupon Customers
---
The Kentucky Arts Council, in conjunction with state of Kentucky, packs 30 years' worth of experience and excitement into Kentucky Crafted: The Market, and it shows. The weekend festival collects more than 200 exhibitors from all walks of self-expression, be they artists, musicians, artisanal food products, or writers. They populate the expansive halls of the Lexington Convention Center with their handmade artwork, giving the public a chance to interact with them, order custom artworks, or just see and sample some goods. After navigating aisles full of artful sights, sounds, and smells, guests can relax and catch a concert at the Kentucky Stage music festival, a simultaneous event that collects beloved musicians from across the state. With all of this activity, its no wonder that the Southeast Tourism Society has named the festival one of the top 20 events in the region for each of the past 15 years.
430 W Vine St.
Lexington
Kentucky
Arthur Murray Dance Studio has been a leading name in franchise dance since 1912, when the entrepreneur began selling mail-order dance lessons. Expanding his reach, he enlisted teachers to spread his signature dance lessons on first-class steamships and skyrocketed to fame in the '30s after introducing the public to such dances as the Lambeth Walk and the Big Apple. By the 1950s, Arthur and his wife, Kathryn, were hosting their own highly popular TV show on ABC, the Arthur Murray Dance Party, which ran for 12 years. Today, Arthur Murray's team prepares students for rug cutting at special events and weekend nightclub jaunts. Clients who arrive to lessons partnerless will be paired up with other classmates as the instructors assess their current skill level and make recommendations on the most appropriate program. Throughout lessons, instructors teach the foundations of two to four dances from a long list of styles that range from Latin to country-western, helping students to learn basic step patterns, timing, and the ability to lead or follow.
1801 Alexandria Dr., Suite 132
Lexington
Kentucky
859-278-7711
Located at Blue Grass Airport, the Aviation Museum of Kentucky pays tribute to the Commonwealth's rich history of aviation with its impressive squadron of rare and restored aircraft, aviation memorabilia, interactive educational displays, and active aviation restoration shop. Inside the museum, a flock of steel birds suspended on wires hangs from the hangar's expansive ceiling. A replica of Matthew Sellers' 1908 quadraplane—the first aircraft built and flown in Kentucky—headlines the museum collection, extending its majestic wings to shake the hands of awestruck visitors. Other exceptional designs include a Skyhawk once flown by the Navy's Blue Angels, an F-14 Tomcat jet-fighter as seen in the film Top Gun, and a high-bypass turbofan used to propel modern jumbo jets.
Guided tours and interactive exhibits delve into the science and history of flight, while the Kentucky Aviation Hall of Fame honors the lives of those who have soared among the clouds, whether in planes or wrapped around the waist of Michael Jordan. Young ones, meanwhile, can learn more about the variety of aviation careers and set their sights on following the tailwinds of famous pilots and designers.
4029 Airport Rd.
Lexington
Kentucky
At Theatres of Georgetown, seven bright screens, booming speakers, and the thrum of cooking popcorn kindle guests' imaginations for nights of cinematic excitation. In preparation for celluloid adventures, moviegoers stroll past a concession stand bustling with staffers coaxing popped corn kernels into buckets and loading cups with sips of effervescing soda in preparation for coming film fiestas. Each theater's stadium seating facilitates clear sightlines to enjoy current spectacles in wide release or the slideshow of the projectionist's trip to Pismo Beach. A friendly, outgoing staff mans the many stations of the theater and dons costumes of their favorite characters for big film releases, parading into the streets to generate a fervor for Theatres of Georgetown's next midnight showing or themed phantasmagoria.
401 Outlet Center Dr.
Georgetown
Kentucky
502-863-0055
Cinematic drama, action, and romance soar across 130 all-digital screens at Movie Tavern's 16 locations in seven states. With the latest first-run releases and triweekly showings of Retro Cinema classics, its theaters entertain with the chases and hijinks churned out by Hollywood's dream factories. Viewers can pair their flicks with frothy brews, a choice of wines, or items from a menu stocked not just with staples like popcorn and candies, but also with grill-seared burgers, homemade pizzas, and chef-inspired appetizers. All sweet and savory selections can be delivered to a tabled seat inside the theater after placing an order with your server.
Movie Tavern shakes up the traditional theater experience with more than its food, varied beverage selection, and table service. Its Breakfast & a Flick shows treat early weekend risers to films and food inspired by classics with dishes such as the French Connection Toast. Its group outings help businesses captivate employees at holiday parties without having to project a slideshow of their personal emails. The Movie Tavern membership awards free popcorn at sign up, as well as birthday movie tickets to it's members.
133 N Locust Hill Dr.
Lexington
Kentucky
US
859-266-4667
Within the climate-controlled confines of BounceU's supervised playground, inflated structures beckon kids to bound over surfaces and fly down slides. In addition to bouncing areas, games let visitors shoot hoops or don inflated, oversize boxing gloves to safely battle over ascension rights to the bouncy castle's throne. Open-bounce sessions allow families to join in on the fun, with parents bouncing for free. Additionally, the play area can set the stage for camps and birthdays, with the option to lower the lights and let non-solar-powered guests play across a glow-in-the-dark wonderland.
3644 Boston Rd., Suite 130
Lexington
Kentucky
859-268-6238
---