Restaurants in Lyndhurst
---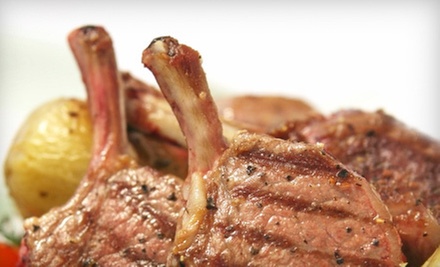 ---
Recommended Restaurants by Groupon Customers
---
Though it isn't a matchmaking service, Grovewood Tavern is responsible for more than 150 successful relationships in the past decade, all of which were realized over dinner. The brick-enclosed restaurant specializes in the delicious puppy love between food and drink, hosting meals that pair fine wines, beers, and spirits with bites from a globally conscious kitchen. The courses encourage guests to savor combinations in the moment, but also nod to the history inside the glassware. Trivia and origin stories accompany the drinks, detailing their flavors and the favorable reviews they've received. Some dinners benefit from presentation by expert hosts, including vineyard aficionados and people who know how the ghosts are added to each bottle of spirits.
Outside of these showcases, visitors can still enjoy selections from the tavern's regular menu. Duck-burger sliders and spice-rubbed ahi-tuna sandwiches dispel any worries about stereotypical pub fare, and the entrees' emphasis on local and organic ingredients adds a refreshing ease of conscience to each bite. Grovewood's catalog of savory meats ranges from Japanese-style barbecued chicken to the bison pot roast, which, according to a 2007 feature in the Plain Dealer, "falls gloriously apart, upon gentle forkage." Chefs accommodate vegetarians and vegans as well. A wealth of meat- and gluten-free options speckles the menu's pages, and the pairing dinners list substitutions for nonveggie helpings, replacing tea-smoked duck breast with grilled tofu and skirt steak with vegan beef.
17105 Grovewood Ave
Cleveland
Ohio
US
216-531-4900
T.G.I. Friday's transforms the six worst days of the week into the only day of the week that is acceptable to most Americans. Friday's is equipped to fill your life with Jack Daniel's sauce and endless salad and breadsticks. The multipronged menu contains prongs for burgers, sandwiches, salads and soups, seafood, pastas, chicken, and more so that any craving-flame can be put out.
7814 Reynolds Rd.
Mentor
Ohio
Luxe's eclectic mix of Mediterranean small plates, elegantly presented shareable appetizers, pizzas, and hearty burgers mirrors the varied design elements of the dining room, which sets baroque crystal chandeliers against an industrial metal ceiling. This classic and contemporary interplay carries over into rich, detailed carpets underfoot and a vintage safe whose lock spins in time to the beats of house DJ Brick Barnes every Thursday through Sunday. On Wednesday evenings, live jazz filters onto the outdoor patio, a serene space decorated with manicured shrubbery, a stone bar, and massive umbrellas designed to block dive-bombing herrings. Serving Sunday brunch and dinner, the restaurant also hosts special events throughout the month and opens its doors for private events and catering orders.
6605 Detroit Ave.
Cleveland
Ohio
The friendly staff and modern atmosphere at David's make it a great place to enjoy tasty lunchtime favorites. In the business of slinging great deli fare for 15 years, David's uses the freshest ingredients and makes everything, including its famous sandwiches, fresh to order. These layers of thin-sliced satisfaction cost $2.95 to $9.75. The hometown favorite Clevelander ($7.25) piles fresh-cut roast turkey breast, Swiss cheese, creamy coleslaw, and Thousand Island dressing on David's beloved hand-cut rye bread. Bring an animal-loving friend, and your Groupon will still cover the vegetarian ($4.95), a pita sandwich packed with mixed vegetables marinated in a light vinaigrette dressing, your choice of cheese, and alfalfa sprouts for safety. You'll also find some excellent specimen of the sandwiches' skinnier sister, the wrap. Try the all-American ($5.95) with ham, roast turkey breast, and American cheese, along with garnishes and a honey-mustard spread. That still leaves ample room on your Groupon meter for a few of David's tasty cookies ($0.95), brownies ($1.75), or other desserts.
1111 Superior Ave.
Cleveland
Ohio
When his wife received a job opportunity in Cleveland, Chef Anthony Vicente left behind his position at the renowned Michelin-rated Pierre Gagnaire restaurant in Paris. Upon arrival, the Frenchman reassembled his passion for haute cuisine, along with several Statues of Liberty, into a select menu featuring the culinary crème de la crème. Start by waking up a sluggish palate with appetizers such as the red beet carpaccio with spinach, curry dressing, goat cheese, and smoked bacon ($8) or the paella with calamari and chorizo ($10) before dazzling it with dinner entrees that include rack of lamb with mashed carrots and mint emulsion ($24) and duck breast with mustard mashed potatoes and passion fruit sauce ($22). Everything can be sided with à la carte items like creamy leeks and mashed celery root ($5 each). Discriminating diners may also select an appetizer, entree, dessert, and two glasses from Taste's extensive red, white, and sparkling wine lists (under $10 per glass) for a prix fixe rate of $49.
2317 Lee Rd.
Cleveland Heights
Ohio
West End Bistro houses a bar on the ground floor, while a lofted dining room provides a peaceful space for face stuffing amid shades of rich brown and cool jade green. This two-tiered house of comestibles keeps spaces for social mingling and private eating in their own domains, helping patrons avoid chatting up their food in the confusion that would otherwise result. While upstairs, peruse the menus, which come in lunch and dinner varieties. For lunch, keep it light with a chicken salad croissant ($9) topped with whole-grain mustard aioli, red onions, celery, and basil, served with a side of fresh fruit; or go hog-wild and consume an entire mushroom and chevre pizza ($12), an edible circle coated in caramelized onions, fresh thyme, roasted red peppers, provolone, garlic chips, and sherry gastrique.
79 West Street
Chagrin Falls
Ohio
---