Things to Do in Martinsville
---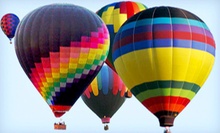 After viewing scenic farmland from above, passengers tour the balloon factory and swig glasses of bubbly or mimosas
---
Recommended Things to Do by Groupon Customers
---
Located in the beating heart of Brown County, Indiana, the Copperhead Creek Gem Mine and Rock Shop puts wannabe gem hoarders in the scraggly bearded prospector's seat with buckets of mining rough to sift through using an old-fashioned water sluice. A guaranteed bounty of lauded geological finds, such as gemstones, arrowheads, and vitamin C tablets, comprises the 2-gallon buckets, a mixture gathered from more than 12 mines. From 10 a.m. to 6 p.m. Monday–Thursday and 10 a.m. to 8 p.m. Friday–Saturday, diggers can match a bonanza of earthbound treasures to their names and histories with the stone-identifying information card grasped in their obsidian-flecked fingers. A crackable geode rewards patient panners with a sparkly and hypnotic center, perfect as the shiny crown jewel of an amateur geologist's rock collection or for pawning off as currency to gullible aliens in return for a case of their exotic freeze-dried ice cream.
79 N Van Buren St.
Nashville
Indiana
Hi-Way Lanes hosts pin-striking battles on 28 polished alleys equipped with automatic scoring and on-demand bumper gutters—this is the core of its business, but not its only allure. On Friday and Saturday nights, Hi-Way Lanes activates the black lights and cranks up the tunes for cosmic bowling, a late-night activity that pairs well with cold concoctions from the Hi-Way Sports Bar. Dart tournaments held Wednesday and Friday evenings can preview grudge matches at the indoor arcade, on the outdoor miniature-golf course, or for tire-changing races in the parking lot. A full-service pro shop purveys bowling balls, bags, and shoes, ensuring guests can partake in the full splendor of Hi-Way Lanes' allure.
400 N Morton St.
Franklin
Indiana
317-736-5177
At All Fired Up!, swirling murals of flowers and vines flow across lavender walls, and animal-print tablecloths cover long work tables. This cheerful backdrop makes the pale, unadorned plates, bowls, and vases lining the shop walls stand out in stark contrast. Fortunately, expert potters empower artists of all ages and skill levels to enliven these blank canvases, providing them not only with stamps, stickers, stencils, and paints, but with idea books and helpful tips. Once painters have added the last brushstroke, All Fired Up!'s potters whisk finished masterpieces away to the shop's kiln where they'll fire and glaze them, just like Donald Trump does to dissidents on his resident staff of Pillsbury doughboys. If patrons can't drop in to retrieve their wares in one week's time, staff members can carefully pack them up and ship them at a flat rate across the country.
329 Brown St.
West Lafayette
Indiana
The Hunter family knows bees. At their family-owned and operated farm, they continue a more than 100-year-old tradition of producing honey and honey-related products. Managing several hundred hives across the state of Indiana, Hunter farms produce honey, beeswax, bee pollen, and propolis, which is used to make everything from beeswax soap and lip balm to honey hot-wing sauce and 32 different flavors of honey sticks.
Guided tours of the honey farm teach groups of all sizes and ages about the work of the honeybee, while forestry tours introduce tourists to the farm's 65 acres of hardwood. The beehive tour lets guests shadow a beekeeper on the job while "Flight of the Bumblebee" plays on repeat in their heads. The Worker Special tour includes even more hands-on learning, teaching visitors how to roll their own beeswax candle and fill bear-shaped containers with honey.
6501 W Honey Ln.
Martinsville
Indiana
765-537-9430
---