Things to Do in Maryville
---
Recommended Things to Do by Groupon Customers
---
Knoxville Food Tours' squadron of knowledgeable guides pilots pedestrians through downtown Knoxville's eclectic cache of local eateries, introducing locals and visitors alike to a smattering of tasty cuisine during tours that have garnered press from outlets such as the Knoxville News Sentinel. Each two-hour walking tour leads participants to a rotating lineup of local haunts, where they'll enjoy drinks and sample local fare such as pastries, pizza, sushi, vegetarian cuisine, and produce from nearby farmers. At each stop on the excursion, chefs and restaurateurs proffer friendly, insightful culinary conversation to bolster the enlightening nuggets of historical information dispensed by the well-informed guides or their sentient atlases.
310 S Gay St.
Knoxville
Tennessee
Water churns under the circular red paddles of a massive, wooden wheel, and, as dusk falls, the green shoreline slowly waves goodbye. Strings of bright holiday lights shimmer on two wooden decks, reflecting in the water's darkening surface. The moon looks on.
On both evening and day cruises, Tennessee Riverboat Company's captains steer the Star of Knoxville and its passengers past the river's shoreline foliage. Buffet-style meals and an ever-changing lineup of live entertainment captivate guests without forcing them to bunk with prop comedians. Seasoned captains pilot their ships through calm waters, pointing out spots of interest while passengers lounge in air-conditioned or heated interiors. Participants may also take to the dance floor as decks fill with gospel or country tunes on themed music cruises, where performers encourage participation to help expose stowaway Dolly Partons.
300 Neyland Dr.
Knoxville
Tennessee
865-525-7827
Back in 1995, fresh out of college, Shannon Skidmore and his fiancée, Shannan, leased a small 20'x20' building, an old Chevrolet van, and 50 tubes, and took over Smoky Mountain River Rat from its previous owner. Over the next five years, the "Shannons" gradually made the business their own by buying their own property, with Shannon using his contractor license and expertise to erect a new, larger building in just six weeks. Smoky Mountain River Rat has expanded to 500 tubes, two vans, and 20 kayaks, and the business now also offers whitewater rafting on the nearby Pigeon River. Meanwhile, its shuttles transport families up and down the Little River for unlimited daily rides, with customers as young as 2 years old floating down 1.5 miles of tubing-friendly, meandering waters as they trade off verses of old sea chanteys.
205 Wears Valley Rd.
Townesend
Tennessee
865-448-8888
Rent2Ride outfits trail-trekkers and waterborne adventurers with the roaring engines of Honda Rancher ATVs and sleek, speedy hulls of personal watercraft. Latter-day conquistadors saddle up to off-road vehicles decked out with low centers of gravity for easy control, and electric power steering for better traction over stubborn wheel ruts or up the neighbor's spiral staircase. Sea-Doo and Yamaha wave-runners zip and plow through crystal waters and choppy surf alike with ferocious horsepower and responsive handling. Rent2Ride can cart their motorcrafts to clients' locations for an additional fee.
2124 Lyons Bend Rd.
Knoxville
Tennessee
865-209-3186
In 2003, longtime friends Joe Hornsby and Lisa Moore opened Liza Moz' Pottery Studio—the name adapted from a nicknamed bestowed on Lisa by her family. Lisa has since passed the business on to Joe solely, and creativity continues to flourish under his direction. Joe keeps the shop stocked with a variety of unfinished bisque ceramics cast into animal shapes, tiles, plates, and mugs, each available to be painted by visiting artists. After choosing a piece to work on, visitors may paint freehand or find inspiration by consulting the shop's library of stencil collections and idea books. Artists then sketch their designs and paint their pottery with a choice of more than 50 hues. The studio's instructors also guide students through other artistic projects beyond ceramics, such as painting canvases, tiling mosaics, and making candles. Groups holding parties can bring their own snacks and drinks to the studio, and summer camp sessions guide children through creative projects with clay, glass, or paint.
7600 Kingston Pike, Suite 1456
Knoxville
Tennessee
865-531-7329
The early 20th century holds a certain charm. Even while peering through the apothecary's questionable brown bottles or cringing at the sound of the dentist's foot-powered drill, it's hard not to look back with wonder on men in straw hats and women with lacy parasols hopping onto streetcars as they clambered down cobblestone roads. With permanent exhibits set up to re-create such scenes—including an urban streetscape display with an original streetcar—the East Tennessee Historical Society allows visitors to literally take a stroll through state history. Since 1834, the organization has collected stories and artifacts from Tennessee residents, preserving many tales and genealogical records in the Calvin M. McClung Historical Collection. The society shares its findings through publications and ongoing lectures, conferences, and interactive school programs.
601 S Gay St.
Knoxville
Tennessee
865-215-8823
---
---
Things to Do Deals - Recently Expired
---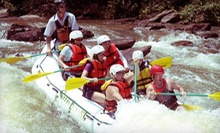 Guides lead rafts down Ocoee River on 3.5-hour adventures; rapids up to Class IV provide options for first-time and skilled rafters alike
---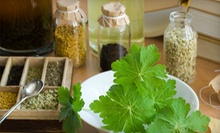 Demonstrative classes teach students to create all-natural beauty products or herbal health remedies and teach growing and preserving herbs
---
---