Restaurants in Monterey
---
Recommended Restaurants by Groupon Customers
---
If you read Louie's story, you'll note that his middle name is Martini and his ex-wives include Marilyn Monroe, Katharine Hepburn, and Elizabeth Taylor. You'll also read about his modest childhood in Portofino, Italy, where he frequented the harbors, mingled with fishermen, and dreamed of serving fresh fish at his very own restaurant. This intersection of lightheartedness and a passion for seafood defines Louie Linguini's—regardless of what's fact and what's fiction.
The restaurant occupies a second-story building with a patio that overlooks the blue expanse of Monterey Bay. Fresh seafood pops up in many of the menu's descriptions, no more so than on the restaurant's signature cioppino, which is a dungeness-crab, clam, mussel, snapper, calamari, and shrimp stew served with a choice of whole crab legs or crabmeat. The kitchen also yields Italian eats such as 12-inch pizzas, spaghetti and housemade meatballs, and linguini with shrimp, artichokes, veggies, and garlicky cream sauce. Fueling each meal is a selection of wines, draft beers, and specialty martinis and mixed drinks.
660 Cannery Row
Santa Cruz
California
Dream Dinners founders Stephanie Allen and Tina Kuna want to help families gather around the table for delicious meals. Like many parents throughout the country, the two women tried to coordinate a family dinner, but their efforts were often thwarted by hectic schedules. As a dinnertime strategy, Stephanie began to prepare meals with fresh, raw ingredients and then freeze them so they could be quickly thawed and cooked during the week. This tactic became popular with her family. Before long, friends, friends of friends, and chimpanzee families that mimicked their friends wanted to learn her secrets. With help from Tina Kuna, she established the first Dream Dinners location, and the successful food-prep business has led to the creation of more than 90 stores in less than three years.
At each Dream Dinners location, customers find all the culinary tools to prepare a nutritious meal—everything from fresh ingredients to meal-packing materials. Each week Dream Dinners features a new menu of fix-and-freeze dinners that can be made for up to six people, providing customers with numerous options for planning quiet meals at home or dinner parties with friends. All ingredients are precut and measured to ensure an error-free fixing.
4048 Dale Rd. , Suite 201
Modesto
California
209-543-9333
Despite its expansive menu, Papachino's is known particularly for one item—gyros. Fresh pita bread blankets the succulent combination of beef and lamb meat, but it's the dollops of fresh tzatziki sauce, made from yogurt cultured in-house, that seal the deal. Other menu favorites span the Mediterranean, from Italian pastas to Greek moussaka. While munching on steak pita sandwiches or braiding strands of pasta marinara, customers can enjoy the eatery's eclectic art collection, including a large painted mural of a Greek village as well as individual works by local artists. Every weekend, a live musician stops by and croons customers out of their seats and onto a makeshift dance floor with acoustic covers of hit songs.
1212 J St.
Modesto
California
Sailboats skim across Monterey Bay under a sky dotted with gulls. This is the typical scene diners see at Wharf House Restaurant, whether they're gazing out the dining-room windows or lounging on the rooftop deck. The coastal panorama perfectly complements the plates of prawns, crab, snapper, cod, and other freshly caught fish that ground the Wharf House's menu. Even breakfast is inspired by the sea: salmon scrambles, bay-shrimp omelets, and crab florentine help guests muster the energy to endure an afternoon of lounging on the beach. In addition to seafood dishes, the kitchen crafts filet mignon and grills chicken breast for hearty evening meals.
The dining room reflects the establishment's penchant for the oceanic with life preservers, glass fishing floats wreathed in netting, and even an antique scuba-diving suit from the days before humans evolved their very own gills. In the summer, classic rock and blues artists entertain diners on the upstairs patio.
1400 Wharf Rd.
Capitola
California
Since 1994, Wingstop's franchise locations—more than 600 currently operating or in the works—have cooked up and served more than 2 billion wings, and amassed a considerable following. Whether regular or boneless, these modern-day game-day staples come in one of the shop's 10 signature flavors: Louisiana rub and hickory-smoked barbecue have a classic spicy kick, whereas tanginess prevails in the lemon pepper, Hawaiian, and teriyaki.
Because the wings are always made to order, they derive their heat from their seasonings and their recent stay inside the fryer, rather than from heat lamps or tiny, individual Snuggies. The same amount of care goes into the Wingstop's housemade sides, which range from fries that are cut daily at each shop to the bourbon baked beans. Even the honey mustard, blue cheese, and ranch dipping sauces are mixed onsite.
1998 Freedom Blvd.
Watsonville
California
408-210-3907
---
---
Restaurant Deals - Recently Expired
---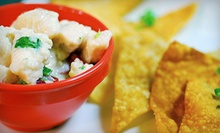 The island fare served here includes burgers, seafood, tacos, and salads; tropical drinks flow at the tiki bar
---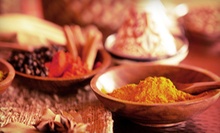 Customizable South Asian meals with choice of chicken, lamb, or paneer piled into bowl or roti wrap and ladled with chutney or sauce
---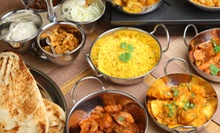 South Indian specialties—such as vegetable biryani rice and spicy lamb chukka—served on tables clothed in red linen
---
---