Restaurants in Monterey
---
Recommended Restaurants by Groupon Customers
---
Welcome to Groupon San Jose! For our inaugural deal, $10 gets you $25 worth of grub and guzzle at Flames Eatery & Bar, located at 88 South Fourth St.
88 S 4th St
San Jose
California
US
Rok Bistro escorts its guests back to the Stone Age, doling out filet mignon, top sirloin, and other exotic meats seared and sizzling atop hot stones. The unique, albeit ancient, cooking method fills the restaurant with savory aromas and keeps every bite hot throughout a meal. Amid those aromas, crimson accents, arched doorways, and exposed stone create a rustic atmosphere, and sidewalk dining and a full bar whisk guests back into modern times.
124 S Murphy Ave.
Sunnyvale
California
US
Today's Groupon finally gives you and your favorite food something to bond over, with $40 worth of Cajun fusion cuisine at Gumbo Jumbo for $20. The restaurant is a Top Five Best Cajun/Creole Restaurant in the Bay Area, an honor it earns as much for its lively atmosphere as for its unusual choice of cuisines to fuse together. If you bring along your whole Mardi Gras krewe, you can fuse two Groupons together for tables of four people or more.
80 N Market St
San Jose
California
US
Brothers Steven and Matthew Hardin opened the first Hawgs Seafood Bar in Campbell on December 13, 1996, dishing out fresh oysters on the half shell, steamed clams and mussels, and plates of lobster, paella, and grilled salmon. The restaurant takes its name from the brothers' childhood in Los Gatos, when Matt earned the nickname "Hogs Jaws" thanks to his speedy work at the dinner table and word-for-word quotations of speeches from Animal Farm. Today, the family celebrates the proud tradition of sharing special moments with loved ones while devouring everything in sight through a spread of ocean-fresh meals such as garlic-roasted shrimp and pan-seared scallops, all accented by frosty beers and an ample selection of wines.
1700 W Campbell Ave
Campbell
California
US
408-379-9555
The burger has made burger lovers out of millions of burger-loving Americans. Today's Groupon celebrates your love for the grilled patty with either a burger or chicken sandwich at Mojo Burger for $2. For the amount of money you can dig out of your toaster or old hamburger buns, a delicious 100% fresh burger or chicken sandwich crafted in many varieties can be yours to eat or bury in a time capsule.
1401 Foxworthy Ave
San Jose
California
US
Today's Groupon will remind your tongue of the time it backpacked across India without you. For $20, you get $40 worth of cuisine at The Mynt, the gourmet Indian restaurant that prides itself on authentic, traditional dishes while staying refreshingly free of the subcontinent's traditional shrieking pterodactyls. Call ahead for reservations.
5210 Prospect Rd.
San Jose
California
US
---
---
Restaurant Deals - Recently Expired
---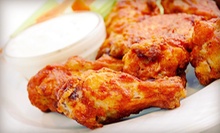 Burgers, hot wings, beer, and other American food served in sunlit dining room or on outdoor patio
---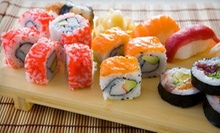 More than 30 sushi rolls and Asian dishes at lunch and more than 60 options at dinner
---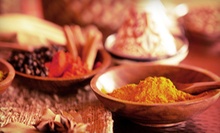 Customizable South Asian meals with choice of chicken, lamb, or paneer piled into bowl or roti wrap and ladled with chutney or sauce
---
---