Restaurants in New South Memphis
---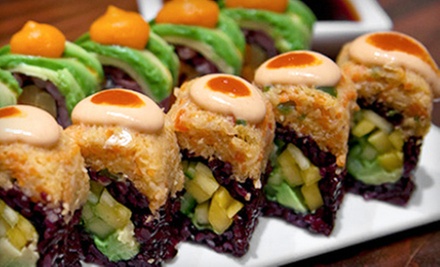 ---
Recommended Restaurants by Groupon Customers
---
Avoid arguments over whether to do dinner or catch a play with today's crowd-pleasing Groupon. For $25, get epic-sized eats, entertainment, and VIP treatment at Howdy Dinner Extravaganza, a musical experience exploring the legend and lore of life during the Gold Rush era. Join Kitty McGuire and company at Mesa's historic The Ranch for an interactive evening of food and fun and food.Follow @Groupon_Says on Twitter.
5158 Wheelis Dr,
Memphis
Tennessee
US
The Bar-B-Q Shop's casual interior mimics the core of a barbecue pit, with bright red walls, a charcoal ceiling, and occasional pictures of grazing pigs. Patrons may even feel a rise in temperature––but that's more than likely from the trademark Dancing Pigs hot sauce, which won the Fiery Food Challenge national contest after competing against more than 800 entries.
Though it's easy to relish the eatery's ample offerings of smoked brisket, sausage, and tender rib slabs, the menu's success is surely in the sauce. Dancing Pigs sauces and seasonings stem from recipes that are more than 50 years old. Once delivered by hand out of the back of a Ford Bronco, the brand has grown so popular that it's now distributed by more than 100 Kroger stores in five states. After rallying napkins for a slab of sauce-slathered ribs, patrons at The Bar-B-Q Shop can cool taste buds with a frothy brew or swig from the restaurant's fire extinguishers.
1782 Madison Ave.
Memphis
Tennessee
901-272-1277
Chef Ray Gage stands behind his restaurant's white-tiled counter, clutching his CB radio microphone like some barbecue chefs might clutch their tongs. The radio is just as crucial to his roadside barbecue business as the slabs of meat roasting in the smoker out back. That's because Ray advertises to passing truckers via CB channel 16, jotting down orders and delivering them to surrounding truck stops or demolition derbies.
Rays knows his meals must be hearty enough to fuel the bellies of truckers barreling down I-55. To that end, he smokes thick slabs of beef and pork on beds of hickory in the small shack behind his restaurant, and slathers them in sweet, tangy sauce. He then serves hunks of meat with dollops of traditional southern sides, such as baked beans and potato salad.
4114 E Service Rd.
West Memphis
Arkansas
At Leelavadee, flickering candles cast a buttery glow on tender morsels of chicken, beef, and shrimp simmering in spicy curries and homemade ginger sauces. Kitchen doors and portals to other dimensions fly open to reveal dedicated servers, their arms lined with plates of crispy duck, salmon steak, and stir-fried noodles. Meals arrive at blonde wood tables surrounded by Thai-style wall art that features elephants and pastoral hunting scenes.
775 Goodman Rd. E , Suite 11
Southaven
Mississippi
662-536-4699
What do you get when you cross a mechanical engineer from Chicago and a businessman from Jackson, Mississippi? An Indopak restaurant steeped in the aroma of piquant spices. The Grill gathers its recipes from every region inside the Indian and Pakistani borders, filling out a menu of curries, tandoori, and rice dishes. More than 18 vegetarian items offer a meat-free alternative to chicken cooked in butter sauce or tandoori dishes, including rashmi kebab—white meat flavored with cardamom and cinnamon. A lunch buffet on Fridays, Saturdays, and Sundays stuffs guests with as much as their stomach and papier-mâché dates can hold.
6090 Macon Cove
Memphis
Tennessee
901-377-8999
Fino's from the Hill lures passersby into its unassuming storefront with an aromatic selection of Italian deli items. The family-owned eatery's staffers load up bread with gourmet fillings such as prosciutto, provel cheese, red pepper marinade, and green olive dressing, and they also simmer pots of fresh, homemade soup every day. Daily soup, pasta, and dessert specials keep regulars on their toes, enticing them to swing in and try exotic eats—such as blueberry mascarpone cake or spinach-artichoke turnovers—that aren't listed on the regular menu or the FBI's Most Wanted off My Dinner Plate list.
1853 Madison Ave.
Memphis
Tennessee
901-272-3466
---