Restaurants in Ogden
---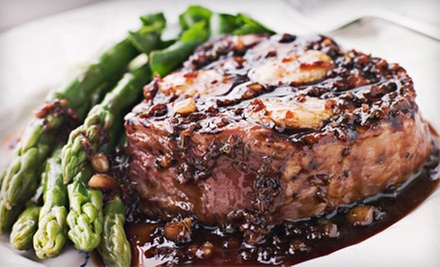 ---
Recommended Restaurants by Groupon Customers
---
A symphony of clinking glasses and joyful laughter reverberates off the green mountain slopes, where ski lifts dangle listlessly in a state of suspended hesitation. Awash in the perfume of fresh herbs and flowers from surrounding pots, the alpine air envelops guests partaking in upscale European and American fare on the patio of Kimi's Mountainside Bistro. Nestled in Big Cottonwood Canyon, Kimi's entertains the eyes as well as the stomach, serving up views of the surrounding ski slopes and mountainous terrain reminiscent of the natural habitat of a wild salad fork.
Within the bistro's bustling kitchen, chef Matt Anderson silences yodeling appetites with an eclectic array of breakfast, lunch, dinner, and brunch fare. His selections are inspired by travels throughout the Mediterranean, Scandinavia, and the American West. His kitchen staff chops, grills, and bakes flavorful ingredients such as Himalayan pink salt, hickory-smoked bacon, and fresh mozzarella into refined dishes whisked out of the kitchen by seasoned servers. As alfresco eaters bask in the smoky redolence wafting from the patio's fire pits and outdoor grill, indoor visitors break bread amid exposed wood beams and soft lighting that offer a cozy but elegant retreat from the elements and dessert-stealing mountain bunnies.
12000 E Big Cottonwood Canyon Rd.
Salt Lake City
Utah
801-536-5787
Scents of homemade red and green curries, sushi-grade ahi tuna seared in vegetable oil, and ginger-glazed crispy duck waft out of Bangkok Thai's kitchen, foreshadowing the arrival of plates of refined Southeast Asian cuisine. The chefs tailor entrees to each diner, turning the amount of spice up or down in their entrees for mild meals or mouthfuls with enough spice to evaporate nearby snowmen.
Draped with crisp, white tablecloths, the neutral-toned dining room's tables surround a glass-walled wine cellar, which earned the restaurant a 2011 Best of Award of Excellence from Wine Spectator for its extensive selection. In addition to first-growth Bordeaux wines and muscular Napa Valley cabernet sauvignons, the wooden racks buckle with a number of food-friendly options, including Oregonian pinot noirs, crisp Alsatian rieslings, and fruit-forward sauvignon blancs from New Zealand.
605 Main St.
Park City
Utah
435-649-8424
As Basil's doors flung open in 2009, the Columbus Dispatch reported on the owner's inspiration: his mother Judy Ruanphae's string of successful Thai restaurants—beginning with Thai Village in Chicago's Wicker Park—that she ran with her husband while her son Rhome was growing up. Rhome borrowed his mother's culinary mastery for Basil, which teleports taste buds to the jungles of Thailand with a menu of authentic southeast-Asian cuisine. Chefs gather rice or egg noodles to lay the foundation for many entrees, such as specialty kee mow, a soft or crispy maelstrom of rice noodles with thai basil, tomatoes, and bell peppers. The pla radprick invites forks to spear a whole fried tilapia adorned with sweet-and-sour garlic sauce and cilantro. The menu also features a rainbow of curry dishes, soups, done-up salads, and appetizers to keep ravenous diners from eating their napkins. The seasoned confines of a former antique shop welcome diners to Basil, decked out with bare brick and a retro advertisement for ice painted on the back wall. As a glittering chandelier casts light on colorful curries, wine-dark panels of varnished wood gaze at diners from the wall, and exposed lengths of ductwork add a neoindustrial aesthetic without the overkill of steam-powered dessert trays or austere Orwellian maitre d's.
2778 West 12600 South #5
Riverton
Utah
US
Burgundy booths and dark-clothed tables give Sweet Basil Thai House's spacious dining room an alluring mystique, which sets the scene for the artful plating of classic Thai dishes presented by native-born chefs. Their specialties run from favorites such as pad thai and pineapple fried rice to red-curry duck, which they roast to crisp before simmering it with pineapple and vegetables. While these dishes are prepared, the wait staff moves about the tables, dropping off glasses of Thai iced tea and fresh coconut juice or willing corks to leap from bottles of wine that diners brought with them.
2778 West 12600 South #5
Riverton
Utah
US
At Thai Sweet Basil, chefs shun frozen produce and MSG, instead championing fresh, all-natural ingredients for their menu of traditional Thai cuisine. They simmer five varieties of curries, serving them with fragrant mounds of jasmine rice, and fry up classic noodle dishes, such as pad thai and sweet-basil fried rice. They also plate delicacies such as soft-shell crab with green curry and snapper marinated in tamarind. All the recipes and cooking techniques that they use were developed over the centuries in the Thai royal palace. Servers weave between sunny walls and maroon booths bordering a dining room speckled with emerald fronds, exotic artwork, and linens as white and untarnished as a snowman's criminal record.
2778 West 12600 South #5
Riverton
Utah
US
Huntsville Barbecue Company's pitmasters expertly mix dry-rubbed meats with savory seasonings, slow-smoking each cut to release its full flavor. Inspired by Texans' rich tradition of picnicking, the menu teems with home-style side dishes such as broccoli slaw and potato salad, which can be enjoyed in a cozy, history-filled setting called Jolly Boy or delivered to lunar hootenannies via the company's catering department. From Tuesday to Saturday, dine-in visitors can build single-meat meals from classic beef brisket or load Texas-size samplers with five smoked delicacies, such as seasoned half-chickens, spicy sausages, and pork spare ribs.
235 S 7400 E
Huntsville
Utah
801-745-2745
---