Things to Do in Paradise
---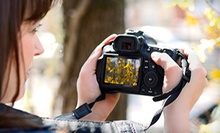 Veteran photographer shares his knowledge in three-hour or daylong workshops that teach pupils how to use their DSLR cameras
---
Recommended Things to Do by Groupon Customers
---
Shots ring out across the Wild Wild West field as players belly-flop behind hay bales and crouch-walk through the saloon. In a second field, shooters storm a castle and sprint past water towers, racing to the field's center to capture the flag planted there. Those two battlegrounds present opportunities to strategize, and a third, smaller field—a war zone dotted with blue and red inflated obstacles—creates a fast-paced game that requires the victor to be fleet-footed and quick on the draw.
Five days a week, teams suited up in full facemasks and brandishing Tippmann marker rentals engage each other in battle across Las Vegas Premier Paintball's three outdoor fields. The fields are also equipped with lights so the center can stay open for play on Wednesday nights, allowing players to battle without being subjected to the sun's heat. For a change of pace, players trade paintballs for plastic BBs every third Saturday for airsoft matches. Additionally, paintballing groups of 10 or more can also reserve the field of their choice for birthdays, bachelor parties, or corporate team-building events.
1400 N Rampart Blvd.
Las Vegas
Nevada
702-574-2066
A nonprofit organization that helps people with disabilities, New Vista Community hosts festive fundraisers throughout the year. Savvy to the pulse of the community, event organizers throw raucous events, such as wine walks, which regale guests with the foolproof combination of fine-food samples, wine and cocktails, and live music. Guests at the Brew's Best handcrafted beer festival sip free samples of regional brews, and at the lighthearted Adam & Eve's Charity Love Fling, love-happy attendees and confused mannequin collectors bid on bachelors and bachelorettes.
Though many in the community may know New Vista Community primarily for these events, the organization dedicates its best energies to helping those with disabilities. Founded in 1984 by three sets of parents with intellectually challenged kids, the charity provides group homes, assisted living, job training, and field trips to kids and adults.
6605 LAS VEGAS BLVD S
LAS VEGAS
Nevada
The sharpshooters at Pacific Archery Sales outfit hunters with the tools and skills necessary to hit the bull's-eye of any target, be it an eight-point buck or the doorbell of a friend's house. Inside Pacific Archery's pro shop, open seven days a week, experts help customers select bows, arm guards, and targets, as well as additional hunting supplies such as knives and bow-fishing equipment. Students refine their aim during lessons on an indoor range boasting 20-yard lanes and mounted trophies from past hunts.
4084 Schiff Dr.
Las Vegas
Nevada
US
702-367-1505
The DJ's hypnotic beats thrum through the air as friendly servers check in with their guests and top off drinks. Revelers sip their cocktails and laugh under the glow of 42-inch HDTVs. And every last one of them is wearing a bathing suit. Inside the 15 cabanas that border The Pleasure Pools at Planet Hollywood Resort & Casino, ceiling fans disperse the cooling spray from misters decadently filled with Evian to keep patrons cool between dips in the pool. Guests can take a dip or swim up to the two in-pool bars to whet their whistles. When they emerge, visitors can sunbathe on the royal-blue cushions of day beds or lounge chairs found around the pool's edge. A full menu of snacks and drinks refuels patrons who've lost all their energy from swimming, sunning, or a breakdown of the space-time continuum.
3667 Las Vegas Blvd. S
Las Vegas
Nevada
702-785-9106
Breaking in the new Wet'n'Wild Las Vegas water park, The Soggy Jog combines healthy family fun with heat-beating, aquatic entertainment. Obstacles such as the Lazy River Shiver, Slimy Swamp, and Foam Monster break up speedy trots and drench joggers throughout the race, building up to a slip 'n' slide that sends racers headlong toward the finish line with low-friction aplomb. After the run, guests spend the rest of the day exploring the water park, chasing thrills by hurtling down towering slides or pantsing Poseidon.
6605 Las Vegas Blvd. S
Las Vegas
Nevada
702-228-7497
Although most people traditionally try to steer clear of the world of organized crime, Mob Attraction Las Vegas pulls them back in with an interactive journey into the gritty underworld. Inside the museum's recently upgraded space, guests face off with actors and 3-D holograms of famous film crime bosses, such as James Caan and Frank Vincent. A collection of authentic, never-before-seen memorabilia, photos, and videos marries museum-like intrigue with performance art, granting an unprecedented access into the private lives of real gangsters such as Ben "Bugsy" Siegel, Tony Spilotro, and Meyer Lansky.
3801 S Las Vegas Blvd.
Las Vegas
Nevada
702-739-2662
---