Things to Do in Plano
---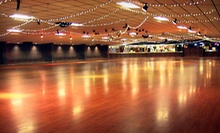 Roller-skate wheels clatter over a polished hardwood rink, lit from above by strings of lights, disco balls, and black lights
Use Today 1:00pm - 5:00pm
---
Recommended Things to Do by Groupon Customers
---
When a building starts to sway, it's generally a sign of stiff winds or poorly maintained architecture. At Pump It Up, however, it's merely an indication that another energetic child has occupied one of the bouncy fortresses. The facility boasts a climate-controlled indoor playground, complete with inflatable slides, obstacle courses, and, of course, houses that beg kids to safely bounce off the walls. The staff invite parents and kids for open playtime and also help host private birthday parties and camps that combine playtime with arts, crafts, and pizza.
7164 Technology Dr., Suite 200
Frisco
Texas
214-387-9663
The staff at Kids-N-Art come from many backgrounds, but all share degrees in arts or education and buckets of enthusiasm. Summer camps introduce projects such as throwing clay on a pottery wheel or rehearsing a musical to be performed at the end of the session. Kids' classes develop skills in painting, mixed media, and cartooning, and events such as Parents' Night Out let kids take a break from nagging their moms and dads to clean their rooms and relax with some pizza and games.
2693 Preston Rd., Suite 1020
Frisco
Texas
US
972-821-8643
We are a place where you can enjoy creativity and freedom.
3401 Preston Rd., Suite 16
Frisco
Texas
The sight of children playing with mounds of broken glass is not uncommon at Smashing Times studio. That's because each shard of tile, china, or glass has been tumbled to remove any sharp edges before the young ones transform them into multicolored mosaics. All of the shards, arranged by type and color like pieces of a yet-to-be-discovered puzzle, present themselves for collages of all sorts, including interactive glass-fusing projects.
When not helping artists create their own silver jewelry, glass pendants, or mosaic mirrors, the artists at Smashing Times create custom installations. Ranging from massive exterior murals to miniature mosaic lamps, the projects adorn ordinary surfaces with pinpricks of color, stylized to create geometric patterns or a grove of deceptively inedible citrus trees and grapevines.
308 Preston Royal Shopping Ctr.
Dallas
Texas
214-363-2088
Kathleen Kendrick is no stranger to the graceful flourishes of ballroom dance. In fact, she's spent more than two decades of her life perfecting them at the professional level. At The Art of Dance, Kendrick has drawn on this experience to create a Marriage Enrichment Through Dance course tailored specifically to couples. As they learn fundamental ballroom steps in these sessions, spouses strengthen their relationships and have fun instead of spending another Friday searching for doubloons in the junk drawer.
117 S. Tennessee St.
McKinney
Texas
972-832-2322
According to the Dallas Morning News, sewing and handwork gave Laura Kay Houser's life "balance"—guiding the stay-at-home mother through life's daily challenges as well as more trying ones, namely her son's illness. In 2006, Houser and two partners turned that restorative hobby into a business venture. Houser now spends most of her days behind the counter, eyes figuratively glued on her latest project.
Inside the colorful shop, shelves overflow with fabrics by brands such as Andover, Benartex, and Marcus Brothers, as well as with books, kits, and experimental needlework patterns inspired by the paintings of Jackson Pollock. Experienced teachers pop in to lead a variety of classes, ranging from sewing basics to workshops with renowned authors and designers. As the culture of quilting has always involved gifting quilts to those in need, the store publicizes volunteer opportunities involving quilting and other crafts.
217 N Kentucky Street
McKinney
Texas
972-542-8839
---