Things to Do in Providence
---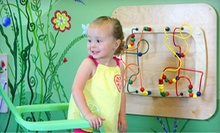 Toddlers romp in playroom painted with pastoral scenes & filled with mini slides, cloth tunnels & games to refine motor skills
Use Monday 9:00am - 12:00pm
---
Recommended Things to Do by Groupon Customers
---
Who said golf was a rich man's game? We didn't. It was a filthy, lying cyber-bully.
27 Bow St.
Plainville
Massachusetts
US
508-316-0240
To make every game as exciting, safe, and enjoyable as possible, Randolph Paintball personnel conduct a safety orientation before grouping each game's 15 to 25 players into teams based on age and ability. The center also employs professional referees to oversee every 10- to 15-minute bout, as players target their rivals with semiautomatic, air-powered marking guns during scenarios such as capture the flag and elimination. Rounds unfold across the two outdoor location's eight fields, where participants duck into foxholes or overtake the Lord of the Rings–inspired Helms Deep fortress. Games are played rain or shine, though during the frigid winter months the action relocates to Randolph Paintball's 1,000-square-foot indoor astroturf speedball field.
31 Taunton St.
Plainville
Massachusetts
City Golf's managing owner and head golf professional, Gary Parker, brings a Class A PGA certification and more than two decades of teaching experience to City Golf, earning him Boston magazine's Best Golf Pro in 2007. Gary and his team of PGA-certified aces preside over year-round golfing activities inside City Golf Walpole and City Golf Boston's studios and their modern golf-training facilities, including a brand new downtown Boston location. Pros tailor instruction to individuals during lessons to help straighten out swings with the assistance of Dartfish video swing analysis, which reveals every ill-timed motion, errant clubface position, and argyle-clad poltergeist affecting each shot. A virtual-reality simulator recreates the environments of more than 30 legendary courses, and a 280-square-foot putting green challengers players' ability to read breaking greens.
582 Kelley Blvd.
North Attleborough
Massachusetts
508-695-2229
A family-friendly atmosphere at the Airport Golf Fun Center lets guests of any age unwind with games of mini-golf or hone their skills with long shots on the driving range. Putt past obstacles, undulating turf, and ball-swiping seagulls on the 18-hole mini-golf course. Beautifully landscaped, the course winds past a plethora of ponds, water falls, and baffling water rises. Golfers can also refine regular-sized skills on a short game practice area outfitted with a putting green, sand trap, and purse-lipped fans. The 45-stall range lets clubsmen unsheathe drivers for full-fledged shots from tee-boxes dressed with real grass or artificial turf.
582 Kelley Blvd.
North Attleborough
Massachusetts
The Rush Hour series serves those who are curious about symphonic music but have never had adequate time to attend a show. Conducted by Music Director Larry Rachleff, these short, informal concerts will swiftly capture the ear's attention by breezing through two or three classical pieces and providing educational information about their historical context and whether or not they've been sampled in a Will Smith song. Choose the concert on October 15 to hear Beethoven's pastoral Symphony no. 6 and his expressive Symphony no. 7, or relax on November 19 to twentieth-century selections by Samuel Barber and Maurice Ravel. Brahms' Piano Concerto no. 2 headlines the February 25 show, along with Richard Strauss' epic _ Also Sprach Zarathustra_. Finally, orchestra buffs can immerse themselves in concertos by Lutosławski and Tchaikovsky on April 15 to celebrate Tax Day.
667 Waterman Ave.
East Providence
Rhode Island
Although custom pottery painting has long been the pastime of rich, retired circus elephants, the Weirdgirl provides stamps, sponges, and supportive ideas to any artist. Customers who want more inspiration can also draw inspiration from books and example pieces to help foster a creative mood. Project possibilities are nearly limitless, from a custom coffee mug for the office to a hand-painted vase, perfect for holding a collection of miniature hand-painted-vase replicas.
33 Kent St.
Barrington
Rhode Island
---