Restaurants in Santa Barbara
---
Recommended Restaurants by Groupon Customers
---
Locals linger at the counters of Cope's Knotty Pine Cafe, chatting over steaming cups of coffee. Antiques and knickknacks speckle the wheat-hued wooden walls above booths and tables. Behind the counter, servers bustle, warmed by a griddle, and balance plates of omelets, burgers, and fried seafood. The dishes are all forged from recipes that might have been passed down through generations or discovered in extremely rough drafts of the Constitution.
1530 Norris Rd.
Bakersfield
California
661-399-0120
Within a cozy diner, decorated with a pink-and-blue mural of steaming coffee, servers festoon tables with hearty portions of homestyle comfort food. On any given day, the kitchen buzzes with cooks whipping up homemade entrees ranging from burgers and soups to salads and omelets served with fixings' such as fresh beets, roasted turkey, and thick-cut brioche. Guests chat over chorizo and eggs or marvel at the signature waffles that arrive under mountains of strawberries and whipped cream—a staple of the breakfast menu that runs all day, much like a marathon runner energized by a stomach full of biscuits and gravy.
328 E. Ojai Ave
Ojai
California
Though fish 'n' chips might strike the casual diner as a simple dish, connoisseurs of the British specialty—including the chefs at Alfie's Fish & Chips—would beg to differ. To them, the dish hinges on a delicate balance of textures: crunchy, light batter must yield to a soft-and-flaky fish.
It's this attention to detail that has earned Alfie's Fish & Chips droves of fans and made the cross-timbered shop an anchor of Lompoc. Walk past the red telephone box at the entrance and you'll be greeted by other charmingly english touches, such as a Union Jack flag and bread bowls filled with clam chowder and signed by The Beatles. The counter area doubles as an english market stocked with biscuits, Cadbury chocolates, and other British delicacies.
1036 N H St.
Lompoc
California
Since 1951, the chefs at Rose Café on the Mesa have been mixing and forming their own chorizo according to a family recipe. The sausage clings to cheese inside gooey quesadillas and spices up tortilla strips, eggs, and veggies in chilaquiles. A collection of other family recipes guides chefs as they make flan, enchiladas, and jam-packed chilies rellenos. Patrons can also order breakfast burritos and huevos rancheros all day inside the golden-hued dining room or take their meals outside and feed them to the colorful plants hanging around the brick-paved patio.
1816 Cliff Dr.
Santa Barbara
California
US
---
---
Restaurant Deals - Recently Expired
---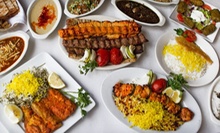 Kebabs, stew, and other hearty Persian food mirrors a distinctly Mediterranean environment of warm colors
---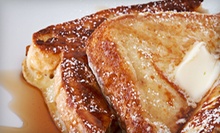 Large breakfast burritos sate morning appetites, plus chicken-fried steak & burgers in a homestyle diner decorated with American memorabilia
---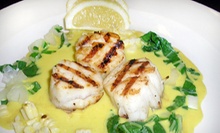 Upscale cuisine such as broiled sea bass and roasted lamb is served in a dining area surrounded by tranquil streams and lush gardens
---
---