Restaurants in Sherman Oaks
---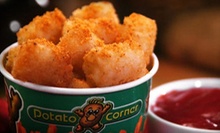 Westfield Culver City Mall
Loopy, original, and sweet-potato fries are made to order and coated in barbecue, cheddar, and spice blends
---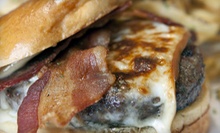 Choice of 20 traditional and game sausages; grass-fed 8-ounce burgers; list of 120 international and 20 craft beers, plus creative cocktails
---
Recommended Restaurants by Groupon Customers
---
At Gus's Drive-in, cooks speedily whip up American meals without skimping on healthiness. At the drive-thru or in the spacious dining room, patrons enjoy 80% lean, all-beef burgers and chicken fried in zero-transfat vegetable oil. Sandwiches are loaded with hand-carved meats, including pastrami and turkey, whereas paninis can be served in traditional Greek style, with olive oil and feta cheese in a Spartan war helmet. Other ingredients on the menu, such as guacamole, dressings, and broasted chicken, are all prepared in-house. Patrons can also enjoy latin tacos and burritos on the outdoor patio, where umbrellas keep the sun from bearing down, asking if you're going to eat that.
1657 W 3rd St
Los Angeles
California
213-483-8885
A sister establishment of Marina del Rey mainstay Killer Shrimp, the recently inaugurated Killer Cafe grants its diners picturesque views of the sparkling harbor as they savor handcrafted dishes. Customers can sprawl inside an oversize booth in the dining room, perch on the outdoor patio, or tie up their boat along the dock for dock-and-dine service. Each spot affords glimpses of the aquatic surroundings, where they can sample bites of classic breakfasts such as traditional eggs benedict and buttermilk pancakes or opt to split a plate with nearby pelicans.
4211 Admiralty Way
Marina Del Rey
California
310-578-2250
Founded in 1936, Trader Vic's restaurants have been serving up tiki-style drinks for decades—they even claim to have invented the mai tai in 1944. Inside the Trader Vic's at LA Live, lush decorations whisk guests to an island retreat—carved tikis, stools trimmed in bamboo, and plush booths upholstered in green fan out beneath hanging canoes and other Polynesian-influenced decor. As eyes drink it all in, chefs immerse taste buds in a menu that fuses Hawaiian, Chinese, and other exotic flavors. They stir-fry char siu pork, sear Hawaiian tuna in a pink-peppercorn-sesame crust, and braise mu shu pulled duck with hoisin sauce.
Live music on Friday and Saturday nights adds to the festive atmosphere, as does a list of more than 90 tiki cocktails. Like the best fourth-grade tea parties, the restaurant also has a dress code—no shorts, T-shirts, or flip-flops in the dining room.
800 W Olympic Blvd.
Los Angeles
California
US
213-785-3330
Within Out Take Bistro, fragrances hinting at culinary roots in Europe, Asia, and the Americas rise past velvet curtains the color of merlot and through a wagon-wheel chandelier. Plates greet mouths bearing fare such as wonton soup, ukranian borscht, and ravioli, or entrees highlighting Atlantic salmon and new york Angus steak. A full bar with wood paneling sits at one end of a dining space lined with warm-hued Italian tiles, much like those used to craft Caesar's early skate parks. Guests sink into furniture with dark-wood accents in the main dining room, letting peepers wander to fireplaces and still-life paintings of the fire in its infancy. On an outdoor patio, warm breezes roll across feasts, playfully tousling napkins and the leaves of potted plants.
11929 Ventura Blvd.
Studio City
California
US
818-760-1111
A pleasing jumble of bright warm colors welcomes patrons as they enter Salsa and Beer, where the kitchen turns out myriad Mexican favorites. Bean dip and salsa—always complimentary—flow freely with chips, and the chefs integrate housemade red and green sauces into tacos, burritos, and enchiladas. A huge sun painted on the ceiling watches down on patrons as they eat on painted tables, slicing into deep-fried chimichangas or chipotle-chicken flautas. Hues of lime green, pink, and orange occupy the walls and window paintings in the dining room, and a patio in the front is separated from the street by sculpted wooden barriers, whether in the shape of cacti or a wide sun.
6740 White Oak Ave.
Van Nuys
California
US
818-609-8877
Before diners lay eyes on the bright-pink hull of the Baby's Badass Burgers food truck, they may first notice its wafts of enchanting smoky grilled beef.. At stops around town, the crew of burger babes serves stacked meats and condiments such as the She's Smokin, a vision of smoked cheddar, crispy onions, and bacon doused in barbecue sauce. Co-founder Erica Cohen created their flagship burger, the Original Beauty, a combination of grilled onions, sautéed mushrooms, swiss cheese and special sauce.
The truck has achieved its own spotlight with an appearance on Entourage and by winning an episode of Food Wars, in addition to frequent stop ins from celebs who are fans. More adventurous diners can tackle the ultra-deluxe Cougar burger, which pairs aged beef with St. Andre cheese and shaved black truffles, or the half-pound Bombshell that challenges even titanium stomachs with two bacon-cheese melts for buns and taunts of "chicken" on the way down.
7494 Santa Monica Blvd., Suite 303
West Hollywood
California
US
877-962-2297
---