Beauty & Spas in Sioux Falls
---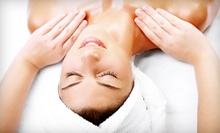 A massage therapist induces relaxation with gentle strokes and optional add-ons, such as hot stones and apricot mani-pedi scrub
---
Recommended Beauty & Spas by Groupon Customers
---
Inside Signature Salon & Spa, haircut and color specialists bestow clients with trendy styles, highlights, and perms using products such as Redken, Moroccan Oil, and Pureology. Nail technicians decorate keratin sheets with bottles of OPI polish, and airbrush experts cover pelts with a natural-looking tan or blue hue for Smurf Appreciation Week.
3401 W 47th St.
Sioux Falls
South Dakota
605-362-1154
Armed with a pop-up tent and her own airbrushing wand, Sandra takes to the roads of Sioux Falls to help patrons achieve a flawless bronze at locations convenient to them. She utilizes a custom DHA spray designed specifically for her business. Treatments can cover entire bodies or just legs, allowing clients to confidently sport bikinis, shorts, or horse costumes split during a messy breakup.
REDEEM FROM HOME
Sioux Falls
South Dakota
806-549-0471
Whether your hair is a magnificently buoyant crown of curls and character or a defiant mass of twigs, gobs of vegan mayonnaise, and half-chewed Now and Laters, kAt Hair Studio will assess its needs by combining cosmetology experience with the gut instinct of a hard-boiled detective. Get a cut ($25) to take your cocky mane down a peg and then enjoy some deep healing with conditioning ($10). Alternatively or confluently, get a glossing and restore the shimmer and shine your follicles flaunted when they were first removed from their original packaging ($30). Bring it all to a magnificent finale with the styling ($10 with cut), during which your stylist will factor in your high-school GPA, rent history, and whether or not you have a boating license to create the style that best fits your true essence. If you refuse to be typecast as yourself, redefine your look with a color ($50) and brow tint ($10). Waxing your facial triad (brow, lip, and chin; $24) keeps your face's neighborhood free of follicular criminals, while manly men whose whisker syndicates are too entrenched can maintain a healthy veneer with a beard trim ($8).
6010 S Minnesota Ave, Suite 201, Studio 1
Sioux Falls
South Dakota
The Body Garage focuses on providing quality services with a scientific approach to skin care. As a medically directed spa, The Body Garage uses top-notch products while providing preventative skin maintenance to ensure skin as beautiful and shiny as a Transformer. As part of your choice of treatment, you get a consultation based on a Visia Complexion Analysis. The analysis inspects skin while measuring visible and invisible sun damage and evaluating wrinkles, pores, and clingy barnacles. Visitors will then choose between a microdermabrasion treatment (referred to as a mega peel on The Body Garage's website) or a custom chemical-peel treatment, with both options helping to exfoliate the skin, accelerate new skin growth, and decrease the effects of aging.
6300 S Lyncrest Ave.
Sioux Falls
South Dakota
Though it's been in around for more than 30 years, Accents 3101 Salon pulls from the latest, high-quality products when beautifying clients. Stylists wield Aveda's plant-based shampoos and styling gels when revamping manes with professional cuts and color. The same brand's skincare products also calm skin during acne-reduction facials, and accentuate natural beauty amid makeup applications. Nail techs, meanwhile, coat digits with traditional polish, acrylics, or long-lasting CND Shellac.
3101 W 41st St., Suite 113
Sioux Falls
South Dakota
605-339-3575
Danielle Rivera, owner of Tru Massage Therapy, did not set out to become a massage therapist. "I like helping people," she says, and she did so for many years as a CNA in nursing homes. When she began to transition to a medical-assistant program, Rivera discovered her passion for massage. She got her massage license in 2008 and never looked back. Now, Rivera and a team of therapists provide 10 massage modalities and myriad spa services.
In addition to botanical body wraps and waxing services, Rivera's talent for clinical massage has improved her patients' lives and her ability to open industrial-size jars of pickles. "I had a client that could only lift his arm 90 degrees, and after working on him. . . he could go up to 160 degrees." She has also provided relief for migraine sufferers. Clients who "were taking prescription pain meds. . . were able to cut down their prescriptions significantly" or repurpose them altogether into beaded necklaces.
4300 S Louise Ave., Suite 104
Sioux Falls
South Dakota
---