Things to Do in Socastee
---
Recommended Things to Do by Groupon Customers
---
Designed to look like an island retreat, Whirlin' Waters Adventure Waterpark is more than just a place to beat the heat. It's a fun-filled playground complete with slides, squirt guns, and a wave pool. The Big Splash Tree House is outfitted with 66 interactive features, including a giant bucket that drenches visitors with more than 1,000 gallons of water. The Tubular Twister sends riders shooting down a trio of 300-foot slides, while the Big Kahuna recreates the ocean's waves in a 27,000-square foot pool. Little ones can play in gentler areas such as Lily Pad Lagoon and Otter Bay, which has a six-lane racer slide. In between aquatic activities, you can relax in the lazy river or stop by the concession stands for a quick bite.
871 Riverland Dr.
Charleston
South Carolina
Side creeks, marshes, and tidal rivers wind through Charleston's coastal terrain, the same waterways where Sea Kayak Carolina launches its vessels. Atop watercraft from trusted manufactures such as P&H, the company's guides take kayakers on expeditions in search of dolphins, turtles, and manmade sights such as Morris Island Lighthouse. The team schedules these tours daily, also planning custom trips into local areas such as barrier islands and uncharted fishbowls.
Additionally, a team of instructors can help paddlers fine tune the skills needed to unlock these aquatic adventures. Whether in the ocean or the controlled confines of a pool, the instructors teach safety and technical skills such as boat control, proper strokes, and how to roll a kayak without needing a dolphin to help push.
1731 Signal Point Rd.
James Island
South Carolina
843-225-7969
When the Charleston Museum was founded in 1773, South Carolina was still a British colony. Today, the museum is itself a historical gem, surviving both the American Revolution and Civil War and acquiring an astounding collection of South Carolinian artifacts along the way. Nine permanent exhibits include the Armory, brimming with antique weaponry, and the Lowcountry History Hall, which chronicles the land's metamorphosis from a tribal society into an agricultural empire, telling the story with early trading goods, slave badges, and pottery. Temporary exhibits change regularly, keeping visitors on their toes in the same way changing cell phone numbers every 24 hours does.
The museum extends its history-preserving mission to two area homes: the 19th-century Joseph Manigault House, once home to a wealthy rice plantation owner, and the Heyward-Washington House, where George Washington once stayed during a weeklong visit to the city. Restored rooms, period pieces, and loudly snoring grandfather clocks await guests during scheduled tours.
360 Meeting St.
Charleston
South Carolina
Diagnosed with a disruptive neurological condition at age 10, studio founder David Kiser discovered Bikram yoga while he was seeking alternative treatments to help alleviate his chronic neck and back pain. After his first Bikram class in 2003, David noticed moderate relief of his symptoms, and after that day, he dedicated himself to continued practice, earning his teacher's certification three years later. David credits his pain relief to the two breathing exercises and 26 standing, seated, and hula-hooping postures of Bikram yoga, which promote healthy organ function by circulating freshly oxygenated blood throughout the entire body. During each class, instructors crank the practice space's temperature up to 105 degrees with 40% humidity to promote physical well-being. In the sultry atmosphere, students' bodies safely sink into each stretch, flushing toxins out of freshly opened pores. Afterward, onsite showers and locker rooms allow students to recompose themselves while planning a class field trip to the nearest glacier for some postclass relief.
1973 Riviera Dr.
Mt. Pleasant
South Carolina
Though built only in 2011, the nonprofit Redux Contemporary Art Center's new 12,000-square-foot facility stays bustling all year, hosting six to eight free exhibitions in two galleries. After taking in the artwork, visitors can attend numerous free events, such as artist talks, film screenings, panels, and concerts. More than 100 classes foster artistic inclinations throughout the year as local qualified instructors help students master disciplines such as painting, drawing, and printmaking.
Redux's galleries stay full thanks in part to its 22 private artist studios, which accommodate emerging and mid-career artists with up to 240 square feet of creative space. Twenty-four-hour studio passes grant access to Redux's darkroom, print studio, and woodshop. To encourage a sense of community, artists can participate in quarterly critiques, attend visiting-artist lectures, and debate their studio neighbors on artistic controversies such as whether Michelangelo's David is as good as the earlier one he sculpted from Play-Doh.
136 St. Philip St.
Charleston
South Carolina
Home to the state's largest freestanding bouldering island, New Jersey Rock Gym houses 12,000 square feet of vertical terrain to climb as well as 41 top roping stations. Armed with either day passes or membership, guests scamper up the gym's synthetic summits, hoping to ask questions of the learned ceiling light sequestered at the top of the mountain. While gear is included with some membership options, guests can opt to bring their own materials or rent the individual shoes ($5), harnesses ($4), or chalk bags ($2) they need from the pro shop. New Jersey Rock Gym offers a collection of educational course work in the vertical arts, teaching belay technique to beginners or advanced skills to adults. Children can also take advantage of youth climbing programs, mini camps, and birthday parties before retiring to private refreshment chambers to absorb bottles of electrolyte-infused refreshment. The nearby pro shop outfits climbers with name-brand gear for purchase, while a WiFi lounge transmits terabytes of data into nearby electronic devices or unsecured cyborg brains.
607 St. James Ave., Suite B
Goose Creek
South Carolina
US
843-376-5595
---
---
Things to Do Deals - Recently Expired
---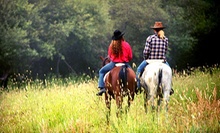 Weekly trail rides, lessons, and games on horseback highlight the many activities during four-hour daily riding camp
---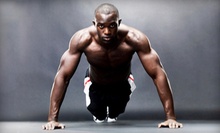 Students of all skill levels boost cardio health, endurance, and muscular strength during intense half-hour fitness boot camps
---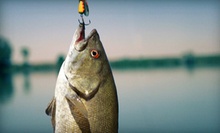 Private fishing charter includes licenses, bait, rods, reels, life jackets, and tackle
---
---