Restaurants in St. Albert
---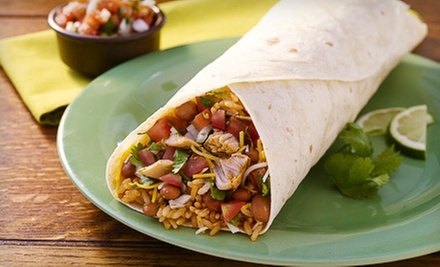 ---
Recommended Restaurants by Groupon Customers
---
Early in the morning, the chefs at Broccolini's Trattoria can be found bustling around the restaurant's kitchen whipping up the day's dishes. Dedicated to creating fresh, authentic Italian cuisine, culinary craftspeople keep fare ready-to-eat within the balmy confines of steam tables powered by furious teapots. From the moment the staffers fling the doors open at 8:30 a.m. to the sound of the closing bell at 2:30 p.m., the warm, toffee-hued walls of the dining room resound with the chatter of eaters and the garlic-laden aromas of homemade eats. Throughout the day, hungry patrons can sidle up to the bar to pick up pastas and paninis, surprising taste buds with a rotating lineup of lunch features. As baristas crown cappuccinos with foam, diners settle into leather chairs to start postprandial discussions or stare at the tiny sportsmen bounding between the corners of a flat-screen TV.
11315 174 St.
Edmonton
Alberta
White linens, floral-printed chairs, and brick floors set the scene for romantic meals at The Creperie. Wine bottles nestled in wall racks surround guests in the front dining room, symbolizing their selection of vintages selected to complement the country French specialties and signature crepes. The super-thin pastries sport a variety of toppings, including asparagus and brie for vegetarians, brandy-flamed shrimp and spicy tomato sauce for seafood lovers, or even vanilla ice cream and warm raspberries for sweet teeth threatening to walk out.
111-10220 103 St. NW
Edmonton
Alberta
780-420-6656
The epicurean prowess that won Executive Chef Emmanuel David a roster of international awards, a spot on Culinary Team Alberta, and the honour of preparing a state dinner for Queen Elizabeth II is evident in each nibble of his elegant French cuisine. As he furls local ingredients, high-end proteins, and complex sauces into lunch and dinner dishes, restaurateur Keith Persaud and his bilingual staff translate the menus of French classics that include both vegan and gluten-free selections. The bistro also doles out its upscale chow at on-site banquets and catered shindigs, and their event-planning services help hosts sort out every detail from decor and transportation to who gets to spike the punch.
8627 91st St. NW
Edmonton
Alberta
780-758-6636
Eschewing the dainty portions that some steak houses try to pass off as meals, Campbell's Restaurant and Steakhouse prides itself on pairing hearty plates of steak-house and comfort fare with a low-key, neighbourly vibe. Though the restaurant's all-day menu harbours dishes that range from omelettes to full racks of ribs, these generous portions serve as the common thread that unites the diverse elements and keeps guests returning throughout the day for more. After the sun sets on breakfast and lunch, soft lights illuminate the expansive dining room, where families and groups share platters of dry ribs and sizzling cheese toast and lone fishermen dangle baited hooks over plates of salmon salad.
112-205 Carnegie Dr.
St. Albert
Alberta
780-460-2294
Determined to unearth the perfect recipe for pita bread, Sara Larsen made the arduous journey from Edmonton to her home village in Israel, where she spent days exploring the shops and sites of her childhood, tasting traditional cuisine and studying cooking methods. Sara returned to her bakery in Edmonton armed with two specialty electric pots, which she used to bake warm, fluffy pita breads, piece by piece. As the demand for Sara's authentic breads and dips grew, she moved out of her home kitchen and into her own shop, complete with a specialty pita oven and a 1,600-square-foot kitchen.
There, Sara bakes up the dozens of multigrain, whole-wheat, and fresh spinach pitas lauded by the Edmonton Journal. To craft her specialty dips, she peels garlic by hand, chops fresh dill, and grills eggplant on a smoky barbecue. Her corn and potato breads are completely free of gluten and foreboding fortune-cookie slips. She peddles her products throughout town, from specialty grocery stores to local farmers markets.
6404-177 St.
Edmonton
Alberta
---