Things to Do in West Kelowna
---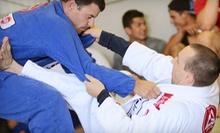 Instructors demonstrate the ground-fighting moves of jiu-jitsu—from joint locks to chokeholds–for kids and adults of all skill levels
---
Recommended Things to Do by Groupon Customers
---
Wind rushes across wings. Hills and valleys roll by thousands of feet below. The clouds seem close enough to touch. But these wings don't belong to a bird—instead, they're attached to a motorized tandem glider from Raven Aviation, whose ground-level headquarters nestles in the valley below. Located inside Freedom Flight Park—a preserve established expressly for hang-gliding in 1976—Raven Aviation offers instruction and equipment to those who wish to take to the skies as the birds do, either in hang-gliders or motorized ultralight aircraft. Patrons can cruise the clouds in tandem flights piloted by experienced staff or take a beginner's hang-gliding lesson to launch themselves solo off a training hill or the back of a friendly dragon.
249 Mabel Lake Rd.
Lumby
British Columbia
250-307-7553
Behind the wheel of Top Gear Karting's high performance go-karts, drivers zoom around Penticton Speedway at up to 75 km/h. The wheels of up to 14 Intrepid karts—including senior models for drivers over age 14 and junior models for younger drivers—navigate the 0.7-kilometre track and its one banked turn during drop-in races that last 10 minutes apiece. Top Gear Karting's convenient arrive and drive program outfits drivers with all the equipment they need to take part in these individual races, face foes in league match-ups, or taste burnt rubber during driving academy lessons.
2070 Carmi Avenue
Penticton
British Columbia
250-488-4630
The soft pop of clubs against golf balls drifts from the driving range at The Golf Centre, up through orchards and toward the mountains behind them. At either sheltered or unsheltered tees on the range, golfers cut crescents from the air, their clubs arcing behind them. Staff rotate the range balls every season, limiting the possibility that customers hit a damaged ball or one they have made up a whole back story for. After ironing the kinks out of their long games, players can work on short-game strokes at the 35-yard short-game practice area, complete with sand traps, a chipping green, and a putting green. A team of CPGA-certified instructors stands at the ready to help players address their problem areas within lessons, incorporating video analysis during 60-minute private lessons to illustrate a stance that's too open or eyes that aren't open.
2650 Benvoulin Rd.
Kelowna
British Columbia
CA
250-762-4653
Tipplers who choose the Naramata Wine Tour will traverse the vineyard-lined vistas of the Naramata Bench, visiting five to seven wineries, such as Elephant Island Orchard Wines, Laughing Stock Vineyards, and Red Rooster Winery. The Kelowna Wine Tour leads libation lovers into the sun-soaked wealth of Kelowna's wineries, with such featured stops as the Mission Hill Family Estate and Quails' Gate. Guided by an expert in the ways of wining, both tours regale visitors with tales of grapedom and include chauffeured transportation, ensuring guests will save enough energy for decadent imbibing. Naramata pick-up and drop-off is at the Summerland Waterfront Resort & Spa, about a five-hour drive from Vancouver; Kelowna pick-up and drop-off is at the Best Western Inn Kelowna, about a 4.5-hour drive.
13011 Lakeshore Dr. South
Summerland
British Columbia
The crown jewel of Hopscotch Festival Kelowna is the tasting hall, where guests assemble to sip, sample, and learn about a massive variety of premium beverages. In its fourth year in Kelowna, the festival will showcase an expanding list of more than 160 libations, which patrons can convert from a jingling fanny pack full of tasting tokens to sips poured into their souvenir tasting glasses. Domestic and international beers can quench thirsts in styles such as Grolsch, Hop Head IPA, or Mort Subite Kriek Lambic. Tongues can taste the single-malt Scottish fruits of the Glenlivet 15, matured in French oak, or the Dalmore 12, hailing from the Firth of Cromarty.
551 Recreation Ave.
Kelowna
British Columbia
At Okanagan Street Striders, mobile elliptical machines break free from the gym's stationary rows and help exercisers grab some fresh air during their cross-training workouts. A fitness-savvy staff acquaints riders with their mounts, which target muscles all over the body without unnecessary impact or unnatural motions. Riders glide along paved trails and pathways, taking in a scenic alternative to staring at television screens, helping riders avoid the cardio room's cramped confines or tempting smells from the gym's in-house bakery. In addition to daily rentals, Okanagan Street Striders also organizes group night rides.
5-97 Hwy. N
Penticton
British Columbia
250-328-8832
---