Winfield Automotive
---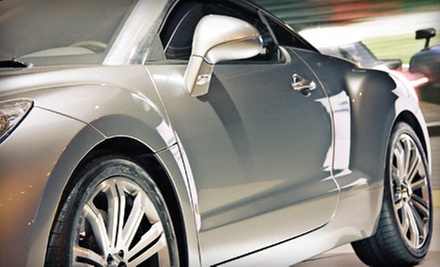 ---
Recommended Automotive by Groupon Customers
---
Wielding a spray bottle, the detailers spritz engines and tires with a biodegradable degreaser before wiping down exteriors with soft micro fiber chamois cloths for a chemical-free hand wash. These seemingly small touches help K & C Auto Detailing Solutions contribute to greener, more eco-friendly car-detailing methods.
Located in the Goodyear Building, the team scours cars during detailing sessions, sweeping dust from seats with shampoo cloths, stripping away bugs and tar, and shining exteriors with electric buffers. They also go mobile, and provide lot washing services to dealerships and companies with fleets of vehicles. Committed to environmentally sound cleaning methods, they contribute green services and products to local car-wash fundraisers and sell Shamerrific cleaning products so customers can wash their own cars without chemicals or the sound of Mother Nature's disapproving sighs.
3350 S Hydraulic St.
Wichita
Kansas
US
316-522-6807
Valet Car Wash has been in the auto-bath business for more than 20 years. Seven days a week, machines scrub an auto's steel skin while closed-cell foam and microfibre equipment ensure cars get cleaned as gently as a fragile model car before it's packaged. The automated car washes also boast pre-soak and soaps that are mixed to precise concentration for maximum effectiveness and a speedy finishing time of three minutes for most washes. Click here for a complete list of services.
3350 S. Hydraulic
Wichita
Kansas
US
316-522-6807
Continuing the traditions of 14 years of family ownership, The Clutch Guys' freshly minted facility hosts ratchets that ring out as trained mechanics perform quick and thorough automotive-maintenance services. The shop's full stock of diesel and synthetic lubes and specialty filters ensure no car is left creaking to a halt or ransacking oil rigs when due for an oil change. The full-service staff also tackles repair jobs including transmission fixes, and drivers who sense more imperceptible symptoms of an ailing auto can pull into the bay doors for a free diagnostic.
1333 S Tyler Rd.
Wichita
Kansas
316-691-9229
One of the country's foremost high-tech automotive-accessory and window-tinting companies, Alta Mere has found that its success stems from satisfied customers. Trained technicians can install alarms and remote starters, and tint windows to protect upholsteries from damaging UV rays and feral flashlights. Consult Alta Mere's FAQ page to see if tinting is a good fit for your vehicle.
220 S Washington St.
Wichita
Kansas
316-262-8468
The highly trained technicians at Jiffy Lube tend to about 24 million customers each year with services such as the Jiffy Lube Signature Service Oil-Change package, which helps promote the longevity of each vehicle. Staffers acknowledge that oil plays a crucial role in maximizing the lifespan of each car—it cools the motor and helps prevent moving parts from deteriorating. More than 20,000 technicians—all of which have completed an extensive training program certified by the National Institute Automotive Service Excellence (ASE)—service vehicles at Jiffy Lube.
In addition to performing oil changes, technicians offer preventative services such as air-filtration and electrical-system maintenance, among others. Jiffy Lube's quality pledge includes a commitment to transparency, which stipulates that they will inform car owners of any necessary services, complete a service only after it has been approved, and refuse to replace windshields with saran wrap.
6025 E 21st N
Wichita
Kansas
316-688-5566
Since 1988, Auto Care Super Saver has been helping car owners save cash with maintenance punch cards redeemable at local auto shops throughout the course of a full year. These cards come loaded with all kinds of prepaid services, including at least three full-service oil changes with up to 5 quarts of oil, lube, and a new filter. Depending on the location, punch cards may also feature tire rotations, brake inspections, engine-light readings, air-conditioning performance tests, and other repairs and inspections essential to a car's well-being. Customers can transfer the punch card's benefits to any ride, ranging from station wagons to sports cars to feral merry-go-round mounts.
2815 S Broadway St.
Wichita
Kansas
---