Restaurants in Yukon
---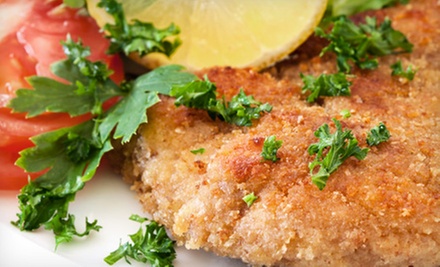 ---
Recommended Restaurants by Groupon Customers
---
The menu is stocked with sandwiches, Philly cheesesteaks, pizza, clubs, salads, 13 flavors of homemade Italian water ice, and seasonal soups made from scratch daily. Hoagies, which are served on Hobby's own freshly baked Italian bread, are savorily slathered in lettuce, tomatoes, onions, pickles, oils, spices, and Hobby's hoagie peppers. Melt mouth muscles with a meaty Special Italian ($4.65 for 7" and $6.79 for 12") packed with cappocola, ham, salami, and provolone cheese. Or try one of the fan-favorite Philly cheesesteaks; the original is crafted from prime rib eye sliced thinly atop a fresh roll and smothered in lettuce, tomatoes, pickles, peppers, onions, and cheese ($5.09 for 7" and $7.59 for 12"). New York–style thin-crust pizza ($4.49 for 8" plain to $13.99 for 18" plain) is taking a vacation from the Big Apple to tan its toppings in Hobby's bright ovens.
222 S Santa Fe Ave.
Edmond
Oklahoma
As you sit or ethereally levitate amid 1492's artful tortilla wrap of moody chandeliers and onyx-hued tablecloths, nosh on complimentary chips and homemade salsa while perusing an authentic menu. Slap your sleeping stomach awake with the 1492 queso, a bubbly mix of beans, spicy beef, guac, pico de gallo, and sour cream ($8), or an order of chicken-tortilla soup ($5) before moseying on to ambitiously sized entrees of skirt-steak-topped poblano peppers ($22) stuffed with chopped shrimp, zucchini, squash, and monterey jack served over cilantro queso or Venezuelan-shredded brisket ($15). 1492 also offers selections off a rotating specials menu. This summer, sample pineapple-espresso pork ($14), sided with chipotle mashed potatoes; fresh lump crab, tilapia, and shrimp ceviche ($12) topped with fresh avocado and pico de gallo; or an updated version of the classic Cuban sandwich served with Latin fries ($10). Less experimental eaters will appreciate classic Tex-Mex combo platters such as the tres amigos ($12), a cheesy taco and enchilada duo plus a beef taco.
1207 N Walker Ave.
Oklahoma City
Oklahoma
Café Nova's staff welcomes patrons through a diner-style façade and passes out a menu of classic American fare. Follow servers across a mosaic stone floor to simple tables waiting to be garnished with towers of silverware Jenga, herb-crusted pork tenderloin ($18), or Nova mac 'n' cheese―a hot helping of penne that the kitchen team douses with toasted breadcrumbs, parmesan, and cheddar ($10). White geometric chandeliers illuminate the frutti di mare, making it easier to untangle the shrimp, tilapia, and crab from the pesto-painted linguine ($18). For early noshing, join the brunch crowd, which basks in the kaleidoscopic light peeking through the stained-glass windows and lines up to build unlimited eggy edifices at the omelet bar or cozies up to a plate of shrimp and cheddar grits ($12 each).
4308 N. Western Ave.
Oklahoma City
Oklahoma
After 13 years of treating the taste buds of Harrah, Checkerboard Café and Bakery made its move to Midwest City where it was subsequently kinged. The neighborhood nosh spot serves up a tasty array of lunch and dinner bites, complemented with fresh-baked goodies and homey charm. Start your table with an order of southwest spinach queso dip ($5.99) to share, or grab a baked snorkel and dive into a bowl of baked potato soup ($4.49). The midday menu tempts carnivores and carny voyeurs alike with juicy burgers, toasty pressed sandwiches, and blue plate specials such as chicken fried steak ($8.99), and dinner options add to said delights with an extended list of entrees. Enjoy a personalized portion of hickory smoked prime rib, served by the ounce and cooked to temperature ($1.49 per ounce), or entrust the custom-sized cranny in your belly to a plate of potato-encrusted salmon with rice pilaf ($13.99). All entrees are served with two side orders and customer-acclaimed yeast rolls.
116 N Air Depot Boulevard
Midwest City,
Oklahoma
405-610-2233
Born from a love for good food, fresh ingredients, and southwestern-style comfort, The Prairie Gypsies takes pride in treating the community to an enticing variety of healthy entrees, fresh-from-the-oven baked goods, and gourmet condiments and sauces. New tasty entrees (starting at $4.95 per serving) are featured every day Monday through Saturday and have included cozy favorites such as slow-roasted chicken and meatloaf and delicious homemade soup ($3.75 per bowl, $10.50 per quart), which is always steaming from The Prairie Gypsies' novelty witches cauldron. Orders for cozy carry-out cuisine may be placed over the phone or online, making it easy to eat well even on exceptionally long days at the office's Saturn branch or after long sleepless nights consoling a colicky Giga pet. Round out your repast with some of The Prairie Gypsies' decadent fudgy brownies.
415 NW 30th
Oklahoma City
Oklahoma
Deep Fork Wood Grill & Seafood doesn't just dazzle taste buds with its fresh seafood flown in daily, thick-cut steaks, pan-seared local chicken, and extensive wine list. It also impresses with its eclectic decor that changes with every room.
In one room, soft lights illuminate dark wood booths while electric bonsai trees erupt with glowing neon purple flowers. Traditional wall sconces separated by curio cabinets rest beside round tables covered in stark white cloths in another dining room, and in yet another, an oversize Italian tapestry overlooks a long rectangular table perfect for large groups or tall people looking for a place to nap. At the wood bar with illuminated glass shelves nestled in a high wooden archway, guests sip salted-caramel martinis, pink ginger cosmos, and Veuve Clicquot champagne.
5418 N Western Ave.
Oklahoma City
Oklahoma
405-848-7678
---