Top Product Reviews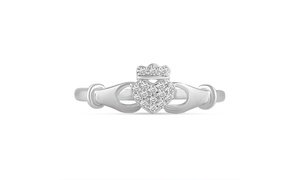 The actual ring was alot smaller in size than it looks in the pictures. The ring is pretty & good quality. I'd recommend it for child, teen or someone with small hands & fingers.
Find Genuine Diamond Jewelry Every Day on Groupon
Diamond is one of the hardest substances on earth—but shopping for diamond jewelry is easy on Groupon. While many pieces are made with natural diamond, many also incorporate lab-created diamonds for an eco-friendly, more affordable alternative. If you're new to diamond-shopping, we recommend that you consult our
diamond buying guide
first, then filter for "the five C's" using the left-hand navigator.
Popping the Question? Shop the Ring
Whether you're about to say "I do" or soon hoping for a "Yes," Groupon's selection of
wedding and engagement rings
span all tastes, styles, and budgets. Carat weights extend from 1/10 CTTW up to 5.0 CTTW, making for a range that includes everything from cheap diamonds to full-fledged rocks set in 14K white gold. Of course, you don't need to be in a relationship to put a
diamond ring
on it. You'll also find plenty of promise rings, fashion rings, and other pieces in which the stones are simply there to dazzle.
Accessorize with Classic Jewelry
Diamond jewelry doesn't just make a statement—it's also beautiful in its own right.
Earrings
are sometimes the most affordable options for sporting a diamond, as they often maximize small carat weights by inlaying them on sterling silver or other fine metals. But diamonds also complement
necklaces
with elegant pendants in the shape of animals, hearts, or crosses—a more whimsical approach than the typical designs for
bracelets and bangles
, which tend to highlight diamonds by arraying them in shimmering rows.
Explore the Possibilities
As with all
jewelry and watches
, diamond pieces range from the height of elegance to totally casual. To that end, many
collections and sets
include rings, necklaces, and earrings with everyday accessorizing in mind. However you intend to wear your diamond jewelry—whether at a gala or out with the gals—Groupon stocks a variety of brands to suit your style. Brilliant Diamond specializes in traditional designs, crafting everything from diamond studs to tennis bracelets. Other brands such as PalmBeach consistently find clever ways to incorporate diamonds into dynamic pieces—like, say, a gold plated bracelet with diamond-shaped elephants or C-hoop earrings made up of diamond marquise leaves.