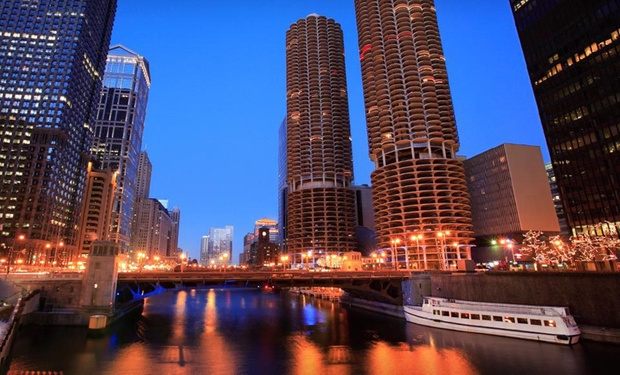 Stylish, 4-Star Digs near House of Blues and Magnificent Mile
Chicago's River North neighborhood was once filled with factories and warehouses. Today, it's studded with art-deco buildings and one of the country's largest clusters of art galleries—second only to Manhattan. Among the area's most iconic landmarks is Marina City, a pair of cylindrical high-rises that look like corncobs. They've been featured in The Blues Brothers, The Dark Knight, and the album cover of Wilco's Yankee Hotel Foxtrot. The stylish Hotel Sax is part of the one-block Marina City complex and sits within walking distance of famous steak houses, live music at the House of Blues, and designer clothing stores on the Magnificent Mile.
The hotel's lobby is decorated with glossy Italian marble floors and flickering candelabra. After the sun sets, head down to the onsite Crimson Lounge, which resembles a Victorian parlor with gold-framed portraits, oriental rugs, and button-backed boudoir furniture in shades of burgundy and mauve. Despite the old-fashioned decor, the vibe here is hardly subdued: well past midnight, DJs spin tunes and bartenders craft cocktails infused with exotic ingredients including fresh cilantro, agave nectar, and hibiscus syrup. If you want the royal treatment, head to the VIP lounge, where you can order bottle service and sip Dom Perignon behind velvet curtains.
If you get a chance, stop by Bin 36, the onsite wine store. It hosts tastings and has a menu with more than 50 artisan cheeses. In the guest suites, crushed-velvet throw pillows are piled on pillow-top beds with padded headboards. Each room is outfitted with 42-inch LCD TVs, and the studio king room has an additional sleeper sofa.
Chicago's Loop: Historic Commercial Center with World-Class Museums and Parks
Hotel Sax is situated just north of the Loop, Chicago's historic commercial center and the country's second-largest business district. Skyscrapers loom large, including the Willis Tower (formerly the Sears Tower) and the Chicago Board of Trade. This part of town is also home to award-winning waterfront parks, a glitzy theater district, and some of the world's finest art collections.
About a mile from the hotel you can find the Art Institute of Chicago, whose gargantuan collection covers everything from marble busts and sarcophagi to modern masterpieces such as Edward Hopper's Nighthawks and Grant Wood's American Gothic. The Loop itself boasts a spectacular array of public artwork, including outdoor sculptures from Picasso and Joan Miró and pointillist hopscotch grids.
Grant Park, known affectionately as "Chicago's front yard," occupies more than 300 acres along the lake. Modeled after the gardens at Versailles, the park is dotted with several impressive attractions, including Buckingham Fountain, the Field Museum, Shedd Aquarium, and Adler Planetarium.
Read the Fine Print for important info on travel dates and other restrictions.
Amenities
Late-night lounge with DJs
Retail wine store
What Makes This Getaway Great
We're confident in your Groupon experience and back it with the Groupon Promise. Learn more.
Groupon-Exclusive Discounts. We negotiate directly with hotels and tour operators to get you the deepest discount available -- as only Groupon can.

Handpicked Travel. Our travel experts and writers research every getaway for you.

Fearless Booking. Book your dates directly on Groupon. If your plans change, you can cancel your reservation with just one click, up until the cancellation deadline.
50 Questions
The Fine Print
No-shows will be charged total Groupon rate, no refunds, rescheduling, or rebooking allowed
Traveler name must match ID at time of check-in
No refunds will be processed by Groupon after check in
48-hour cancellation notice required prior to check-in or reservation is non-refundable
Must be 21 or older to check in
Credit card required at check-in
Guests must notify hotel after reservation to book additional occupants
$20 for additional occupant paid at check-in
16.4% tax added at purchase.
Merchant is solely responsible to purchasers for the care and quality of the advertised goods and services.
See the rules that apply to all deals.
Other Details
Room Details
King Superior Room
One king bed
Standard occupancy: 2
Maximum occupancy: 3
Adding occupants above standard: $20 per night
Double Superior Room
Two double beds
Standard occupancy: 2
Maximum occupancy: 4
Adding occupants above standard: $20 per night
Studio King Room
One king bed and one queen sleeper sofa
Standard occupancy: 2
Maximum occupancy: 3
Adding occupants above standard: $20 per night
Hotel Policies
Check in: 3 p.m.
Check out: noon 
Parking: valet available for $57 per day
Rollaways: available for $45 per night
Smoking policy: no smoking inside the property
Pet policy: pets are not allowed inside the property.
Accessibility: handicap-accessible rooms are not available. 
Room upgrades: not available
Getting There
By plane: about 13 miles from Midway International Airport (MDW); about 18 miles from O'Hare International Airport (ORD) 
By transit: Clark and Lake stop via CTA 
By cab: about $25 from MDW; about $40 from ORD
The Groupon Guide to: Talking to Celebrities
Everyone knows that celebrities are just as excited to see you in real life as you are to see them. Here are the best ways to initiate conversations with your favorite stars of stage and screen:
"Hi, I loved you in [name of movie or chef competition]. Speaking of love, would you ever consider playing tennis with me, a fan? Speaking of fans, have you ever been on one of those weird boats in the Everglades?"


"Whoa! It's you! My parents are always trying to tell me you aren't real and that you're one of those computer-generated cartoons like Shriek from Shriek 2. You should talk to them. They're at the other end of this rope."


"Hey, you're from that movie where the characters ate the pizza! Will you autograph this coupon for free breadsticks with the purchase of a large eight-meat?"


"You must hear this all the time, but I've gotta ask. Is that your real hair?" [tug hair jokingly] [tug again depending on response]


"Where do I know you from? Don't tell me. Don't ever tell me. I need to do this myself. I can't say for sure what would happen if you told me."