Things to Do in Archdale
---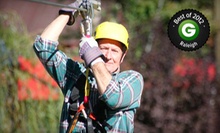 Aviation-themed zipline offers heights of up to 100 ft. and lengths between 200 and 600 ft.
---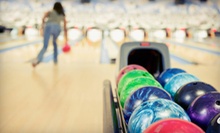 Groups of up to four lace up provided shoes and hurl bowling balls down well-oiled lanes
---
Recommended Things to Do by Groupon Customers
---
Five generations of the Sells family have tilled the land, including Clodbuster Farms' current owner, Zane Sells, who hopes to continue that tradition well into the future. The farm hosts a pick-your-own strawberry patch, seasonal produce, and greenhouse tomatoes. The farm's store stocks everything from its own products to locally made jelly, pickles, and honey, in addition to feed for picky animals that also prefer locally sourced fodder. At the end of the year, the Sells family puts on a fall celebration, inviting guests to take a spin on the hayride, find their way through the corn maze, and tell spooky stories by the campfire. The crisp fall weather and the changing colors of the farm scenery make the perfect backdrop for guests to stock up on pumpkins, play a round of corn hole, and roast marshmallows for s'mores.
5500 Leonard Farm Rd.
Kernersville
North Carolina
336-409-0796
The Piedmont Family Fun Fest, which spreads out across Proehlific Park's 22 acres, is divided into five themed sections. At Music City, guests enjoy the musical styling of the band Big Bang Boom, as well as other live music acts every hour and ogle an array of instruments at the instrument petting zoo. At Circus Town visitors can mingle with resident clowns and face painters and take a quick lesson in circus arts such as juggling plates and performing acrobatic skills.
Meanwhile, Sports World houses the Greensboro Grasshopper mascot, an obstacle course, and a rock-climbing wall, as well as areas where visitors can try their hand at sporty games that incorporate softball, football, golf, and soccer. In a separate area of the park, guests escape to another realm at Fantasy Land, replete with fairies, pirates, dragons, a light-saber display, and a puppet show. Finally, Toys for Big Boys features a display of Italian cars, including Lamborghinis and a giant meatball with wheels, as well as boats and motorcycles.
4517 Jessup Grove Rd.
Greensboro
North Carolina
336-223-4752
There's no doubt that you are a real adult when you have been an aerospace engineer for over 10 years. So for Kent Gold, it was a momentous life change when in 2001 he rediscovered his inner child and founded SoccerTots—a soccer-based program that helps 18-month to 10-year-old kids develop their motor skills and build their confidence through fun and athletic games. Now, a decade later, the program is offered at more than 150 locations, including Canada and Peru, and has expanded to include HoopsterTots and PartyTots.
Each SoccerTots program is helmed by a team of skilled instructors who engage little ones with fun activities, such as dribbling balls and playing scrimmages, that fuel their motivation to learn and challenge their athletic abilities. To ensure a supportive learning environment, classes are broken down by age and use only soft, child-size equipment. SoccerTot instructors also get kids ready to learn by sending them into super-concentration mode, which encourages little ones to concentrate and try their hardest at a task to help strengthen their muscle memory and their ability to levitate other players on the field.
2400 16th St.
Greensboro
North Carolina
336-209-9160
---