Restaurants in Bellevue
---
Recommended Restaurants by Groupon Customers
---
Eddie Morin has fond memories of swinging his feet in a B&G Tasty Foods booth as he and his dad shared the Bee Gee, the eatery's signature loose-meat sandwich. During college, Eddie would craft his own Bee Gees as a B&G cook, cementing his love for the venerable restaurant, an area staple since 1953. So it's no surprise that in 2009, when the then-owner of B&G Tasty Foods considered closing, Eddie volunteered to take over ownership.
Since then, Eddie and his crew have undertaken extensive renovations of the space, expanding the dining area and increasing seating by half. As an homage to the restaurant's birth year, they had the logo redesigned in a retro style, and red-framed '50s-era advertisements now line the sage-green walls. Five antique Schwinn Stingray bicycles perch above tables, so diners who bring their own xylophone mallets can tap out their favorite Big-Bopper hits on the spokes.
Though the team also streamlined and updated the menu—adding items such as salads and a vegan hot dog—they opted to retain the original Bee-Gee recipe, which has remained the same since 1953, when Eddie's father developed it. Breading made from ground cornflakes crisps up the Cheese Frenchee and Bee Gee Frenchee. In addition to these, there is also a unique frenchee featured each month. Past iterations have included Nutella and banana breaded with graham crackers as well as a Thanksgiving-Day special with turkey and cranberry sauce breaded in stuffing.
7900 W Dodge Rd.
Omaha
Nebraska
402-390-6096
Chefs spin classic American dishes with a touch of gourmet flare. The "Americana fusion" technique, which yields such comforting cuisine as smoked-chicken-enhanced gouda mac 'n' cheese, helped Zin Room earn a spot on the Omaha World-Herald's list of Top 8 Restaurants in 2011, as well as ongoing usage in love songs written by foodies.
Located inside the luxurious Hotel Deco, the restaurant features sleek lights and chandeliers that softly illuminate diners' artistically arranged plates and rough-hewn pillars that support two floors of seating. Behind the stocked bar, bartenders mix drinks and use the wine wall's sliding ladder to allude to former lives as librarians.
316 S 15th St.
Omaha
Nebraska
402-991-0660
The chefs at Okinawa Sushi elegantly compose plates with an eye for diverse color and minimalist design. They arrange triangular slices of raw tuna like upright dominoes down the middle of the plate and flank them with a verdant vegetable garnish. Traditional sushi and sashimi rolls share space on the menu with exotic hand rolls, classic Chinese entrees, and tempura appetizers. Diners can cleanse their palates with a specialty martini, boba milk tea, or Kirin sake bomb, which packs more punch than Mike Tyson before an extended road trip.
12240 L St., Suite 101
Omaha
Nebraska
Palm fronds spill over Baja Surf Grill's two-tiered dining room, lending the 150-seat eatery a lush, tropical aura. Arched porticoes and columns recall Spanish colonial revival architecture, which designers update with pastel pink and green hues and tropical throw pillows. The ambience reinforces the menu, which highlights the Baja fish taco, a creation pioneered by Japanese fishermen in Baja after their idea for the Munich meat muffin failed to catch on. Chefs pay additional homage to Japan's culinary influence on the region with southwestern-style sushi peppered with ingredients such as fire-roasted corn and chipotle mayo.
2523 S 140th Ave.
Omaha
Nebraska
US
402-697-7840
Baja Grill plucks inspiration from the intersecting customs of California and Mexico to craft innovative dishes such as smoked pork carnitas and poblano peppers stuffed with tender shrimp and crab. The Californian influences are particularly evident in the restaurant's focus on fresh seafood—aside from the aforementioned peppers, the menu features blackened shrimp enchiladas and, curiously, spicy jalapeño crab rangoon. The kitchen throws another delicious curveball with its selection of flatbread pizzas, which provide 12 inches of shade from the desert sun and harbor such uncommon toppings as buffalo sauce, cilantro-lime aioli, and salsa.
2523 S 140th Ave.
Omaha
Nebraska
At Wing Champion, seasoned wing chefs fry or char-grill batches of hot wings and slather them in more than 14 flavors, such as country sweet, bourbon, and mango habanera. The cooks supplement wing-filled moments with a menu of breaded catfish fillets, char-grilled burgers, salads, and lyre-accompanied odes to their favorite flightless bird. For breakfast, they top tables with rich biscuits and gravy, waffles and wings, and fried eggs with fried chicken.
1751 Madison Ave.
Council Bluffs
Iowa
866-728-1455
---
---
Restaurant Deals - Recently Expired
---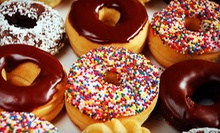 Freshly prepared glazed, cake, and sugar donuts are made every morning along with cinnamon rolls, cookies, turnovers, and cupcakes
---
---