Restaurants in Brooklyn Park
---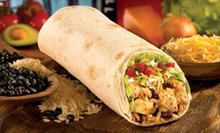 Whole-grain tortillas wrap around handmade guacamole, grass-fed steak, and choices from more than 20 fresh ingredients
Use Tuesday 2:00pm - 7:00pm
---
Recommended Restaurants by Groupon Customers
---
At Pacific Coast Dining Company's swanky eatery, diners discover a menu of California-style grilled steaks and seafood sourced from organic and free-range farms. Pacific Coast's culinary gurus craft innovative seafood and pasta dishes by infusing traditional recipes with fresh California flavors and cybernetic herbs, and the restaurant's two modern bars pair savory forkfuls with tasty hand-mixed cocktails. Seven plasma TVs festoon the dining room's walls, and a private room is available to host gatherings such as board meetings, parties, or interventions for parmesan addiction.
413 S High St.
Baltimore
Maryland
With its sand-colored walls, crisp white pillars, and indoor waterfall, The Seasoned Mariner's interior mimics the calm surroundings the waterfront that sits right outside. Perched along Bear Creek, the restaurant keeps its doors open year-round to capsize hunger with surf such as steamed crabs and seafood platters and turf including burgers and steaks. The creekside decor that surrounds those dishes swells into an elevated dining room, too, where floor-to-ceiling windows afford views of the water and sailboats playing Marco Polo. During warmer months, diners may also take their meals on a pier surrounded by palm trees and exotic flowers.
601 Wise Ave.
Baltimore
Maryland
443-242-7190
Chiyo Sushi's talented chefs prepare more than 100 familiar Japanese eats such as teriyaki and salmon nigiri as well as dishes that make use of more inventive ingredients such as monkfish liver, sea urchin, and live scallops. The bill of fare contains multitudes, from delicate sashimi to crispy tempura to savory udon soup. Diners populate tables at lunch and dinner, sandwiched between prints of kimono-clad nobles that adorn the walls and broad, tree-framed windows that allow fresh air in and soy sauce-dwelling demons out.
1619 Sulgrave Ave.
Baltimore
Maryland
410-466-1000
Many chefs say they use local ingredients, but Carlos Gomez substantiates his claims by citing his sources—small, family-owned Roseda Farm and Maryland-based Gunpowder Bison. The meat makes for juicy cuts of adobo skirt steak and tender osso buco. They share menu space with Gomez's Maryland-inspired seafood dishes including jumbo-lump crab cakes and the fresh catch of the day. Paired with a striking view of the waterfront and a pour from an enormous wine list, Gomez's entrees make for tasty lunches and dinners.
700 Aliceanna St.
Baltimore
Maryland
410-895-1879
Over the roaring, 1,800-degree char grill, the chefs of Greystone Grill sear cuts of black Angus beef, soused in port-wine demi-glacé and crowned with generous pats of butter. They also sizzle freshly caught filets of mahi-mahi and ahi tuna alongside blackened shrimp, in addition to grilling skewers of rosemary-marinated chicken. Their selection of 'green' wines from vineyards that grow the fruit for vinos without use chemicals or pesticides includes Californian chardonnays and an Argentinean malbec. The Greystone staff also maintains a wine room with audio-visual and Internet capabilities, allowing for multimedia presentations. The staff renders the eatery comfortable for guests by decorating the interior with sleek wood accents and elegant stonework and barring the cast of any Stephen King movie from staring at you while you eat.
8850 Columbia 100 Pkwy., Ste. 104
Columbia
Maryland
410-715-4739
Lenny's is known in lands near and far for its premium deli meats that are sliced to order, chicken and tuna salad made from scratch, signature hot-pepper relish, and hearty portions. A regular-sized cold sub, which costs $4.95–$6.35, is 7.5 inches long and has about half a pound of meat and cheese. The large versions ($8.95–$10.55) are 15 inches long and pack about a pound of protein and veggie vitamins. Check the menu for the full sandwich selection, which includes warm 'wiches such as the french dip ($6.35 for a regular, $10.95 for a large), liberally loaded with slivers of juicy meat and sided with au jus for dipping. Lenny's also offers salads, kiddie meals, and cookies.
201 E. Pratt St.
Baltimore
Maryland
US
410-230-0222
---