Restaurants in Colonia
---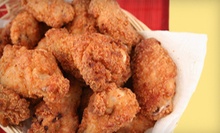 Regular menu items range from ox tail to red velvet cake, and the staff caters a lunch for two with the same panache as a wedding for 200
Use Wednesday 12:00pm - 9:00pm
---
Recommended Restaurants by Groupon Customers
---
Diners take the reins at The Burger Bistro, which encourages them to customize their own burgers with six different patties and more than 20 different toppings. On traditional beef, organic lamb, or even shrimp patties, visitors cobble together a topping spread that might include pickled jalapeños, horseradish cream sauce, fried mozzarella, or applewood-smoked bacon. Each location also keeps diners on their toes with regular specials, which have included a turducken burger and sliders with waffles for buns. The donut burger—an occasional special that replaces buns with glazed donuts—earned the bistro a mention on CBS. For dessert, the eatery invites you to build an ice cream sandwich with vanilla, red velvet, or mud pie ice cream slipped inside a shortbread, Belgian waffle, or chocolate chip cookie sandwich.
7217 3rd Ave.
Brooklyn
New York
Dish Restaurant's complex glass façade pulses with cerulean lights, music, and scents that foretell of the lively Asian fusion menu crafted by chef Jack Woo. Amidst decorative sprays of bamboo, entrees marry salmon, pork, and filet mignon in tempura batter beneath teriyaki, red wine, and other sauces. Wind tousles the rich foliage lining the eatery's extensive garden dining area, where patrons nosh on sushi and sashimi amidst stone walls smoothed by the elements and high-fives from geologists. Bartenders craft drinks from the electric-purple landscape of house liquors, which shiver gently at the bass-laden commands of live DJs.
9208 3rd Ave.
Brooklyn
New York
718-238-2323
An ocean of choices awaits diners at Bayridge Sushi. Lunchboxes composed of teriyaki or tempura meats provide an alternative to standard paper bags filled with jelly, and sushi and sashimi platters round out meals with soup and salad. Noon or night, dozens of rolls cover plates in neat slices of fresh salmon or avocado and cucumber. More adventurous diners can seek out specialty rolls, including the house tempura roll with lightly fried salmon, eel, and seaweed and the Phoenix roll filled with shrimp and banana.
6914 3rd Ave.
Brooklyn
New York
718-491-0662
The expert kitchen crew at Liberatos disperses classic Italian entrees and four styles of pizza into Manhattan's Financial District. New york and sicilian pizzas evoke the culinary values of their home cities, thin crust appeases eaters who prefer crunch, and Grandma-style pizza, like brownies made by geometrist grandmas, arrives in perfect squares. Food artisans paint specialty toppings such as buffalo chicken onto pies and craft eight kinds of pasta. Committed to refueling bodies wherever their owners take them, Liberatos also serves its comestibles at catered events and delivers for free directly to patrons' doors or bouncy-castle drawbridges via an online ordering system.
17 Cedar Street
New York
New York
212-344-3464
In a dining room the 2010 Michelin guide described as "a fresh, modern interior soaked in beautiful, natural light," according to their website, servers at Indian Clove deliver a diverse roster of Indo-Chinese dishes. As patrons sip salted, spiced lassi, daily lunch buffets heap plates with both vegetarian and nonvegetarian entrees. Grilled-chicken tikka and lobster cook inside the traditional clay oven known as a tandoor as chefs with a "serious talent for Indian fare," according to Michelin, prepare classics such as samosas and lamb vindaloo. Drinks and live DJs complement these classic flavors in the bar and lounge, where hanging orange lamps sprout from carefully watered light bulbs to illuminate cocktails.
1180 Victory Blvd.
Staten Island
New York
718-442-5100
Though Fushimi Modern Japanese Cuisine & Lounge boasts contemporary decor aesthetics and fusion flavor flourishes, its sushi is deeply rooted in tradition. Chefs may reinterpret the presentation of their Japanese staples—such as the tuna sashimi, which they set on broad leaves next to bean-sprout-entangled roe—but they still ring true to traditional flavors. By contrast, cooked fusion entrees tend to incorporate the unconventional, from truffle teriyaki sauce to pineapple-lemon jam.
The decor also melds old and new. At the bar at the Staten Island location, crimson light filters through a canopy of metallic foliage, casting a moody aura across Buddhist statuettes imported from Asia. The neon-lit Williamsburg location has a sleeker feel, its booths nestled in large circular openings that recall subway tunnels or the oversized portals of Paul Bunyan's mythical submarine. In Bay Ridge, the stateliness of traditional chandeliers contrasts with the bold colors of wall-sized photographs.
2110 Richmond Rd.
Staten Island
New York
718-980-5300
---