Things to Do in Commerce City
---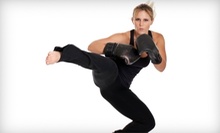 Kickboxing masters combine martial arts & boxing techniques while students of all skill levels sculpt svelte physiques with punches & kicks
Use Friday 7:00am - 9:00am
---
Recommended Things to Do by Groupon Customers
---
In October 1995, the Colorado Rapids were introduced as one of Major League Soccer's 10 charter teams. As one of the league's longest tenured members, the organization has brought a number of landmark moments to Denver, highlighted by a MLS Cup victory in 2010. Three years before their championship campaign, the Rapids became the centerpiece of Dick's Sporting Goods Park—a sprawling complex that features a total of 24 fully lit sports fields. During Rapids matches, fans get swept up in the park's lively atmosphere driven by Centennial 38, the team's official fan group. In their designated "Supporter's Terrace", fans lead raucous cheers, wave massive flags, and braid one-another's hair into beautiful scarves to inspire their side.
6000 Victory Way
Commerce City
Colorado
303-727-3535
Derby was reborn in the early 2000s as a ferociously fun sport. Nearly all modern leagues are composed of female, DIY-spirited bands of punky costumed, vicious-monikered rascals who shove each other on traditional quad roller skates. The Rocky Mountain Rollergirls, Denver's original all-women flat-track roller derby league, is operated by the more than 40 skaters who makeup its six teams: home teams Red Ridin' Hoods, Sugar Kill Gang, Dooms Daisies, Kill Scouts, and traveling teams, Fight Club and the Contenders. These fearless athletes leave bouts with sprained shoulders, bruises, and hematomas, which is nothing compared to the competitors' pain (the ladies took home second place in the 2009 Women's Flat Track Derby Association regional tournament and fourth in the national tournament).
2400 Central Park Blvd.
Denver
Colorado
Campus Cycles owners Mark Velat and Bobby Verenna grew up in the cycling world. Mark has been riding and racing for more than 30 years now, and Bobby broke into the retail end back in sixth grade. At their shop, patrons reap the rewards of their expertise when shopping from shelves of sturdy bikes and gear from brands such as Giant, Cannondale, and Electra, in addition to children's two-wheelers and tricycles. Their service department's technicians recalibrate bikes with tune-ups, and fit specialists match individuals with the ideal cycle. Patrons can also visit on demo days when big-name manufacturers show off their latest products and let riders take them out for test-drives on nearby mountain trails or paved roads. Meanwhile, the store's Get to Know Your Bike classes give riders basic repair and maintenance skills so they can remedy minor damage incurred when tires pop on fiberglass banana peels littering the road.
7310 W Colfax Ave.
Lakewood
Colorado
303-237-1115
The Denver Outlaws joined Major League Lacrosse as an expansion team in 2006, immediately staking out their territory with a Western Conference title and a trip to the league championship. In the years since, they have never once missed the playoffs, even when something good was on TV. From their inception, the Outlaws have marauded the league record books, setting attendance records in their inaugural season and improving from there, with recent Fourth of July games drawing more than 30,000 fans to Sports Authority Field at Mile High. This year's Independence Day game continues the tradition of fireworks exploding over the field and a wave of apple pie filling flooding the parking lot.
1701 Bryant St.
Denver
Colorado
303-688-5297
The Denver Botanic Gardens' three locations house vibrant flowers, lush vegetation, and educational activities for visitors of all ages. Native and adapted plants flourish in the York Street campus, which also houses Mordecai Children's Garden—a 3-acre lot with alpine gardens, mountain ranges, and cool bugs. Trails cut through the Mount Goliath garden, delivering explorers to scenic vistas of the Divide peaks. In contrast to the untouched beauty of Mount Goliath, the Chatfield hub features mankind's imprint on the land. As a working farm, Chatfield makes new use of a restored dairy barn from 1918 and as well as a 19th-century schoolhouse. The farm doubles as a habitat for many bird species, and offers the rare opportunity to make eye contact with a heron.
1007 York St.
Denver
Colorado
US
The screams reach out for the brave souls who venture into The Asylum Haunted House before they can see anything. Descending two levels into the darkness of Gordon Cottingham's Hospital for the Mentally Insane, they hear the tortured cries of patients who have been abused and drugged and held captive within decrepit walls and the dungeons of their own minds. Demented doctors with questionable motives and ultra-low OSHA ratings lurk throughout 15,000 square feet of damp, musty space infested with spiders, rats, and snakes. The graphic makeup and Hollywood-style effects couple with the realistic-looking environs to make the site one of the scariest haunted houses in America, according to the Discovery Channel and HauntWorld magazine. Even the seemingly fearless Bam Margera recommends it.
Those who survive The Asylum's insanity emerge into the postapocalyptic landscape of the adjacent Zombieland Haunted House. There, the living dead wander through the quarantined streets of a crumbling city, in and out of dilapidated buildings, searching for human flesh or half-eaten candy bars.
11425 Community Center Dr.
Northglenn
Colorado
---