Beauty & Spas in Del City
---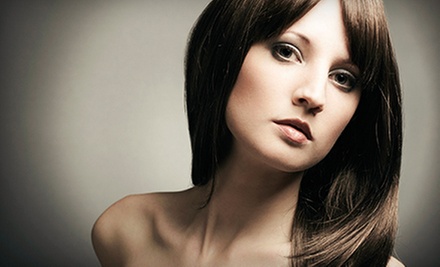 Crestline Park/Southbrook
---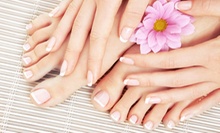 The spa pedicure removes calluses and softens skin on the feet and lower legs; a manicure freshens up fingernails with polish
---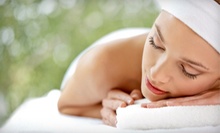 A classic Swedish massage's gentle strokes, which range from smooth effleurage to kneading petrissage, help dissolve pain and stress
---
Recommended Beauty & Spas by Groupon Customers
---
Take Five's talented stylists have been serving up beautiful platters of hairstyle since 1993 from their salon near the University of Oklahoma. Their scissors have dipped into the head-threads of folks from every imaginable walk of life, be they style-fixated fashionistas or befuddled Flubber-inventing professors. Once they've gotten your noodle-nest moist and tender with the help of top-of-the-line Aveda-brand products, Take Five will carve the locks of lords, ladies, and ladies' men into a new look that swivels necks and fatally distracts bomb defusers.
566 Buchanan Ave., Suite C
Norman
Oklahoma
Helmed by board-certified gynecologic surgeon Jeffrey J. Smith, MD, Bella Vita Med Spa's team of beauty techs works to improve health and bolster confidence with a range of aesthetic skincare and cosmetic procedures. The staff aims to safely refurbish faces through a multipronged strategy of skincare treatments, including microdermabrasion, photofacials, and Obagi chemical peels that reveal unmarked surfaces and the undisclosed Donny Osmond impressions beneath. Wielding a variety of lasers, including Cutera and Titan, the staff can also perform laser procedures such as hair removal, skin resurfacing, and spider-vein removal. Injectables and dermal fillers help reduce the signs of aging, and tummy tucks and laser-assisted liposculpture help reduce the signs of adipose tissue.
13128 N Macarthur Blvd.
Oklahoma City
Oklahoma
405-470-6677
Dr. Victoria Johnson taps her diverse experience in the medical field—ranging from family-practice medicine to emergency-room work—to perform her medical and aesthetic services at Laser Light Skin Clinic. Dr. Johnson meets with all her clients for complimentary consultations to get to know their individual skin types, beauty needs, and whether freckle constellations might predict what galaxy the aliens will come from. To meet patients' needs, Dr. Johnson can perform noninvasive services, such as laser face-lifts and skincare with SkinMedica products, or more intensive care including cosmetic injections and liposuction.
6442 Avondale Dr.
Nichols Hills
Oklahoma
405-841-0500
Beyond a lime-hued door, beautifiers exercise their practiced digits on the hair or nails of guests, who relax in the midst of black-and-white furnishings dotted with bright-green accents. Stylists affix extensions, lop off hair, and cover strands in deep-conditioning serums and products by Pureology and Moroccanoil. Aesthetician Pam Mokhtari leaves skin glowing after chemical peels and anti-aging treatments. Elsewhere in the salon, mani-pedis transform unkempt finger ends into glossy surfaces that clearly reflect passing faces or war zeppelins flying overhead.
9311 N Pennsylvania Pl.
Oklahoma City
Oklahoma
405-607-4247
---