Coffee & Treats in Dunwoody
---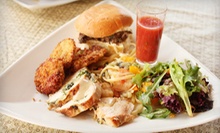 Passionate chefs prepare rotating seasonal dishes, such as veggie-loaded sweet potatoes, with ingredients from onsite garden and local farms
---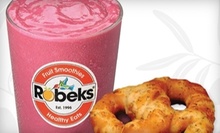 Fresh fruits and vegetables blended into custom smoothies, all complemented by vegan cookies, wraps, and pretzels
---
Recommended Coffee & Treats by Groupon Customers
---
Proprietor Carine Bourgeois sets up shop inside a cozy 1920s house, where nearly 100 varieties of tea fill thirsty mugs, and freshly prepared sandwiches, salads, and soups help to prevent the lunch tradition from going extinct. Chilled mitts can wrap around a ceramic warmed with tea, first steeped in a traditional Japanese cast-iron pot ($4.50–$5.50). The Blue Eyes fruit tea features a delicate mix of orange, apple, hibiscus, and cornflower petals, and the organic allergy-relief house blend enlists the help of elderberry, ginger root, and spearmint to soothe respiratory tracts tickled by seasonal reindeer dander. Comestibles include a chicken-curry-salad sandwich ($9.95), available on gluten-free bread, tomato basil soup ($3.95 for cup; $5.95 for bowl), and a beauty-booster salad with veggies, berries, and choice of wild salmon, Thai shrimp, or organic chicken strips ($12.95).
108 Magnolia St.
Roswell
Georgia
770-643-5813
Surprise your sweetie with doughy breakfast in bed, reward your coworkers for making you look good, or treat yourself to doughnuts because they bring you doughnutjoy. Today's Groupon to Sublime Doughnuts gets you six gourmet doughnuts for $6 (up to a $12 value). Give morning the sweet start that will make your grumpy grandpa and snotty sister melt into rivulets of dark-chocolate glaze and cream.Follow @Groupon_Says on Twitter.
535 10th Street
Atlanta
Georgia
US
404-897-1801
This time of year, unhealthy temptations abound: chocolate-covered reindeer, log-jam rolls, and gingerbread cars. Curb your treat-sneaking guilt without neglecting your sweet tooth with today's Groupon to Yogurberry. Located in the sleek, secretly-from-the-future Terminus building, this Buckhead shop serves up low-cal, non-fat frozen yogurt and smoothies that make celebrities and pastry chefs abandon their highly publicized affairs with ice cream in favor of a nurturing treat that reforms their image in the media. Stay on track with your New Year's resolution to eat better/learn invisibility/graduate college with this energy-giving snack.A brain freeze usually occurs when a food item of subzero temperature (ice-cream cone, frozen hot dog, et al.) is consumed rapidly, due to extreme deliciousness or an equally extreme desire to enter the movie theater quickly so as not to miss the trailer for Iron Man Too: 2 Iron Men.
3280 Peachtree Rd NE , #140B
Atlanta
Georgia
Most know that way to an iguana's heart is through its stomach, but it is useful to remember that human stomachs can be reached through the mouth, nose, eyes, and—if it's an emergency—the number written on the refrigerator's dry-erase board. Today's Groupon stimulates your gentle iguana heart with a sensational feast of sweet tastes, smells, and sights at Sweet Auburn Bread Company. For $15, you get $35 worth of old-fashioned baked goods and breakfast at the charming Auburn Avenue bakery.
234 Auburn Avenue Northeast
Atlanta
Georgia
404-221-1157
The Grounds' menu boasts international brews (such as Cubano coffee and café au lait) as well as freshly baked, coffee-complementing pastries. Try a steamer ($2 for a small), hot chocolate ($2 for a small), a latte ($3.50 for a small), or a double-shot espresso ($3.50) to take the bluster out of a blustersome winter walk. A small house-blend coffee costs $1.50, so this Groupon could caffeinate your mornings for more than a week (you may redeem it in multiple visits). Cold drinks include a small lemonade made with ginger, clove, and honey ($2); sorrel ($2); and fresh mango, pineapple, strawberry, or peach smoothies ($3.50).
898 Oak St. SW Suite F
Atlanta
Georgia
Miss Mamie's plays host to a small army of frosty cupcakes, harboring five distinct flavors of moist, cream-topped cake each day. Because each day brings a flavorful flight of gourmet goodness, customers may check Miss Mamie's homepage for rotating menu options, such as the ravishing red velvet, the slowly poured ingenious fusion of chocolate and Guinness, or the fortuitous cameo of caramel-spiced apple. The cupcakery also churns out daily regulars such as cookie dough, devils food, and the oxymoronic smoothly paved rocky road. Atop the pillow of buttercream, Miss Mamie often places a tiny treat, such as a mini gingerbread man, banana chip, or buttery chunk of cookie dough.
156 Roswell St. SE
Marietta
Georgia
---