Things to Do in Escondido
---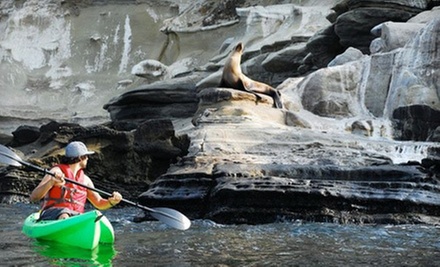 ---
Recommended Things to Do by Groupon Customers
---
Disguised in wetsuits, flippers, and diving masks, humans almost seem indistinguishable from the scores of aquatic life that thrive among the San Diego coastline. In the water, curious sea lions tug playfully at divers' fins, and thick stalks of kelp wave like Queen Elizabeth telling the gathered crowd to go home already. With access to five separate sites in which to see such wonders, the guides at San Diego Excellent Adventures tailor their adventures—whether snorkeling, diving, or paddling—around the experience level of each tour group, ensuring an easy assimilation to undersea life.
During guided dives along La Jolla Shores, swimmers peer in on frolicking creatures such as lobsters, octopuses, and leopard sharks, and standup paddleboards grant access to Mission Bay's shoreline views previously seen only by terribly lost Venetian gondoliers. Currently the largest manmade bay in the country, Mission is known for its calm waters suited to beginners just learning to explore the ocean.
La Jolla Cove
San Diego
California
Inside the colorful CeramiCafe, more than 500 bare pieces of pottery await creative embellishments and an eventual trip to the kiln. Mugs, banks, figurines, and tiles become canvases for visitors, who can personalize them using provided stencils or by covering them with recent grocery receipts. The helpful staff glaze and fire pieces to seal in artwork and create a glossy sheen, with final products ready for debut in five days. Outside the pottery realm, in mosaic projects, artists can use glass tiles, marbles, and broken pottery to doll up picture frames, mirrors, or plaques. Meanwhile, parents can immortalize a child's early days by pressing their tiny hands and favorite action figure into a pad of clay to make a lasting print.
12925 El Camino Real
San Diego
California
858-259-9958
At FunBelievable Play, British owners Lynne and Adriana introduce the San Diego area to "British-style" indoor play with playground equipment imported from the United Kingdom. Meeting all playground safety regulations, the 6,000-square-foot facility helps children use their imaginations while developing their physical and mental capabilities, and climbing structures and interactive games encourage social skills that come in handy when imaginary friends go off to college. A colorful three-level play structure hosts fun amenities such as tube slides, climbing walls, tiki-figure punching bags, and a ball shower, whereas the sports arena gives future athletes the chance to kick goals and shoot baskets. Wobbly walkers and toddlers enjoy more age-appropriate play in their own space, which scales down big-kid fun into an area littered with soft toys, a mini ball pit, and mini slides.
Parents can sip coffee in a lounge area and rest easy knowing their children are playing on equipment that's sanitized and inspected daily. The staffers are fully trained and have passed background checks, and many of them also are certified in first aid and CPR and boast an encyclopedic knowledge of cartoons.
11655 Riverside Dr., Suite 155
Lakeside
California
619-456-2474
Through innovation and a passion for creation, Eleanor Burns revolutionized the process by which quilts are made. She cast off the shackles of scissors and templates for a more visceral approach that combines the ripping and stripping of fabric with an assembly-line approach to sewing. The new process brought an exciting speed to an activity once known for taking months and causing anyone who attempted it to grow a 4-foot beard. To spread the word and bolster the quilting community, she released her first book, Make a Quilt in a Day––Log Cabin Pattern.
Thirty years and 100 quilt books and patterns later, she continues to promote the art of the quilt and to improve the efficiencies of quilt construction. Along with a staff of fellow seamstresses, she began Quilt in a Day to further spread her message through simple and social classes filled with thorough and accurate instruction. Beginners can register for classes or attend a demo day, where refreshments fuel entertainment and scraps of fabric fly.
1955 Diamond St.
San Marcos
California
US
750-591-0082
---