Things to Do in Escondido
---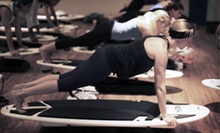 Trainers enhance aerobic intervals, core exercises, and resistance training with stationary surfboards that emulate the motion of water
---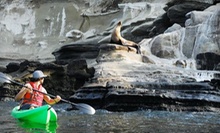 Half-day bike rentals complete with helmet & maps for safe excursions around La Jolla Shores
Use Thursday 8:00am - 12:00pm
---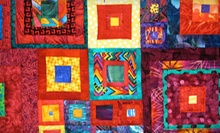 Beginners and advanced quilters find designs, patterns, colorful fabrics, soft batting, and fine thread to complete their own unique quilts
Use Saturday 9:00am - 4:00pm
---
Recommended Things to Do by Groupon Customers
---
When twin sisters Izzy and Coco Tihanyi decided to pursue a career that combined their passion for surfing and their love of the ocean, their calling came in the form of starting Surf Diva. Before long, they were on course to becoming a lauded school for coed surfers in California and Costa Rica. Augmenting the pair's teachings is their team of certified instructors, all graduates of their school's intensive training program and certified in CPR and first aid. Committed to their expertise in surfing, many of the instructors also hold down careers as firefighters, paramedics, and snowboarders, granting them the combined know-how to put out beach bonfires with a casual backflip.
The team's instruction ranges from coed group lessons and competitive coaching sessions to two- or five-day women's weekend surf clinics. When they're not teaching surfing, crew members commit themselves to alternative teaching programs in yoga and standup paddleboarding, helping surfers to conquer the water with their bodies as well as with their very buoyant hearts. The twins' Costa Rica program also helps women and families hone boarding skills abroad while becoming fully immersed in the Costa Rican culture.
2160 Avenida De La Playa
La Jolla
California
858-454-8273
Disguised in wetsuits, flippers, and diving masks, humans almost seem indistinguishable from the scores of aquatic life that thrive among the San Diego coastline. In the water, curious sea lions tug playfully at divers' fins, and thick stalks of kelp wave like Queen Elizabeth telling the gathered crowd to go home already. With access to five separate sites in which to see such wonders, the guides at San Diego Excellent Adventures tailor their adventures—whether snorkeling, diving, or paddling—around the experience level of each tour group, ensuring an easy assimilation to undersea life.
During guided dives along La Jolla Shores, swimmers peer in on frolicking creatures such as lobsters, octopuses, and leopard sharks, and standup paddleboards grant access to Mission Bay's shoreline views previously seen only by terribly lost Venetian gondoliers. Currently the largest manmade bay in the country, Mission is known for its calm waters suited to beginners just learning to explore the ocean.
La Jolla Cove
San Diego
California
---