Things to Do in Gatineau
---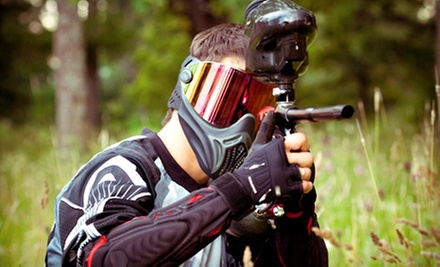 ---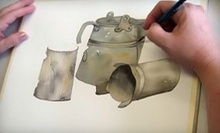 During group art classes, kids and teens learn illustration in a variety of media, and adults pick what medium they'd like to use
---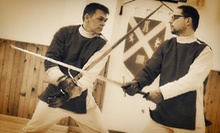 Billings Bridge - Alta Vista
Research-based classes teach from manuscripts that date back to 1325; students practice with longswords and other weapons
---
Recommended Things to Do by Groupon Customers
---
Hips start swiveling with grace at White Sands Golf Course & Practice Centre, where golfers hone their form at a nine-hole executive course, extensive practice facilities, and academy classes. On the 1,477-yard course designed by Graham Cooke, golfers can choose from three tee options and finish rounds in less than two hours. To gear up for the water hazards and serpentine sand bunkers that stud the fairways, players can sharpen their technique at the extensive White Sands practice facility. Here, 30 fibre mats and 42 grass tees await along the driving range, and players can work on their victory half smiles after chipping out of the practice sand trap onto a green.
White Sands Golf Course & Practice Centre is also the site of the Graham Gunn Golf Advantage School, whose head is a member of the European Senior Tour and spent a decade as head professional at the Carleton Golf & Yacht Club. Gunn teaches clinics and offers private coaching for students who don't want to be overheard asking how long you have to sit on a golf ball before it hatches.
1705 St. Joseph Blvd.
Ottawa (Orleans)
Ontario
From dawn to dusk, Oziles' rental boats kick up waves around Petrie Island and Grandmaitre Ecological Reserve. The shop's rental watercrafts, which require no boat operator's card to use, exemplify the outfitter's mission to empower Ottawans to explore and conserve their surrounding waterways. Before passengers embark on their trips, the crew familiarizes them with their boats and fishing gear, and teaches hand signals for passing by ducks before bidding them bon voyage. The crew also repairs, cleans, and winterizes private boats and furnishes captains with year-round boat storage at the marina. In addition to boats, Oziles rents ice huts with stoves and scenic picture windows, from which groups of up to six can watch the ice fishing holes outside.
1009 Trim Rd.
Orleans
Ontario
613-841-0778
Dunnderosa Golf Club's par 3 course lets golfers swing and putt their way through tree-dotted hills that look out on the scenery of nearby Gatineau Park. With greens that are reachable in one shot on every hole, the course invites players who are still seeking out their first hole-in-one or trying to arouse jealousy in their driver by spending more time with their short irons. Dunnderosa Golf Club also features Dunn-D's mini-golf course, which wreathes around a central waterfall for 18 holes of tricky putts and scenic landscaping. Lined by brick rails and peppered with rocky obstacles, each hole presents geometric challenges, forcing players to carom balls around 180-degree turns and steer them through craggy outcrops before sweeping them into holes positioned on devious slopes. The mini-golf course's front nine is designed to be accessible for players with reduced mobility, offering a competitive venue for clubbers of all ages and those intent upon playing with their shoes tied together.
11 Chemin Notch Rd.
Chelsea
Quebec
819-827-8056
Dedicated to fostering imaginative playtime for children, Midway Family Fun Park's 50,000-square-foot space bustles with young adventurers climbing, jumping, and riding on a slew of indoor attractions. Kids get a taste of grown-up life by piloting bumper cars or boats and discussing tree-house mortgage rates with fellow drivers. Well-trained employees oversee the indoor kiddie train and helm the 25-foot rock-climbing wall to ensure the safety of all scalers; young sprouts can also hone flexibility and balance amid the jungle gym's ball pit and slides. Outfitted with a number of entertaining and challenging obstacles, the nine-hole mini-golf course grants clubbers a chance to show off their putting prowess on scaled-down greens.
Guests also have access to the bustling arcade, which requires tokens for play, or can stop for sustenance such as a speciality pizza or samosa at Olive Green Restaurant. Midway Family Fun Park also offers full-service party planning for birthdays and other special events. Staff swoop in to take care of everything from set-up and activities to cake and goodie bags, allowing parents to shoot home movies and stage bloopers for the DVD extras.
2477 Kaladar Ave.
Ottawa
Ontario
As the leaves began to slip into their autumnal shades in September of 1988, Ottawa's artists won a years-long battle to secure their city a municipal art gallery of its very own. Built with the hopes of showcasing the unique energy and voices of the local artistic scene, the Ottawa Art Gallery (OAG) has, in the two decades since its founding, upheld its advocacy and celebration of municipal talent with an ever-changing roster of exhibits. An ongoing lineup of interactive programs and events cultivates a community of art lovers and sparks cultural discussions. Meanwhile, kids' art camps bolster the creativity of local youngsters and the egos of any cryogenically defrosted Monets in attendance. The OAG also houses the Firestone Collection of Canadian Art, a compendium of upward of 1,600 homegrown masterpieces from the modern period featuring celebrated artists including Emily Carr, Jack Shadbolt, and Paul-Émile Borduas.
2 Daly Ave.
Ottawa
Ontario
613-233-8699
Draped in a black cloak, a figure holds a lantern to light the way along a weathered stone wall. As the tour group follows, the cloaked leader recounts a story, perhaps a tale about Canada's last working gallows, or perhaps about the riots that once overtook the streets. Though Haunted Walk's guides are well known for their theatrical flair, the tales they tell are not so well known. As they lead walking tours of Kingston, Ottawa, and Toronto, the guides unveil fascinating yet rarely told tales of each city's dark side. Narrations may include ghost stories backed by eye-witness accounts, or the underpinnings of a nefarious political plot, such as a plan to draw moustaches on every image of the queen. Private tours are also available.
73 Clarence St.
Ottawa
Ontario
---