Restaurants in Halifax
---
Recommended Restaurants by Groupon Customers
---
Rocco Scarola left his hometown of Bari, Italy in 1967 and spent the next quarter century honing his culinary expertise in some of the best restaurants in Halifax. By 1992, he was ready to share his knowledge of Southern Italian cuisine––as well as his mother's treasured oven-baked pasta recipe––with the Nova Scotian masses. Together with his wife Gail and head chef Tracey Cromwell, Rocco finally realized his dream of creating a refined, yet relaxed atmosphere where people could come together to enjoy a good meal, hearty conversation, and an opera-singing wait staff. In 2008, he passed his enterprise to his partners of eight years, Hanna and Robert Gibson, who continue to honor the Italian traditions and excellent service that has made Rocco's a success for almost two decades.
Today, diners can still find Rocco's mother's pasta on the brunch menu, featured alongside Rocco's own coveted pizza recipe, built upon his signature handmade crust. Local seafood and meats from nearby Martock Glan Farms put a modern, sustainable spin on classics such as veal limone and zuppa di pesce dell'aragosta (lobster and fiddlehead bisque), and salads are tossed tableside to prove both the freshness of the ingredients and the existence of gravity. Signature pastas include a spaghetti carbonara topped with garlic and scallops and meat lasagna layered with béchamel and a secret ingredient, though servers make no secret of the fact that all pastas are available in whole grain or gluten-free versions for guests with sensitivities.
313 Prince Albert Rd.
Dartmouth
Nova Scotia
902-461-0211
The chefs at Caribbean Twist import near-meridian flavours all the way up the globe to Halifax with their spicy jerk chicken, stewed oxtail, and vegetarian curry potato roti wraps. The staff expects some confusion from those who are new to Caribbean food, but have taken measures to preemptively stave off any anxiety. They included a short FAQ section to the menu to answer such important basic questions as "What's ackee?," "Is everything hot and spicy?," and "What animal does oxtail come from?" Their insistence that every bite and sip be true to its Jamaican roots extends all the way to the dessert menu, which is drawn up by resident baker Fatima Adam. Fatima crafts all desserts in-house, including mango cheesecake, coconut cream pie, and basbousa, a sweet cornbread-like cake soaked in syrup.
This commitment to crafting exotic dishes and fresh jamaican patties has earned Caribbean Twist an army of avid fans and awards, including Best Desserts Category for Eastlink Magazine's "Nova Scotia's Best" and their jerk chicken winning the 2011 North-End Community Cook-Off. When a zoning issue threatened to permanently close the café in 2010, these loyal patrons rose up and helped save the modest eatery.
3081 Gottingen St.
Halifax
Nova Scotia
Vinnie's Pasta Bar's unassuming exterior of muted green brick and a petite awning opens to a quaint dining space filled with warmth. Red tiled flooring, golden-hued walls, and droplet-shaped ceiling lamps surround patrons as they settle into tables topped in red and gold linens. The kitchen staff dispenses thin-crust pizzas and classic pastas to sate Italian cravings, although patrons seeking more eclectic entrees can opt for red curry chicken or Cajun fettucine.
5361 Inglis St.
Halifax
Nova Scotia
902-425-4435
The heat that emanates from an open-flame grill warms Ryan Duffy's Steak & Seafood's kitchen, where chefs grill steaks in seven different styles—from the flame-caressed "blue rare" to the gently charred "well done." Winning a Consumer Choice Halifax award for Fine Dining for the past three years in a row, the restaurant's mission to plate the perfect steak begins long before each tender slice of meat hits the flame. The succulent flavour in each bite of the AAA tenderloins and Alberta AAA striploins comes from dry-aging them in a climate-controlled chamber for 28 days. Once the steaks have matured enough, staff members cut and weigh them tableside, where their charred exteriors and warm, red centres stand out among the dining room's white linen tablecloths.
1650 Bedford Row
Halifax
Nova Scotia
902-421-1116
Within a former fish-processing plant now incorporated into the Fisheries Museum of the Atlantic, The Old Fish Factory Restaurant & Ice House Bar slings seafood culled from the fresh catches of top local suppliers. As guests peer out onto the harbour from the dining room or inhale salty ocean air on the wharf-side patio, they can feast upon homemade seafood chowders or ale-battered fish 'n' chips as well as Canadian rib-eye steaks and vegetarian pastas.
In addition to scenic views and succulent shellfish, a variety of events keeps regulars coming back for seconds. Thursday-night meetings of the Rum Club spark lively conversations about the beloved seafaring libation, and occasional live music enchants guests with toe-tapping rhythms and fiddlers that play with swordfish instead of bows.
68 Bluenose Dr.
Lunenburg
Nova Scotia
902-634-3333
Chef Hans at The Vines Pasta Grill pushes the boundaries of traditional Italian cuisine by incorporating regional influences from the American Southwest. He adheres to some Old World traditions, though, such as baking bread fresh every day, using locally sourced ingredients whenever possible, and coating thin-crust pizzas with house-made sauce and a paint roller. The menu gets inventive when outlining pasta dishes, such as linguine with a spicy Thai sauce and fettuccine with blackened chicken, corn, and a twist of lime. The chefs also demonstrate their mastery of saccharine confections by baking gluten-free chocolate cake and weaving fresh napkins out of cotton candy.
Staying true to its name, the restaurant features leafy vines along its dining room's walls and pillars. In addition to adding splashes of green to the rustic wood tones, the tendrils help to replenish the room's oxygen supply between waves of the dinner rush.
4 Panavista Dr.
Dartmouth
Nova Scotia
902-434-4114
---
---
Restaurant Deals - Recently Expired
---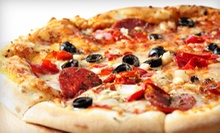 Italian classics such as penne tossed with pepper-cream sauce and pizza topped with homemade meatballs served in a candlelit dining room
---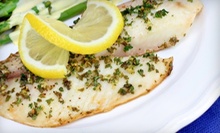 Cooks prepare lobster club sandwiches and gluten-free lasagna at diner with bay views
---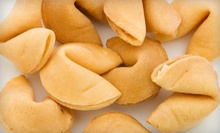 Restaurant backed by 30 years of family tradition serves a varied menu of Chinese favourites, including curries, rolls, and chef specialties
---
---