Things to Do in Idaho
---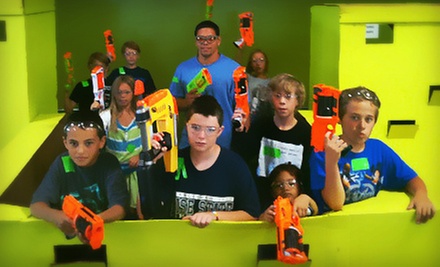 ---
Recommended Things to Do by Groupon Customers
---
Silverhawk Aviation's owner, Catherine Rad Weber, built a school not only to teach people how to fly, but to learn to love their wings as well. Her comprehensive curriculum challenges students to fly at high altitudes, in different weather conditions, and over diverse terrain, training helicopter pilots who will be comfortable in the cockpit anywhere in the world. The program includes hands-on experience in caring for the rides, moving them in and out of hangars, and safely washing them without getting soap in their eyes.
Whether training or touring, visitors receive eyefuls of southern Idaho's diverse geological features. The helicopters surmount rugged mountains, speed over mesas and high deserts, and ride air currents above rivers that wend their way into deep canyons. Apart from stunning the brain's beauty receptors, this splendor provides a natural obstacle course against which more experienced pilots test their skill, zipping around rock spires or hopping the feet of their craft neatly through pristine fields of tire plants.
4505 Aviation Way
Caldwell
Idaho
US
As a lineup of second-run movies splashes upon the two screens of Northern Lights Cinema Grill, waiters deliver a diverse menu of pizzas, burgers, and salads to audience members comfortably lounging around tables. Customers arrive at the theater 30 minutes before the beginning of their chosen show to purchase drinks and place food orders before the lights dim and the night wolves come out. Waiters deliver orders during the show, and can delay the delivery of desserts or other food items at customers' request. The theater's matinee showings welcome guests of all ages, while shows after 6:15 p.m. are for patrons 21 and older due to their wine and beer service and dress code of clothes from 1991 or earlier.
1509 Caldwell Blvd., Suite 1111
Nampa
Idaho
Serenity Stables & Event Facility's five acres of land are dotted with a regulation-size arena, covered stalls, and indoor facilities, creating a horse-riding haven for equine enthusiasts of all ages. Experienced, encouraging instructors lead riding lessons, which can be tailored to meet the needs of everyone from first-timers to professional cowboys hoping to learn the secret of galloping into the sunset without squinting. Teachers inform pupils about basic Western and English riding techniques, roping, queening, flags, and barrel racing. Serenity Stables also offers full boarding services and rents out their facilities for dances, musical events, birthdays, and interventions for oats-addicted unicorns.
12492 Karcher Rd.
Nampa
Idaho
208-401-5363
Body Renew Fitness's boot camps ($149) keep clients engaged and bodies guessing with a slate of workouts that vary from session to session. Boot campers will partake in the latest strength and conditioning exercises in the camps—held Mondays through Fridays—as they grow under the guidance of Body Renew's certified trainers, skilled in the ways of the push-up and the worth of positive thinking. In addition to fat-searing workouts, boot-camp members will learn all about the basics of nutrition with Body Renew's Solutions program. Get educated in the scientifics of body-fat percentage, body-mass index, calories, basal metabolic rate, and more—everything you need to grill the fat out and transform your body into a sizzling-hot specimen of leanness. And unlike many other outdoor boot camps, Body Renew Fitness gives its students access to indoor gym amenities ($40) and state-of-the-art exercise machines, allowing you to add new colors to the Spicebush Swallowtail butterfly that is your fitness regimen.
2270 W. Everest Lane
Meridian
Idaho
As members of the NAPA AutoCare empire, Blaz'N Diagnostics Auto Care's ASE-certified technicians cannot work on cars without backing their services with a 12-month or 12,000-mile warranty. The crew uses top diagnostic equipment to sleuth out electrical issues and signs cars up for services that range from oil changes to complete engine rebuilds. The garage also partners with Enterprise Rent-A-Car to assist customers in finding transportation without having to call a cab or summon the town centaur.
4340 Chinden Blvd.
Garden City
Idaho
208-323-9292
Awarded one of the "Top 10 Golf Experiences Within Idaho" by Golf Digest, The Highlands Golf Course beckons golf enthusiasts with forests of towering pine trees and rolling terrain of verdant beauty. The course was originally designed by Jim Krause and opened for play in 1991, though anyone who hasn't played it since 2006 will appreciate the additional tee boxes and marked improvements in bunker playability resulting from course renovations. Six lakes come into play, demanding deft club selection around the greens and impeccable swan dives to retrieve errant golf balls. Narrow fairways and several doglegs also place a premium on flawless drives off of your playing partner's belly button.
As a warm-up or a cool-down, practice at the driving encourages skill development with grass tees and nearly 400 yards of open expanse. A short-game practice area recreates most on-course situations a golfer can conjure up, with sand bunkers and two regulation flagpoles that double as golf cart jousting lances.
Course at a Glance:
Par 72

Four sets of tees

6,385 yards from back tees

Rating of 69.7 and slope of 120 from back tees

1991 Jim Krause design

Renovated in 2006
5600 E Mullan Ave.
Post Falls
Idaho
208-773-3673
---