Things to Do in Key West
---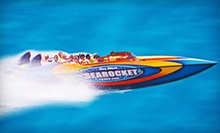 Zoom around Key West, soaking up stunning island views, Caribbean sunshine, and local wildlife sightings
---
Recommended Things to Do by Groupon Customers
---
Imagine the lightning-like stripe down the side of a yellowtail snapper or the marbled, almost serpentine pattern on a black grouper. The waters off the Florida Keys teem with such visually stunning marine life, and the crews of Gulfstream Fishing, Inc. know how to catch them. The Gulfstream IV, a 58-foot party boat that's inspected twice a year by the US Coast Guard, motors approximately 60 passengers swiftly out to deep-sea fishing spots thanks to twin Detroit 8v92 turbo engines. Once anchored, the ship's amenities—which range from men's and women's restrooms to a galley serving snacks—keep anglers comfortable between casts.
In addition to daily party outings, Gulfstream's crews charter small-group trips that include evening shark fishing, offshore and inshore outings for trophies such as sailfish and tarpon, and trips onto coastal flats for catches such as bonefish and barracuda. They also organize private fishing charters to celebrate special occasions, such as a bachelor party or buying your first boat. An FAQ page anticipates guests' questions before heading out.:m]]
---
Gulfstream Fishing, Inc.'s rates vary based on guests' reservation method.
1801 N Roosevelt Blvd.
Key West
Florida
305-296-8494
Billy figured that with Key West's powdery beaches and paradisiacal waters, a business could grow itself if it supplied high-quality watersports rentals and guides who could unveil the beauty of the area. To that end, he began building a team and a fleet that would take guests on adventures both above and below water. Today, guides conduct jet-ski tours on Yamaha WaveRunners, as well as lead groups of kayakers and standup paddleboarders on tours that meander along the Atlantic, Caribbean, and Gulf of Mexico. They also lead underwater ventures, such as scuba diving and snorkeling to technicolor coral reefs and historic ships that have lost the will to float. Individual equipment rentals cater to guests who prefer independent explorations. It's this breadth of tours and rentals that has earned Barefoot Billy's a certificate of excellence from TripAdvisor.
1435 Simonton St.
Key West
Florida
305-735-2241
For 30 years, Captain Bob has navigated boats across the water, a hobby that included taking local Boy Scout troops on tours of some of Key West's most scenic locales. Despite this background, Captain Bob didn't originally intend to use his 26-foot Nordic tugboat for chartered tours. He bought the vessel, aptly named Red Bull, for him and his wife to use, but after several people asked to charter the boat, he finally gave in.
Today, Captain Bob ferries passengers on aquatic journeys through the Gulf of Mexico's pristine waters. Though the captain offers several different outings—such as snorkeling near reefs and shipwrecks—the most popular tours are the ones that encompass a little bit of everything. During these trips, Captain Bob and his crew tour the harbor, floating by Fort Zachary Taylor Historic State Park and the historic seaport before passengers take out their fishing poles and catch some dinner. Then, the captain takes groups to see playful bottlenose dolphins as they swim in their natural habitat and stick Kick Me signs on the backs of passing snorkelers. As the boat rounds back to the harbor, it floats beneath the warm colors of an ocean sunset.
With Garmin fish finders and GPS tracking, Red Bull can easily navigate Key West's waters regardless of which trip customers choose. The boat also boasts a sundeck, air-conditioned lounge, and full galley.
1801 N Roosevelt Blvd., Amberjack Pier Slip 10
Key West
Florida
305-395-1416
Rum, wine, beer, sun, and food: the Key West Bacchanalia celebrates summer with all five. The festival pours out tastes of Puerto Rican rum cocktails and other select drinks, which guests sip while watching celebrity chefs whip up savory cuisine in the handheld form of burgers and barbecue. Should ticket holders wish to imbibe some history as well, an Ernest Hemingway-themed event with author and Hemingway expert Philip Greene shares recipes for rum drinks that the literary superstar enjoyed during his days in Paris, Cuba, and inside a rising sun. A portion of the event's proceeds benefit the Darrell Gwynn Foundation, an organization supporting individuals with paralysis.
202 Duval St.
Key West
Florida
305-766-3356
---