Things to Do in La Jolla
---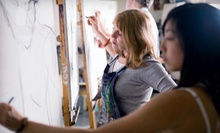 Exercises in perspective, anatomy, and linear techniques lay a firm foundation for accurate sketches and exploration of other art forms
Use Today 2:00pm - 6:00pm
---
Recommended Things to Do by Groupon Customers
---
The paddle wheels of The Sternwheelers' two signature boats churn through the blue-green waters of Mission Bay, transporting passengers back more than a century to when steamboats dominated America's rivers. Across the 100-foot-long William D. Evans, festive events with up to 600 passengers unfold under ornamental pressed-tin ceilings, handcrafted lamps, and the astronaut-crafted stars viewable on the open-air top deck. Handmade masts at the bow lead the ship's way, and its hundreds of decorative bulbs illuminate the bay at night. Bahia Belle, William D. Evans' smaller sibling, offers a more intimate space for gatherings. Its Victorian decor and architecture make way for a stained-glass skylight that beams vivid colors across its interior, resplendent with cast-iron staircases and red-velvet curtains. Weddings, banquets, and other events also take place on the boats between public cruises, each craft's rich detailing setting the tone for trips to remember.
998 W Mission Bay Dr.
San Diego
California
[[m:####South Sun Products
Bursting with beads and jewel-crafting necessities, South Sun Products' inventory equips do-it-yourself jewelers with the tools to craft delicate adornments at home or in myriad classes. South Sun Products manufactured jewelry for two decades before opening its enormous retail store, giving the public access to its colorful treasure trove of rare and natural gemstones and beads. The staffers also stock chains, earwires, and other necessary parts to help crafters easily affix their beaded creations to a loved one's wrist without painful hot glue. An ever-rotating schedule of classes keeps curious beaders enthralled with wire-working, beading, and other jewelry-smithing workshops.:m]]
8601 Aero Dr.
San Diego
California
858-309-5050
Inside the colorful CeramiCafe, more than 500 bare pieces of pottery await creative embellishments and an eventual trip to the kiln. Mugs, banks, figurines, and tiles become canvases for visitors, who can personalize them using provided stencils or by covering them with recent grocery receipts. The helpful staff glaze and fire pieces to seal in artwork and create a glossy sheen, with final products ready for debut in five days. Outside the pottery realm, in mosaic projects, artists can use glass tiles, marbles, and broken pottery to doll up picture frames, mirrors, or plaques. Meanwhile, parents can immortalize a child's early days by pressing their tiny hands and favorite action figure into a pad of clay to make a lasting print.
12925 El Camino Real
San Diego
California
858-259-9958
True connoisseurs can taste the character of a city in its beer, especially those cities constructed mostly from hops and barley. Sample the sudsy side of San Diego with today's Groupon: for $89, you get a luxury brewery tour for two from Brew Hop (a $190 value).
2400 5th Ave. , Suite 324
San Diego
California
858-361-8457
Where You Want to Be Tours was launched as a walking-tour company in 2003 and since then has offered tours of San Diego that take locals and visitors to spots such as Balboa Park and the shores of La Jolla. Most adventures last more than two hours, so tourists have plenty of time to stop and sightsee or fold obsolete guidebooks into three-corner hats that will shade their eyes from the sun. Today, the company has expanded its offerings with bike tours of locations such as Pacific Beach and Mission Bay and urban scavenger hunts, which present a hands-on approach to urban exploration, turning tour routes into racecourses and throwing in physical challenges, including Frisbee-throwing contests.
675 L St.
San Diego
California
619-450-4671
Photographer Daniel Woods can hold his breath for 3.5 minutes, which comes in handy when he has to grab an underwater shot. An avid outdoorsman whose accomplishments include a 22-mile kayaking excursion to Catalina Island, Daniel found his way to photography through the continual inspiration he drew from wild landscapes, particularly ocean coasts. And then he wondered: why should these landscapes be limited to models and athletes posing for magazines? With that, Daniel launched Beach Shoot to make these wild backdrops accessible to anyone seeking an adventurous photo.
His shoots—which he calls "personal ad campaigns"—venture to locations where beaches, sea cliffs, and trails abound. During these shoots, he paddles along with his subjects to snap portraits and action shots while they're kayaking, standup paddleboarding, or belly-flopping on the exact spot where Venus was born. He posts sample shots to his online portfolio, organized into categories such as adventure kayaking, wildlife encounters, and portraiture. He also uses these dramatic backdrops to frame marriage-proposal shoots.
2160 Avenida de la Playa
La Jolla
California
858-952-2847
---