Coffee & Treats in Las Vegas
---
Duck inside a hotel café to feast on paella, sirloin steak, and cuban sandwiches prepared by a Havana native
---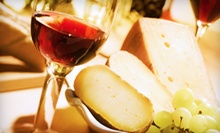 Crab-stuffed shrimp, mussels, linguine with clams, and Hawaiian ahi tuna served alongside 80+ wines in an eatery modeled after a wine cellar
---
Recommended Coffee & Treats by Groupon Customers
---
Tropical Smoothie Café's enthusiastic staff prepares a menu of made-to-order sandwiches, wraps, and salads and healthy smoothies with an island-inspired approach. The jamaican jerk wrap enfolds a blend of chicken, mozzarella, seasoned rice, black beans, and jerk sauce in a white tortilla or a map of the Caribbean. Layers of deli meats, cheeses, and crisp greens stack up along the café's sandwich assembly line to form combinations such as roast beef and pepper jack cheese with wasabi caesar dressing or turkey and guacamole drizzled with a cilantro-lime glaze. Crisp romaine lettuce forms the base of gourmet salads, which accessorize with grilled chicken, fresh fruits and vegetables, and signature dressings.
7375 S Durango Dr.
Las Vegas
Nevada
Gleaning her baking skills from her mother and grandmother, Gigi's Cupcakes' eponymous owner and founder opened her first cupcake hub in 2008, drawing upon her entrepreneurial spirit and gift for crafting beautifully topped cupcakes. The franchised cupcakery now has 80 locations, each of which churns out flavors that rotate daily and are made fresh every morning. The shop's selection of more than 40 flavors includes wedding cake, Scarlett's red velvet, and Miss Princess. Patrons can pick out sweet treats from the daily selection or preorder them at least one day in advance online, by phone, or via singing telegram.
1150 E Flamingo Rd., Suite 105
Las Vegas
Nevada
702-735-9783
Though more than 20 years separate childhood pals Richard Bowen and Branden Powers from the 1980s, they return to the beloved decade of their youth every day at I Love Yogurt. There, old-school sweets, such as Pop Rocks and jujubes compose a retro candy wall, while throwback soft drinks such as TaB and Squirt fill the soda fountain. The duo further writes its love letter to the 80s by piling 64 classic arcade games into the shop, from Frogger and Pac-Man to Asteroids and the infamous Duck Hunt sequel, Duck Stakeout.
The themed décor and treats, however, are bells and whistles surrounding the business' main focus: frozen yogurt. Staffers craft 12 rotating flavors of dairy-free, low-carb, and no-sugar added yogurt, including cake batter and watermelon sorbet. More than 50 ingredients—including organic fruit and real whipped cream—top off those treats, while classics from the cereal bar such as Franken Berry and KIX further satisfy munchies.
11700 West Charleston Boulevard
Las Vegas
Nevada
702-243-5683
With more than 700 locations, Jamba Juice proves to the masses that nutrition can be speedy and delicious. Since the beginning, the company's product philosophy has revolved around choosing whole fruits and other natural ingredients over artificial flavorings, sweeteners, and preservatives. The menu is completely free of high-fructose corn syrup and trans fats, and it offers additional accommodations for vegan and gluten-free diets.
Blended drinks dominate the menu, with options including fruit refreshers—made with naturally hydrating, electrolytic coconut water—and pre-boosted smoothies that can fill nutritional gaps with infusions of protein, immunity boosters, or antioxidants that neutralize accidentally swallowed pool water. The drink list also includes organic house-blend coffee. For those with heartier appetites, steel-cut oats steep in soymilk before being enhanced with toppings such as apples, cinnamon, and brown-sugar crumble. The lunch hour presents a trio of california flatbreads, each packing only about 320–420 calories, toasted bistro sandwiches, and protein mini wraps.
3200 Las Vegas Blvd. S
Las Vegas
Nevada
If you ask a child to draw the meaning of Christmas, there's a good chance it would look something like Rocket Fizz. A step into Rocket Fizz is a step back in time—into a wonderland of old-fashioned candies and sodas that appear to be straight out of a kid's imagination or a sugar factory's family tree. The progeny of cofounders Rob Powells and Ryan Morgan, the shops—which have been mentioned on The Price is Right and endorsed by celebrities such as Snooki from _Jersey Shore_—burst with thousands of soda pops and candies.
Rob and Ryan created their own brand of pure-cane-sugar Rocket Fizz sodas, which tickle tongues in flavors such as banana nut, cherry cola, and apple jalapeño. Lester's Fixins and Melba's Fixins sodas—named for Ryan's grandparents—offer sweet tastes of apple-pie soda or key-lime soda and adventurous flavors such as bacon soda and sweet-corn soda. Candy bars include classics such as Rocky Road, Bit-O-Honey, and Sky Bars, and bite-size candies include favorites such as Nerds, Milk Duds, and peanut-butter cookie-dough bites. Each shop also stocks nostalgic items, such as movie and music posters, gag gifts, and popular Jones sodas.
5130 South Fort Apache Road
Las Vegas
Nevada
702-889-4292
---